If you never frequent the "finer side" of OPC, I'd encourage you to take a look. Jocie does a great job with The Better Half, and I'm always impressed with the crafty projects she pulls off. For instance, she has an article called Pallets 101 with a video all about how she makes those awesome pallet signs, and check out these amazing handmade leaf bowls!
With Jocie doing more and more, we finally setup a craft desk, and one of the accessories she requested was a glue gun holder. Today's article is about how I made a nice, simple glue gun holder for her.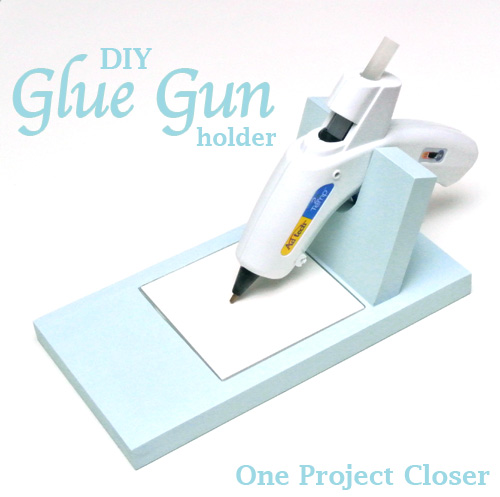 Tools & Materials
Rummaging through the shop I was able to find:
3/4″ cabinet grade plywood
1 x 2″ poplar
1 x 4″ pine
Old bathroom tile
Wood glue
Wood filler
For this project I used:
Table saw
Miter saw
Palm router
Clamps
Sander
Spade bit and drill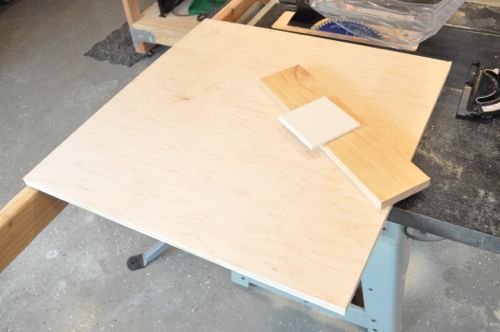 Step 1: Rip Plywood to Size
I didn't have enough solid wood for this project so I used some plywood for the main body, and I started by ripping it down just wider than my tile. I also cut the length leaving a few inches on either side. In the end, my plywood measured about 4-1/2 x 8-1/2″.
I centered my tile and traced the outline.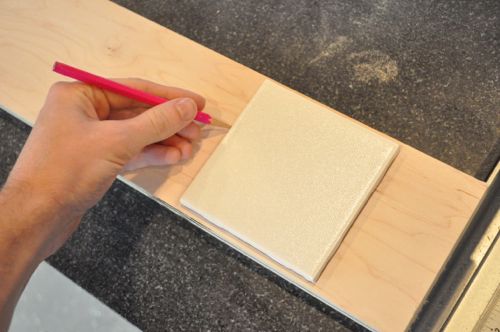 Step 2: Drill Push-Hole
I measured the center of the board and drilled a small hole. The plan is to recess the tile, and this hole will make it easier to pull it out for periodic cleaning.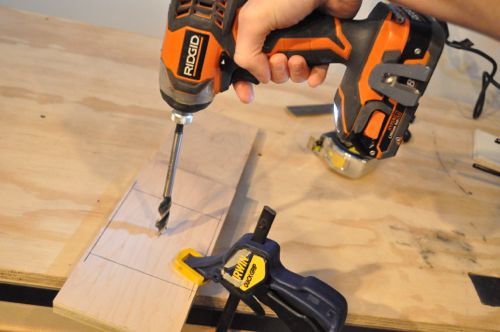 Step 3: Recess Tile
I set my palm router depth so that the tile would be a hair proud from the board. Starting at the push-hole, I cut the tile recess.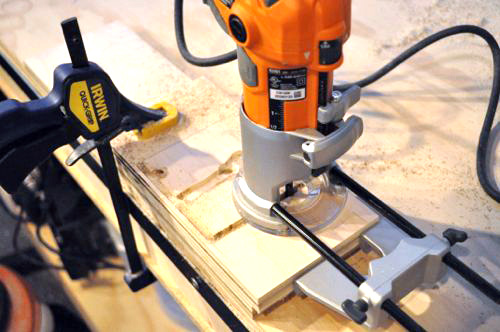 Next, I cleaned up the corners with my chisel. You'll notice a few scorch marks, and that's because I was a bit too aggressive with the router. If the edge was going to be visible, I would have started out shallower and made a few passes.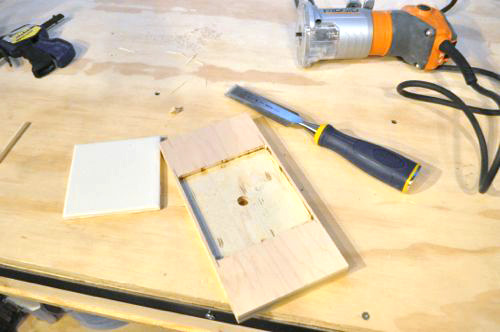 Step 4: Picture Frame
The cut edges of the plywood would have taken paint differently than the rest so I made a quick picture frame border out of poplar.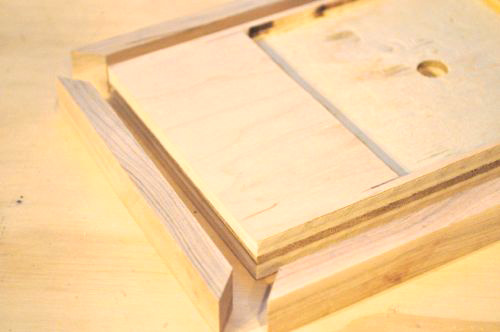 Step 5: Glue
I loaded it all up with glue and clamped it down to dry.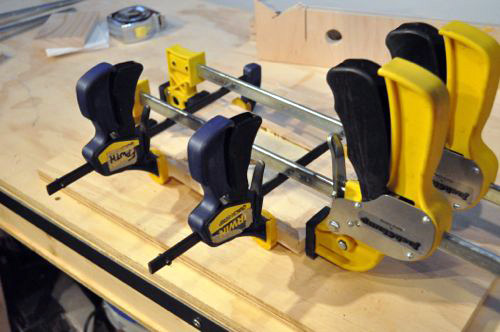 Step 6: Wood Filler
To make sure all the joints looked good, I quickly smeared wood filler over everything.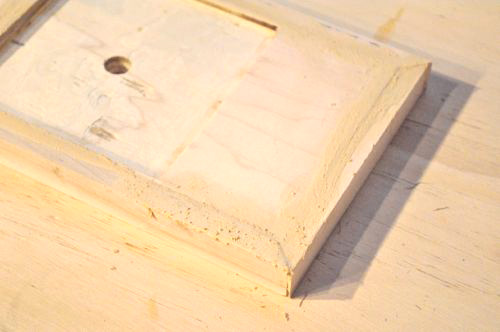 Step 7: Sand Smooth
I love my Rockwell X2 (review at that link), and I used it to sand the base until everything was nice and smooth.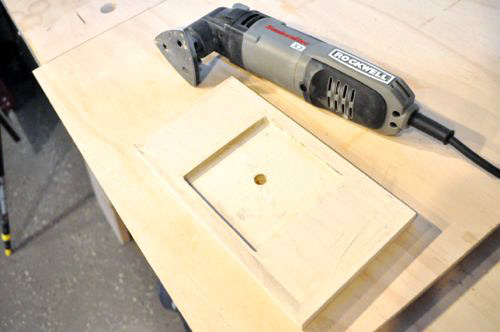 Step 8: Cut Holder
I used pine for making the U-shaped holder, and it measures 4-3/4 x 3-3/4″. I held the piece at the angle I wanted and used a straight-edge to mark a line. Then I used my miter saw to match the angle.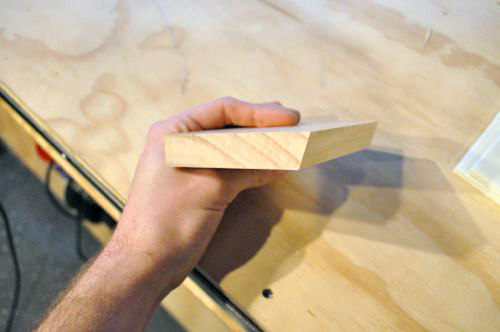 The groove is centered on the board and measures about 1-1/2 x 2-1/4″. I used the glue gun to test for fit and sanded it as needed.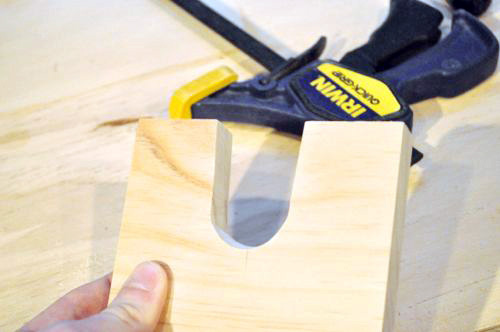 Step 9: Screw in Holder
I predrilled and countersunk two holes through the base and up into the holder.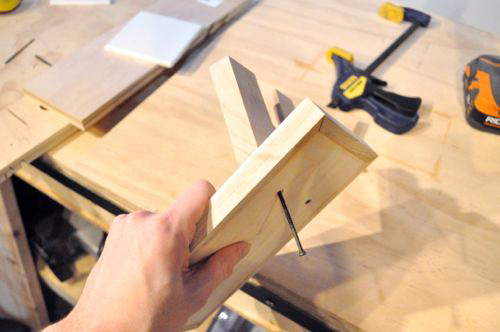 Step 10: Paint
Jocie wanted it painted a "light Tiffany blue", and after a few coats the glue gun holder looks pretty darn good.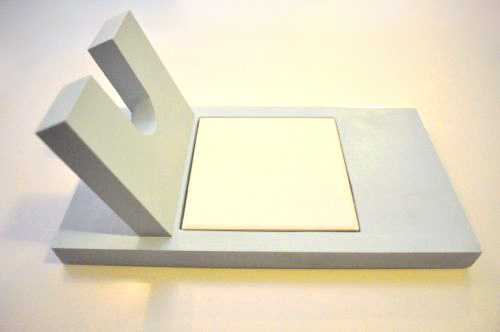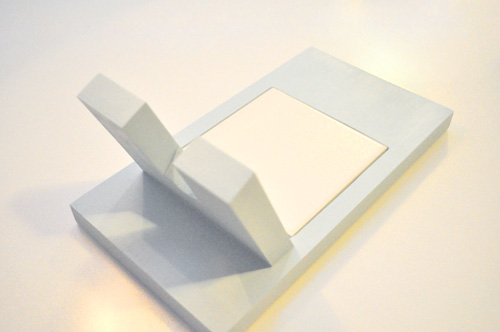 Finished
Let's hope she keeps it looking nice :).