YAY – I got a new lighting kit! *insert excited gasp here!* Let me preface myself…this is not a how-to article. I have no wisdom, no great project. I'm not trying to sell a product or plug a company. I am just super excited about my new photography lighting kit and wanted to share it with you! I would also love to hear your experience and tips, too!
Awhile ago, Heather from At the Picket Fence shared on FB that she purchased a lighting kit and loved it. I pushed it to the back of my brain and forgot about it. Then recently, I my camera broke! AHHHH. It is currently out for repairs, but in trying to learn a DSLR, I have been struggling to get great pictures. Not that my pictures before were amazing, but they pass for decent.
Either way, I want better pictures because regardless of how great a project is, if the pictures stink, no one can tell just how great it is! So, I asked around about a lighting kit and Jacque at the DIY village recommended this continuous lighting kit with umbrellas from amazon.com for $59.99. Included is:
Two(2) Tripod/Light Stands, 7 Ft Max Height
One(1) Tripod/Mini Light Stand, Maximum Height is 2.2 Ft
Three(3) Light Sockets
Two(2) 33″ Soft Umbrellas
Three(3) 45 Watt 5500k Daylight Balanced Photo Light Bulbs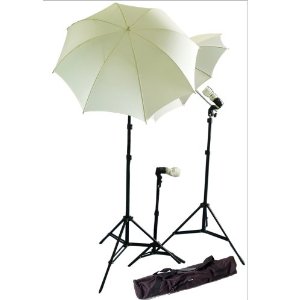 In my book, that's pretty darn cheap. They are good lights for tabletop photography or very small studio shots, which for me, most of my blog photography is done on a small-scale. Plus, with amazon Prime, it shipped for free in two days. woot woot!
After it arrived, I set it up and did a little practice run with the help of my lovely assistants. Now, again, I am no professional photographer. This is not meant to be a pat on the pat for my photography skills – so just enjoy the pretty smiles. lol.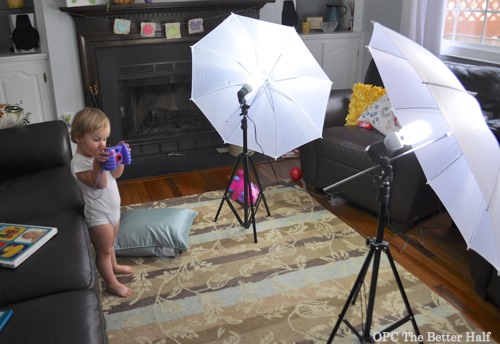 Obviously, Lucy didn't want to be left out as I set up the gear. Oops, no pants, better do something about that! haha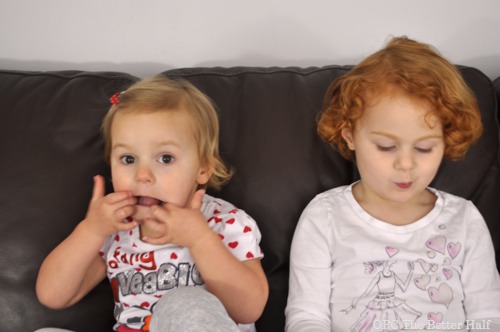 Baby also wanted her picture taken, which was much easier since she likes to sit still.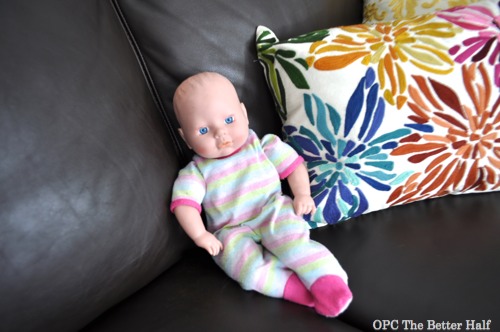 In my rush to try things out, I didn't set up the third light. I probably should have because it would have been nice to have even more light to account for my wiggly girls!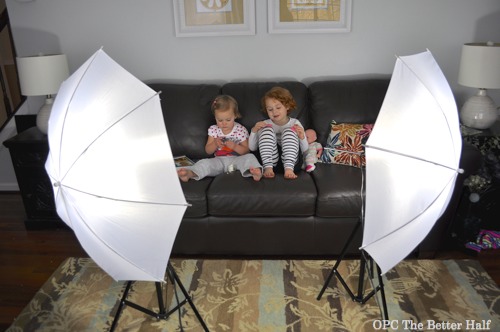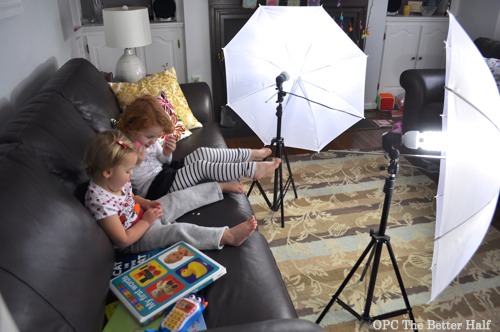 I also did a real quick, 10-minute photo shoot (at night, in my basement) with my cute Framed Easter Jelly Bean Nest. I wanted to test of the practical difference between using no flash, bounce flash, the lighting kit with umbrellas, lighting kit with no umbrellas, and also figuring out how much photo editing needed to be done. Again, everything would look better if I had shot the pictures during the day, but for nighttime, it was pretty good.
First, I tried taking a picture with no flash, bounce flash or lighting kit, just the crappy overhead light in our basement.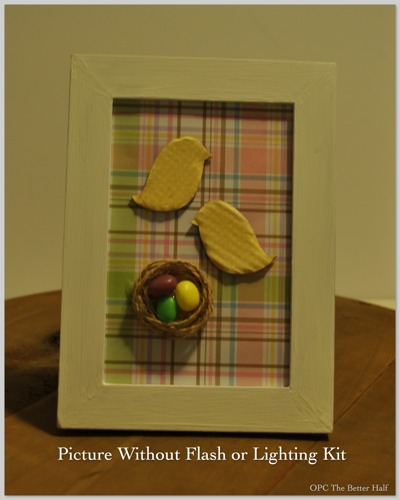 Then, I used the bounce flash, but no lighting kit.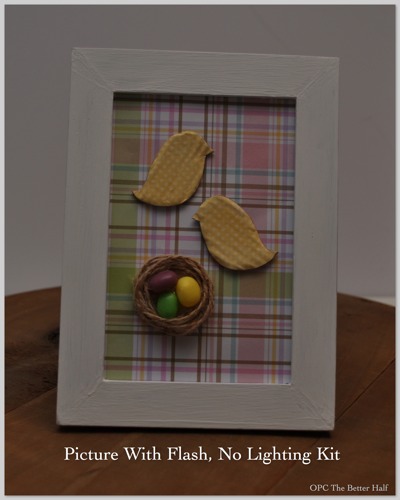 Next, with the lighting kit, but no umbrellas, just the naked bulbs.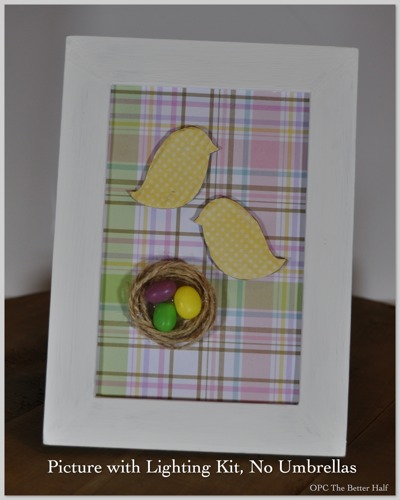 And here, with the umbrellas on the bulbs, reflecting the light back at the frame – a much softer, better light and coloring.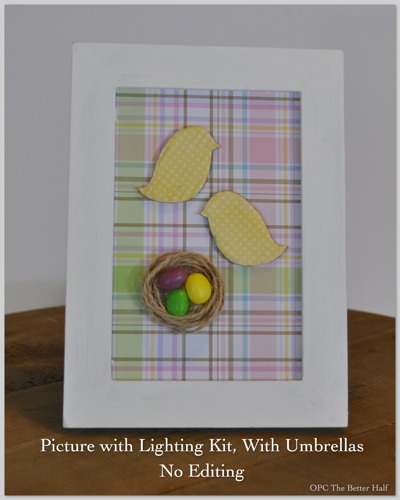 And finally, I increased the exposure just a tad on the photo editing software and it becomes a good picture!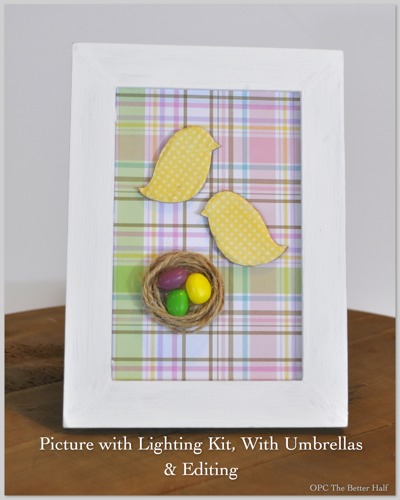 Here's the side-by-side progression!

Obviously, knowing my camera better would also go a long way – I am definitely a novice! And I am realistic that good pictures still take work, but with better lighting, I'm hopeful that it will be a bit easier!
What do you think? Any quick photography tips for this beginner?
Thanks so much for sharing in my excitement about my new lighting kit! Also, be sure to check out our feature over at Dollar Store Crafts on Dollar Store Easter Decor.