Deco Art sent me the supplies and provided the giveaway for this fabulous post on my Nautical Frame using Glass Paint Pens! While they provided the stuff, the ideas and opinions are all my own…I'm a pretty opinionated person and only accept products I love and believe in!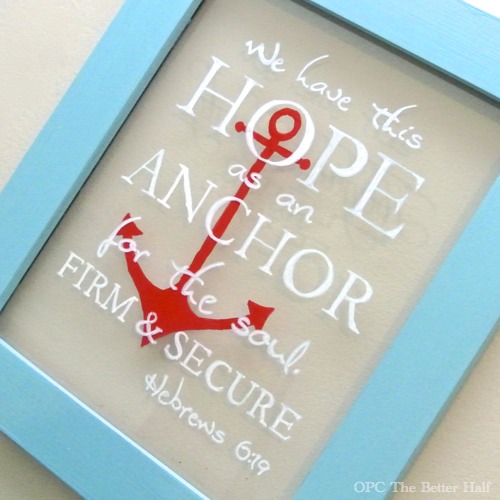 DIY Nautical Frame
This may be one of my prettiest and also easiest projects ever….plus, I used an old frame and paint I had on hand, in addition to the fab Deco Art/Americana glass paint pens, I was sent. In all, it would have cost under $10 and less than 20 minutes to make. But if you need other great ideas, be sure to check out my 25 fabulous glass painting ideas!
I had been wanting to make a present for my friend, Liz over at Naptime Decorator, using the color scheme of her super amazing kitchen. If you aren't a fan of hers, go check her out, because she's a fabulous DIYer and the nicest person ever!
I was inspired by this super cute anchor printable from Paper Therapy Shop on Etsy. I didn't want all the frills, so I made a black and white version to trace on the glass. To save you the work, here's both the words and anchor.
(Click for full size images)
After taking the glass out of the frame and wiping it clean with rubbing alcohol, I used a white paint pen to trace the words on the front of the glass. I love that this project doesn't require stencils or anything fancy besides a printer. No Silhouette or Cricuit required!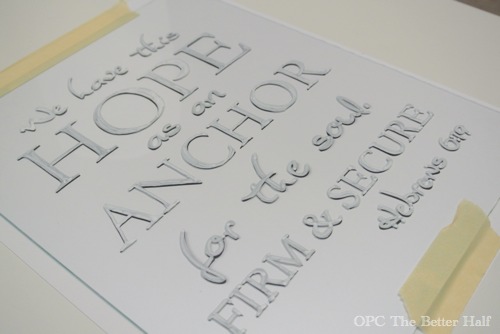 Once that was dry, I used red glass paint to trace the anchor onto the back of the glass.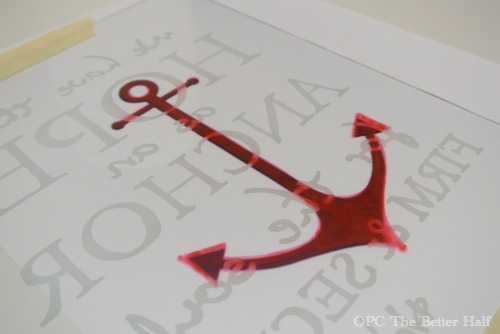 After 4 hours, I placed the glass on top on foil in a cold oven and set it to 325 degrees for 30 mins. Then I let it cool in the oven with the door open. Once dry, I wiped it down with rubbing alcohol to remove any prints or smudges, then hot glued it in place into the frame.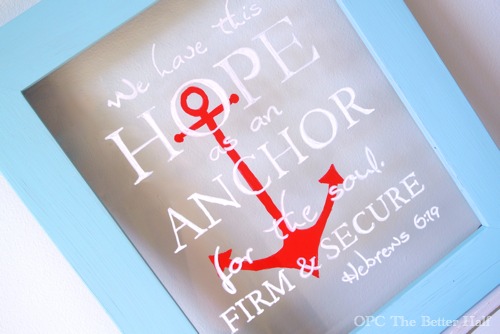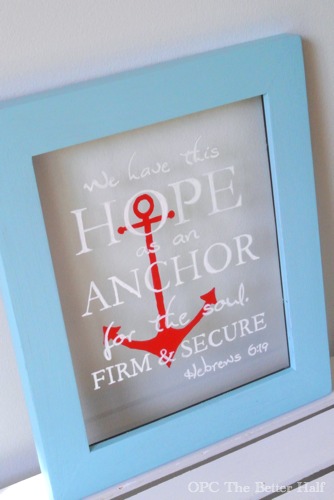 More Glass Paint Projects
A bunch of bloggy friends joined in with DecoArt to give you lots more nautical and beach themed glass paint ideas. Click on the picture or text link below the picture for a full tutorial.
What do you think? What will you make with your glass paint?
Hope you enjoyed my nautical frame using glass paint pens,