In July, I attended the Milwaukee Tools Symposium where they shared some of the cool new products we'd see in the near future. If you recall, there were several tools I couldn't talk about, mostly hand tools. That was a real disappointment because Milwaukee came up with a couple really innovative ideas. Well I'm happy to report the embargo has been lifted! Here's what I really wanted to tell you but couldn't.
New Milwaukee 6 in 1 Combination Pliers
Among all the hand tools, the new combination pliers are what really caught my eye. Milwaukee's goal was to combine several popular hand tools that you'd find in a plumber or electrician's tool box. They did that by integrating wire strippers, wire cutters and needle nose pliers. The pliers have ridges for reaming pipe (up to 1 ½") and bolt cutters for #6 and #8 bolts. These features plus a Loop Maker make this a very impressive tool. I also really liked the one-handed locking / unlocking mechanism- good for righties and lefties. For even more pictures, check out what I uploaded to the OPC Facebook Page.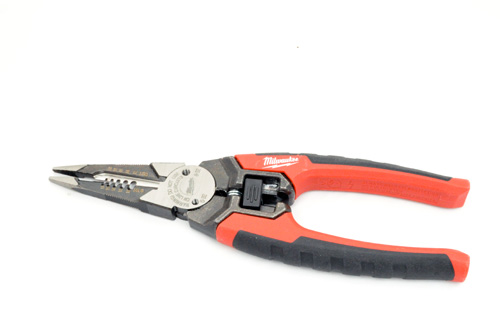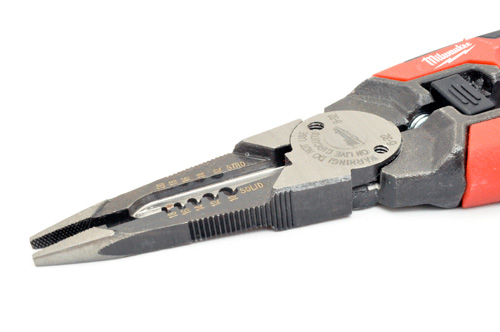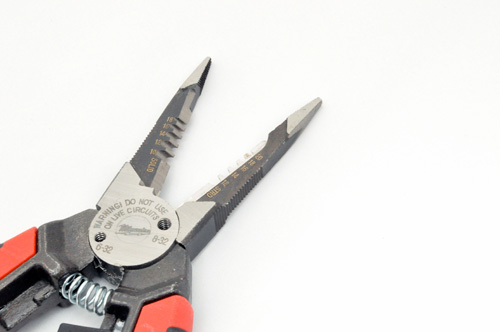 New Milwaukee PEX / Tubing Cutter
Even non-professionals can appreciate the ingenuity of Milwaukee's new PEX / Tubing Cutter. I tried it out myself and one-handed cutting through tubing (1″ or less) was easy. The blades are replaceable and the metal core creates an "indestructible frame." The thing that makes this PEX cutter stand out from the rest is the Rework Groove for fixing mistakes. If you've ever worked with PEX, you know the materials can be pricey, and the cost of mistakes can add up. With the Rework Groove, Milwaukee enables you to correct mistakes by stripping Pex couplings.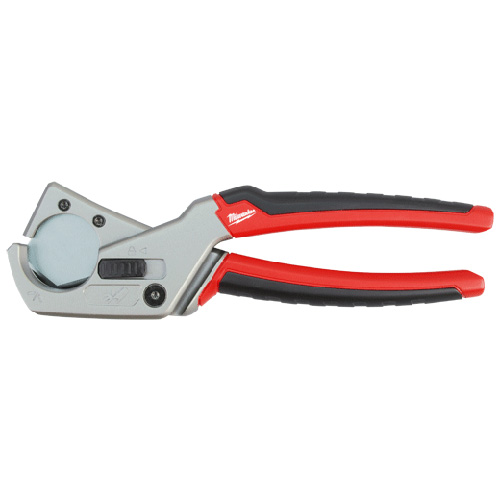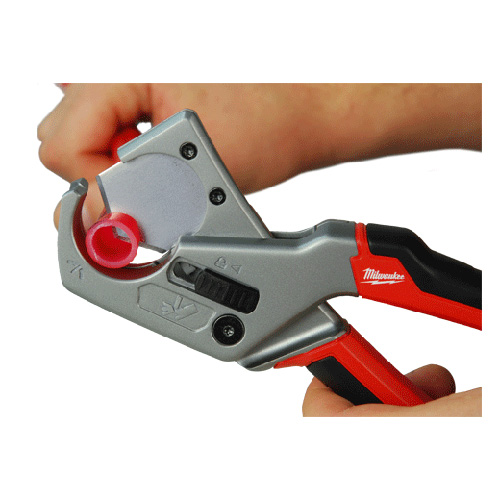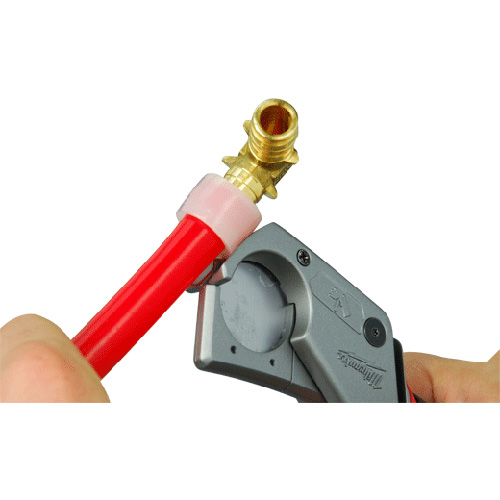 New Milwaukee 6 in 1 Lineman's Pliers
The last tool I want to tell you about is the new Lineman's. Similar to the new combination pliers, these incorporate a reaming head design, bolt cutters and cutting edges. In addition, they've got a great design for pulling fish tape. The grips feel good in your hand, and I really enjoyed trying these out.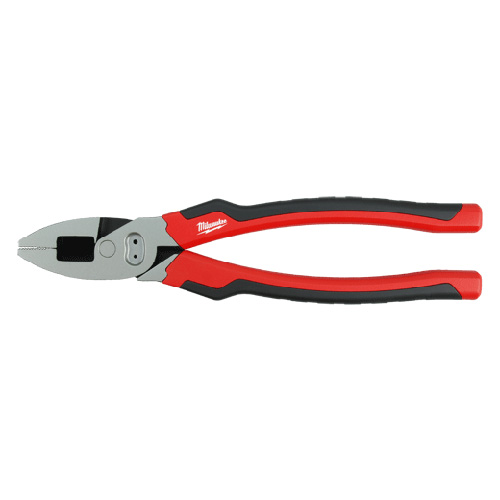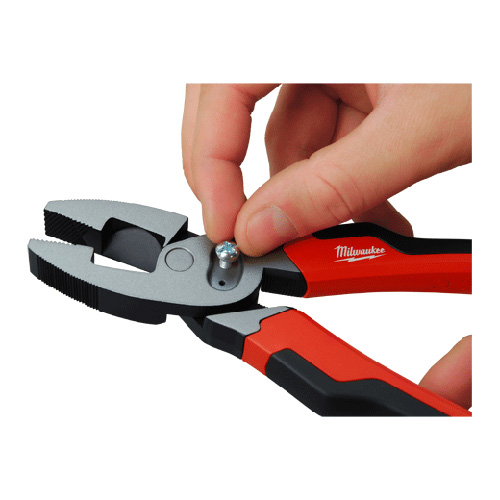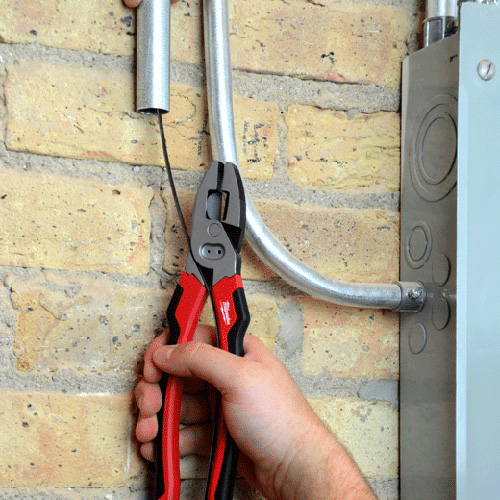 Some of the other tools they just unveiled include diagonal cutting pliers, tongue and groove pliers, and various snips. Check out this post by Jay over at COP Tool for all the specs.
Here's the full press release Milwaukee just sent out:
MILWAUKEE, WI- Following the successful launch of their new Hand Tool business in 2010, Milwaukee Tool continues to rapidly expand the tool line with the launch of several new products in October 2011. With a focus on delivering innovative solutions that increase productivity, the new products will fall into three new categories which include Pliers, Snips, and PEX Cutting. Committed to their core user, Milwaukee will incorporate features into each Hand Tool that provide application specific solutions for the Electrical, Mechanical, HVAC, MRO, and Remodeling trades.

"We are committed to rapidly grow our new Hand Tool business," says Tim Albrecht, Director of Marketing – Hand Tools for Milwaukee Tool. "We continue to add more resources to this business unit and further invest in its development. Milwaukee Tool's approach of understanding our core user's needs, and then creating new-to-world designs that solve key user problems, has set us apart.

The new hand tools specifically include Quick Adjust Reaming Pliers, Tongue and Groove Pliers, Aviation Snips, and a PEX/Tubing Cutter. Additionally, Milwaukee will introduce a family of 6 in 1 tools that will reduce the number of Hand Tools needed to complete common applications such as reaming pipe, cutting nails, pulling wire, cutting bolts, and more. The 6 in 1 tools will be offered as Lineman's Pliers, Diagonal Cutting Pliers, Combination Wire Pliers, and Long Nose Pliers.

"One example of the advances in Hand Tool design that will set Milwaukee Tool apart is our 6 in 1 Combination Wire Pliers. These pliers feature a new-to-world design that incorporates all functions of long nose pliers, wire strippers, and reaming/deburring tools," says Albrecht. "We have replaced three tools in the user's pouch with one Milwaukee Hand Tool; creating less weight to haul around, at a better value…a prime example of what we call Disruptive Innovation," says Albrecht

Backed by Milwaukee's Limited Lifetime Warranty, each of the new products is drop forged, machined for maximum precision, and treated to resist rust. Durable over-molded grips add comfort and last longer than traditional rubber dipped handles.

Dedicated to delivering advanced solutions to increase productivity, Milwaukee's Hand Tool category will continue to grow and offer innovative products.