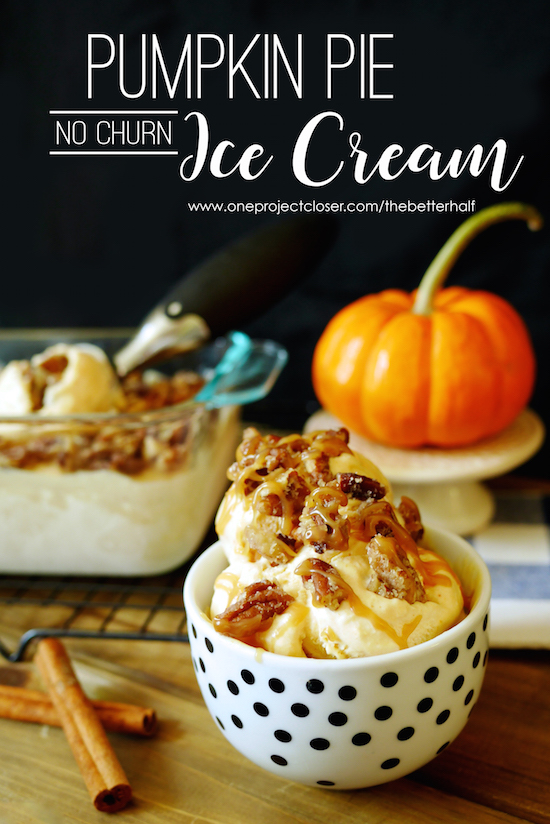 Thank you so much for visiting us at One Project Closer for this delicious No Churn Pumpkin Pie Ice Cream recipe. We originally shared this with readers in 2016 but enjoy refreshing our faves and bringing them back for new readers. ENJOY!
Ice Cream is no longer just for Summer Treats! I am not usually a Pumpkin Pie fan, but this is one decadent and perfectly Fall recipe that will leave your friends and house guests begging you for more Pumpkin Pie Ice Cream long after its gone. I mean begging. The flavors are balanced to be sweet and tasty without being over powering. Plus, this recipe presents beautifully without a lot of effort or prep time.
I made this last week, and Ethan and the girls LOVED it. I wasn't sure how the girls would like it, with pumpkin not being a typical ice cream flavor and with the nuts, but they raved about how good it was. Isabella even plans to make it for our church's Fall Festival Bake Sale (along with some Oatmeal Pecan Cookies). I mean, who wouldn't vote for creamy, delicious ice cream that tastes just like Thanksgiving? Plus, she's cute, so that doesn't hurt.
I hope you enjoy this amazing No Churn Pumpkin Pie Ice Cream with Candied Pecans as much as we do!
No Churn Pumpkin Pie Ice Cream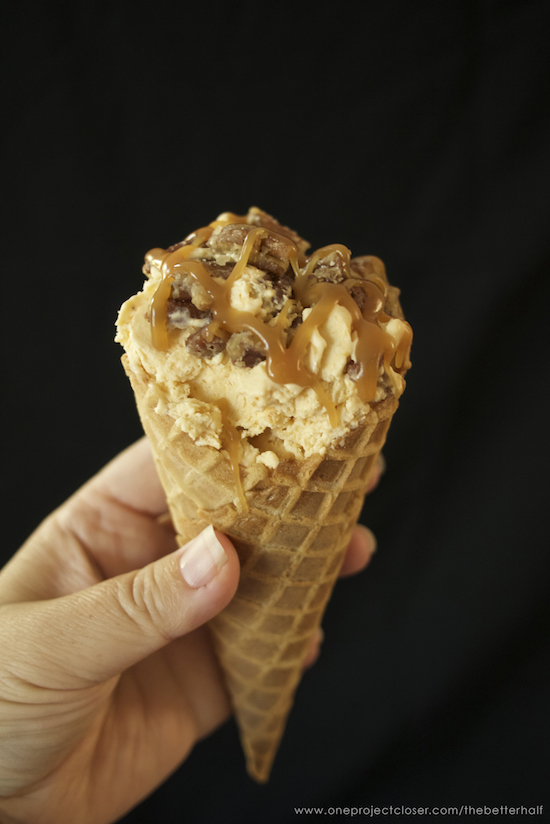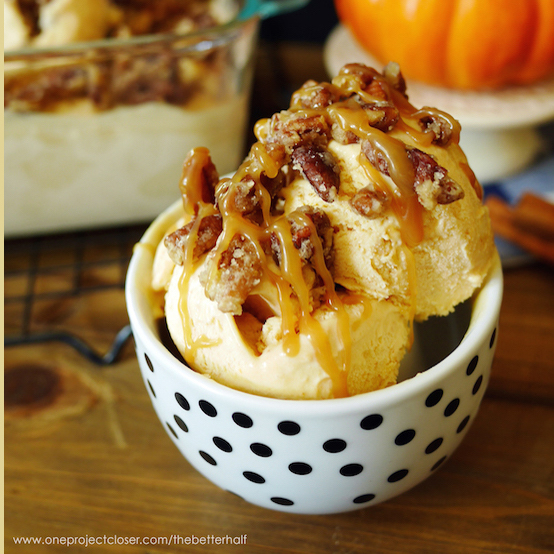 No Churn Pumpkin Pie Ice Cream with Candied Pecans
2016-10-03 23:12:23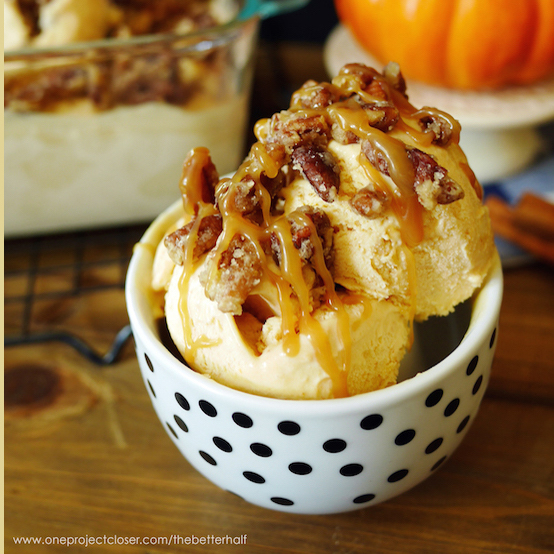 Serves 6
This No Churn Pumpkin Ice Cream with Candied Pecans is the perfect holiday dessert to wow your guest, and can be easily make ahead.
For Ice Cream
2 cups Heavy Whipping Cream
14 oz can Sweetened Condensed Milk
2 teaspoons Vanilla Extract
1/2 cup Pumpkin Puree
2 drops Cinnamon Bark Young living Essential Oil
1 drop Clove Young living Essential Oils
1 drop Nutmeg Young living Essential Oils
For Candied Pecans
2 cups pecans, chopped coarsely
1/3 cup maple syrup
1/8 teaspoon salt
3 drops Cinnamon Bark Young living Essential Oil
1 drop Nutmeg Young living Essential Oils
For the Ice Cream
In a large stainless steel or glass mixing bowl, whip the Heavy Whipping Cream and vanilla until just thickened. If you whip the cream too long the ice cream will be more fluffy and light than thick and rich, so try not to over-whip. Then, mix in Sweetened Condensed milk, Pumpkin and Essential Oil. I used about 1/2 cup of Pumpkin but you could add more or less, depending on how much pumpkin flavor you like.
Place mixture in a pan, cover with plastic wrap and freeze for 4-6 before serving, but overnight is best. ENJOY!
For the Candied Nuts
Preheat a dry skillet over a medium-high heat. While it preheats, mix together maple syrup and Essential Oils. Add the walnuts, maple syrup and salt. Cook, stirring frequently, until syrup is caramelized and nuts are toasted, about 3 minutes. Let pecans cool completely on parchment.
When Serving
Enjoy With nuts sprinkled over top and homemade caramel sauce!
One Project Closer https://www.oneprojectcloser.com/
You know I love my Young Living Essential Oils! With their Seed to Seal Guarantee, these Essential Oils are 100% pure and safe to ingest. Why use them in cooking instead of dry spices? When I use my oils in cooking, it tastes so fresh and flavorful, unlike my spices that tend to lose their flavor over time. Young Living Essential Oil never go bad or expire, so you get fresh flavor and great wellness benefits every time! If you want
more information on Essential Oils
, how you can order, or become a member of my team, email me at jocie at oneprojectcloser dot com!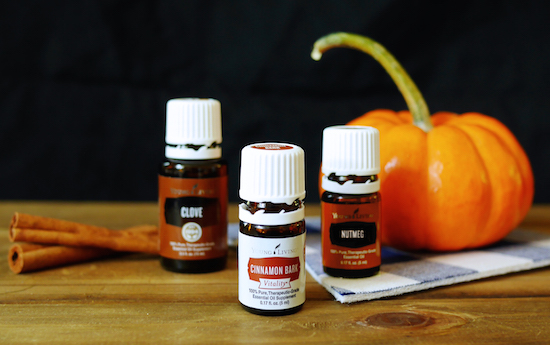 I love this recipe and have some more no-churn ice cream recipes to share with you in the coming month or two, so stay tuned!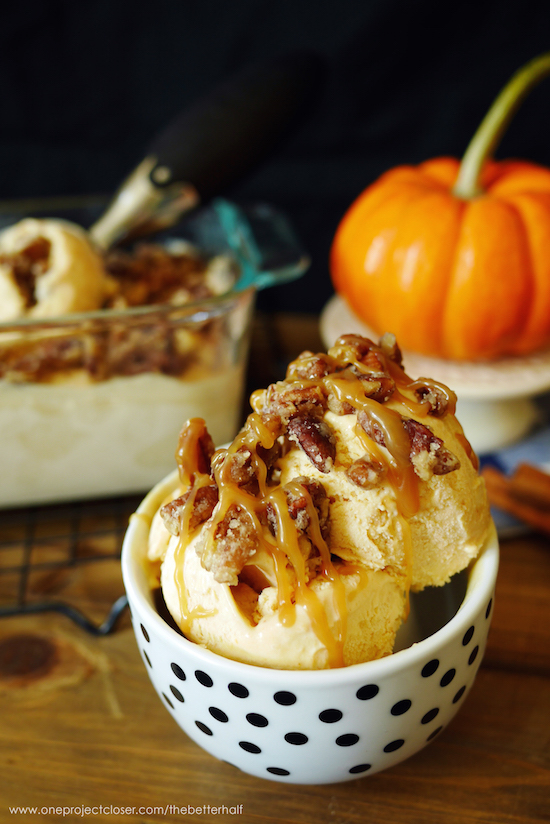 What do you think of this no churn pumpkin pie ice cream? What your favorite no churn ice cream flavor?
As Always, thanks for reading!

Don't forget to check us out on Facebook , Instagram, & Pinterest!