October was a pretty exciting month for us here at The Better Half. For starters, I quit my day job and am now a full-time blogger. Kinda cool… and scary! Lots of other fun stuff happened this month and in case, you missed it, here is what we have been up to here at The Better Half!
The Humble Brag
The weekly link parties came back this October and have been going strong! Have you come and linked up?


We have also been giving one lucky featured link FREE ad space for a week. Here were our winners this month:
This was our first Humble Brag winner, before we gave away the ad space, but we did give her a $25 gift card to Hobby Lobby! Sarah at Sarah SaturDIY combined chevrons, ombre color, and cassette tapes.
I am loving pallet art these days and this dandelion wall art from DIY Diva is AMAZING!
Our third and final winner from the month of October was this pumpkin tutorial from Sarah at Just the Bee's Knees. The best part, they are Dollar Store Pumpkins!
We also wrapped up our Summer Before and After supporting Habitat for Humanity. Our readers voted  and this year, our big winner (chosen by 45% of our voters) is Amanda at Dixie Delights for her basement renovation. She was chosen as a weekly winner by Rhoda at Southern Hospitality, and it was a well deserved win, for sure.
On The Web
We at OPC and The Better Half have been featured on some pretty cool sites and have really, really appreciated the love!
I guest-posted about our DIY Kid Canvases over at Get Outta My Head Please.
I also posted over at Attempts at Domestication about recovering our dining room chairs.
I also made a new real life, blogger friend this month – Liz from Naptime Decorator. She lives about 5 minutes from me and is just as nice as she appears on her site. She invited me for her monthly craft night and we had a blast. I tried to make a candy corn frame with Elmer's glue and it was a disaster! The glue MELTED the candy corn. Seriously. So I borrowed a glue gun and re-did it – much cuter than when it was dripping. lol!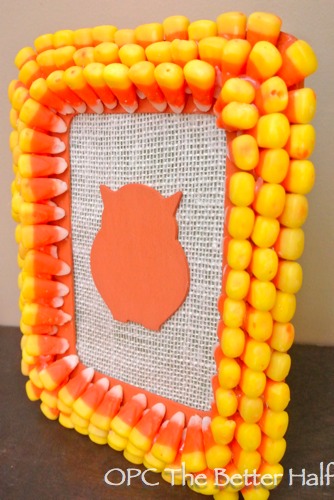 Ethan has been busy posting over at Handy Magazine about Building a Zero Clearance Table Saw Insert and how to make a lumber storage rack. Fred also had a guest post over at One Smart Dollar on the cost of international adoption.
My Life Scoop named OPC one of five great Handyman and DIY sites, and Charles and Hudson named us one of four home improvement/life blogs you'll love.
If you haven't already, go check us out. We'll love you forever if you do! 🙂
The Projects
It's been a busy month, mainly continuing the redesign of my kitchen and beginning work on my living room.
I made this cute little pallet sign that says "I Kiss Better Than I Cook" for over our kitchen sink, made from a pallet that was left behind when Ethan had a tool delivered.
I then re-finished and accessorized an Ikea chalkboard I found at a yard sale for $1! I also scrapbooked the word EAT to place above the chalkboard. Turned out super cute!
Then I repainted our living room a pale blue color, which will be the first step in the living room redesign. I'm debating painting the backs of the built-ins or stenciling the wall surrounding the fireplace. Opinions??
There were some other projects and recipes in there, but this was the best of it! 🙂
What do you think? What did you do in October? Any recommendations for November?
As Always, thanks for reading!