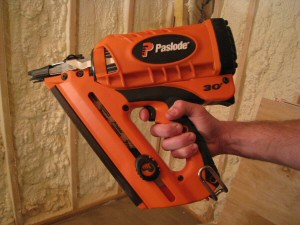 If there ever were a tool that would create envy in the hearts of contractors and DIYers alike, it's Paslode's new CF325 Cordless Framing Nailer.
The CF325 brings the power of a traditional round head framing nailer without the associated compressor and hoses. Instead, it uses compact fuel cells and a rechargeable battery to drive nails.
Paslode recently sent us the CF325 to review. We used the nailer in our recent remodel to attach a few extra studs to existing framing members to serve as drywall nailing surfaces.
We also tested the nailer on spare pine lumber in a few different configurations, including side-side and side-top, the most common framing configurations.
Paslode Cordless Framing Nailer Highlights
The Highs: Ultra portable. Eliminates the need for a compressor and hoses. Avoids the delays of charging and draining a compressor (especially valuable on small jobs). Sinks nails consistently. Multi-angle nose. Fast firing rate.
The Lows: Requires Paslode nails/fuel. Requires periodic cleaning that requires some disassembly (every 50,000 nailers) and air filter replacements. Pricey.
The Verdict: Paslode delivers big on the marketing hype. Love it.
Key Features of the Paslode Cordless Nailer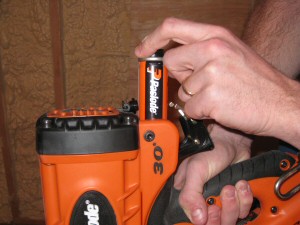 As the second generation of Paslode's cordless framing technology, the Paslode is packed with features:
Compatible with a Variety of Paslode Fasteners – 6D (2″) to 12D (3-1/4″) nails.
Quick Fuel & Battery Loads – We confirmed this. With a charged battery, you can have the nailer up and running in less than 30 seconds from the moment you open the carrying case.
Multi-angle Nose With Good Grip – We used the nailer everywhere between 90 and 45 degree angles successfully. The medium/large spikes on the nose hold pine particularly well.
1200-nail fuel cell capacity – We didn't test Paslode's claim on this but have no reason to doubt it based on other information online. Fuel cells are sold along with nails in combo packs. This trick keeps you buying Paslode fuel & nail combo packs, but we don't have much problem with that since Paslode matches the fuel-to-nail ratio very well and Paslode's prices are not usury. We would like to see the company sell the fuel cells separately and expect they may do so in the future.
How Well Does the Paslode Framing Nailer Work?
We found the nailer had no trouble sinking 3″ x .120 (10D) nails in side-side and side-top configurations when we used two hands on the nailer and ensured some force against the board.
When firing in a side-top configuration (the most common for framing), you can actually apply much less pressure (just one hand) and the nail sinks every time. When fastening two boards side-side, you must keep pressure on the nailer to ensure the nail fully sinks.
The nailer fires very fast. In fact, we fired nail after nail into dimensional lumber with no problems. The nailer also includes a tool-less depth adjustment mechanism.
Of course, the best feature of this nailer is its portability. With no compressor and no hoses, you can tote this nailer quickly to the job site, get it up an running in seconds, and put it away quickly. You don't have to move a compressor or have an extremely long hose to keep moving on the job. One thing we really liked about this was the ease of use on small jobs (e.g., you can fire 2-3 nails in 20 seconds with no need to haul, charge, and drain a compressor – a 20 minute commitment at minimum).
Nail, battery, and fuel cell loading are simple. We were up and running and firing nails in just 10 minutes (after allowing the battery to charge).
Overall, we are very impressed with Paslode's CF325. If you're in the market for a framing nailer, we think the CF325 makes an excellent choice.
Price & What Does the Paslode Kit Include?
The Paslode CF325 Cordless Framing Nailer retails for a little under $399 on Amazon (at that link). Amazon's prices are competitive with the typical local purchase joints and you can sometimes avoid sales tax purchasing online. You can also find the kit at Home Depot, Lowes, and right on paslode.com.
The Paslode CF325 ships with:
Cordless Framing Nailer
Fuel Cell
Battery & Charger
Hex Wrench (to clear jams and for cleaning)
Full Color Instruction Manual (very nice, actually – it has full color instructions for clearing jams too).
Hard Carrying Case
What do you think? Got a question about the tool? Do you own the Paslode CF325? Let us know your experience in the comments.