Looking for a creative gift idea for the home improver in your life? Last year, Ethan came up with a list of handyman gifts that are easy to purchase online and will ship in time for the holiday. Here's another idea we think many handymen (and handywomen!) might enjoy – a basic plumbing tool kit. You can build the kit for about $40-$50 from the local big box department store.
Why a plumbing kit? We always like receiving practical gifts that show a little thought, and this one certainly does. You'll have to assemble the pieces yourself (we haven't seen any pre-made plumber's gift baskets at Hallmark!) Plus, you'll be giving a gift that will encourage your DIYer to take on a new task! This stuff isn't hard to find, either. It's usually organized in a single isle at the store.
But you say your handyman's never done plumbing? You could also pick up a plumbing primer while you're at the store… or he could start by reading our article on how to sweat copper pipes (it's really easier than most people think!)
Basic Plumbing Tools
Here's a picture of the tools you'll need to get: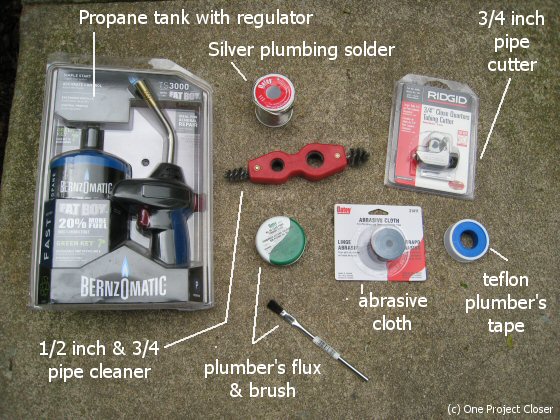 Propane tank & torch – The Bernzomatic version shown is a little pricey at $25. You can usually find the piece parts (a regulator and the propane tank) for $10-15.
Silver Plumbing Solder – Sold by the pound… buying more gets you a cheaper unit rate.
Pipe Cleaner (1/2″ and 3/4″ Combo) – Used for cleaning the inside and outside of pipes.
Plumber's Flux and Brush – Used just before soldering to draw the solder into the joint.
Pipe Cutter (3/4″ and 1/2″) – Self-explanatory.  We like the low-profile version shown here so that it can fit on pipes next to walls.
Teflon Plumber's Tape – Used to make threaded connections (instead of solder).
Abrasive Cloth – Used to remove burs from the edges of pipes.
Plumber's Putty – Used to seal some fixtures (not shown)
Hacksaw – Good for cutting PVC (not shown)
PVC Primer and Bonding Agent – Used to join PVC (not shown)
In addition to these basic tools, you could also pick up a small tool box (or tool tote!), and a good plumbing manual, like Stanley's Complete Plumbing, one that we've mentioned several times.
What do you think? What DIY gift do you want to get this year?