This Saturday we had our first experience with one of those fancy new moving PODS (Portable On-Demand Storage) containers. Yeah, I know, we're a little late to the game on this one; PODS containers have been around for a while, but this was our first chance to use one.
Our good friends, Mary and Eric, just bought a foreclosure in a neighboring county and are moving out of their townhome into a 4 bedroom fixer-upper (good fodder for a houseblog). Instead of going with the traditional moving truck, Mary and Eric chose PODS. They had two PODS containers delivered to their house over the course of several weeks; we helped them load the second on Saturday morning. They chose large-size PODS containers (8x8x16) for their move. PODS also offers two smaller sizes, 8x8x12 and 7x7x8.

PODS Review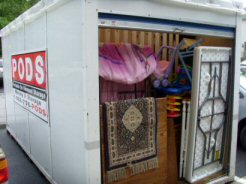 PODS containers are great. They can be dropped off at your house the night before you plan to pack them. You can take as long as you want (or as long as your neighbors will tolerate them in your parking spaces) to fill them up. Then, when you've finished packing, the nice PODS folks will take them back to the secure storage facility until you're ready to have the container delivered to it's destination.
How do they get the PODS container on and off the PODS truck? One word: PODzilla.
You can see the PODzilla video here.
How Much Do PODS Containers Cost?

PODS' pricing varies based on how long you'll need the container, how far you'll need the container transported, and whether you use a PODS secure storage facility. For local moves in the Maryland area, PODS charges $229 to deliver the container to your current home, pick it up at a later date, and drop it off at the new home. They charge an additional $39 fee to remove the container from your location after the move is complete. You'll want to finish your move in less than a month, or PODS gets another $179 per month until they retrieve their container from your premises. While the pricing is reasonable, a 24′ budget rental truck will hold nearly as much as two PODS containers for around $200/day. Of course, with the Budget Truck, you must complete the move in 1 day, where PODS containers will let you pack and unpack at your leisure.
How Much PODS Container Does One Need?
At 8x8x16, a large container holds 1024 cubic feet or about 38 cubic yards. In plain English, I estimate it takes about 2 large PODS containers to move a moderately-furnished, medium-sized, 2 story, 3-bedroom townhome if you can also make a few runs with a truck/van. If you aren't moving locally and EVERYTHING has to fit in the PODS container, you'll want to disassemble as many things as you can and pack them in boxes. You'll probably still need a third PODS container to move all the odd-shaped stuff leftover (think lamps, large kids toys, odd-shaped furniture, etc).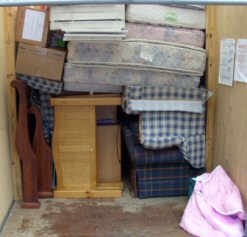 We managed to cram a lot of stuff in this container. I didn't take an inventory, but here's some of the items that fit into the second PODS container:
2 full size couches
1 queen bed (headboard, footboard, rails), mattress, boxspring
1 set bunkbeds w/ 2 mattresses
1 trundle bed frame
1 womens dresser
1 mens dresser
1 toy chest
1 large entertainment center
1 bookshelf
15+ medium-sized boxes
1 large TV. 1 small TV
The Bottom Line
PODS is a great alternative to the traditional moving truck if you're willing to shell out a few more greenbacks to move at your leisure. For more information, check out our SAM vs. PODS Comparison.
What do you think? Have you moved with PODS? What kind of experience did you have?