Back in May we had our first opportunity to use one of those fancy new PODS containers (PODS is a clever acronym for Portable On Demand Storage). We helped two friends move locally from a townhome to a single family home they bought in a bank sale. PODS really made the move easy, and prompted me to write this review of PODS' service. If you're not familiar with the offering, here's a brief overview to get you up to speed.
How PODS Works
PODS drops off a container at your starting point. You can take as long as you want to load it (subject to local regulations and the depth of your pockets). At your request, they pick up the loaded container and will either move it directly to your destination, or store it in a secure warehouse until you're ready to have it delivered. After you finish unloading it at the new place, a call to the PODS hotline will summon them back to pick up the container and be on their way. PODS sells simplicity and convenience in the self-moving business, and they've really nailed it.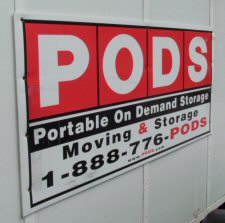 Of course, the PODS business model isn't rocket science. Buy a few hundred containers, paint them, hire some drivers to move the containers around, and collect payment. (Ok, ok… I know its more than that). But there's no huge technological advancement in this business. They've taken containerized shipping–an innovation that has given us the myriad of goods at our favorite big box stores–and brought it to residential moves. The lack of barriers to entry was sure to attract some new players to this market, and it already has.
About a month ago I was watching my favorite cable news network and up popped an ad for SAM, the latest entry into the residential container self-moving market. For what its worth, SAM is a not-as-clever acronym for Store and Move. Not surprisingly, they do just that: store and move your stuff (although I suppose they actually move, then store, but MAS was found a worse acronym than SAM). I could explain their business model, but that would make this post repetitive. If you need to understand it, back up two paragraphs, replace PODS with SAM, and you've pretty much got it.
What follows is a comparison of a few facets of their business that should help someone make a decision between them. Note that I've only experienced PODS. The information on SAM is from their own advertising material.
As always, experience speaks louder than advertising. If you've got experience with either, weigh in below and make this comparison even better.
Local Availability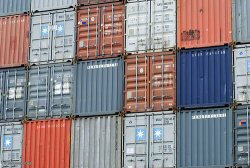 I'll say up front that it is a bit unfair to compare these services based on their local availability. That's why this section came first. After all, if either company doesn't do business in your departure or destination location, you'll rule them out without further examination. But, for the sake of completeness, I took a look.
What I found was that SAM was more up front with the locations they service. SAM provides a map and list of serviced cities on their site. PODS requires you to query their system with a start and end destination in order to find out whether they serve that area. I understand the motivation for this: no need to give your competition easy access to the data. The only issue I have is that PODS requires your e-mail address to process the request. The system doesn't do an e-mail confirmation, so any fake address will work. Even if it did, you could always use Guerilla Mail (or in my case, test@test.com).
Container Storage Facilities
Both PODS and SAM offer climate controlled, secure facilities. SAM also offers non-climate controlled facilities. Climate-controlled facilities are essential to the self-storage business. Most people don't want to store their goods outside for any period of time.
Container Sizes, Shapes, Weight Capacity and Quality
Container Shapes, Sizes & Weight Limits:
PODS: There are three sizes:
7'x7'x8′ (49 sq ft., 392 cu ft.) (weight limit not listed)
8'x12'x8′ (96 sq ft., 768 cu ft.) (weight limit not listed)
8'x16'x8′ (128 sq. ft., 1024 cu. ft.) (weight limit not listed)
SAM: One size fits all:
8'x16'x8′ (120+ sq. ft., 900+ cu. ft.) 7500 pound weight limit
Container Quality and Aestetics
SAM containers with their silver finish and polished lines are more attractive than PODS, although I suspect PODS containers work better for visual marketing. Both container styles are weather resistent (PODS says theirs will withstand 110mph winds when partially loaded). Neither have climate control options (no air conditioning / dehumidification on the container). As a result, you'll want to load furniture quickly and have the container shipped to a climate controlled facility.
Bottom line: as long as you need an 8'x16'x8′ container, either of these solutions will do just fine. If you need something smaller, only PODS will accommodate you.
Web Site Ease of Use
Both web sites are very easy to navigate and reserve your container. Both offer online payment options and guaranteed delivery dates. SAMS gets a slightly higher mark in this category for being a little more streamlined and less cluttered… Mostly because they are in fewer business lines than PODS (which has expanded into the broader containerized shipping market.
Container Costs & Pricing
For both companies, pricing varies directly by the following factors:
Number of containers rented & container size.
Length of rental period.
Shipping distance.
Number of drop offs and pick ups.
Rather than analyze each of these factors for pricing effects, I took the easy route. I've created two scenarios to compare these titans of the container shipping market. Here's the two scenarios:
Move Scenario #1: Local move with two (2) 8x8x16 containers. Container #1 will be delivered first, loaded, and stored at a storage facility for <1 month. Container #2 stays on property until it is moved directly to the new location. Total move will take less than 1 month. Both containers will be shipped to the new location and then picked up by the company.
PODS Price: $314.25 (Container #1) + $333.75 (Container #2) = $648.00*
SAM Price: $344.00 (Container #1) + $301.50 (Container #2) = $645.50
*Surprisingly, PODS system charges more to move the container than move and store the container. Had we selected to "move and store" both pods, the price would have been only $628.50. I tried forever to figure out why this pricing anamoly is the way it is. The best I can tell: PODS screwed up.
Move Scenario #2: All the same options as scenario one, except the move is interstate from Maryland to California.
PODS Price: NOT GIVEN. (Requires a phone call – UGH!).
SAM Price: $5513.60 (both containers shipped together – WOW!)
Thoughts on Price: For any move, it wouldn't hurt to call these companies to gain competitive pricing. Let them know you're looking at other store and move companies and you need their most competitive offer. The reality is that $5513.60 is a monster of a price to pay to ship goods!
Overall Evaluation
At the end of the day, for local moves, these companies are pretty much equals. PODS offers a few more options, SAM's web site is a bit easier to use. If you choose to use either, make sure to give them a call and tell them you're scoping the competition. It will certainly be worthwhile.
What do you think? My comparison of PODS and SAMS is based on their claims, but real experiences speak louder than advertising. Have you used either of these? What has your experience been?
Containers Photo by photohome_uk.