I've just finished a Pottery Barn farmhouse table knock-off, and already Jocie has put in a request for more. As I delve deeper and deeper into woodworking, the lack of certain tools has become very obvious, and it makes completing these projects even more challenging. If you keep up with OPC on Facebook, you know that we've had some new additions to the workshop. Lowe's offered to provide a sander, and I'm excited to put our new Porter Cable 4″ x 8″ Belt / Disc Sander to work!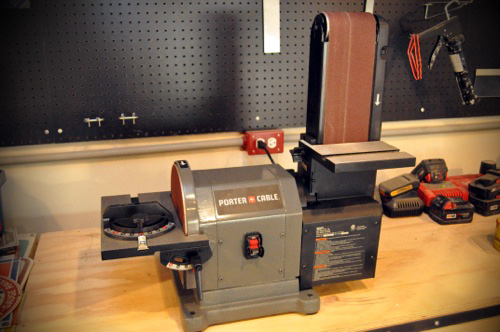 The Porter Cable 4″ x 8″ Belt / Disc sander is available from Lowe's for $179.00. You can buy it online or purchase it in store. Be sure to check for a Lowe's coupon before you do any online shopping.
Features
The PCB420SA features a 3/4 HP, 5 amp motor. This motor is right in line with more expensive options, and it's powerful enough for a wide variety of applications and materials.
Disc diameter is 8″ and belts measure 4 x 36″ (with a work platen of 4 x 8″). These are standard sizes and easily replaced when the time comes. Obviously bigger discs and belts provide more surface area to work, and these dimensions are middle-of-the-road.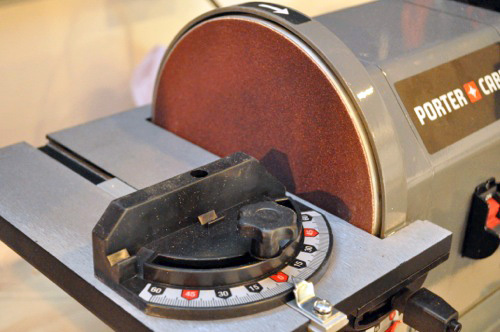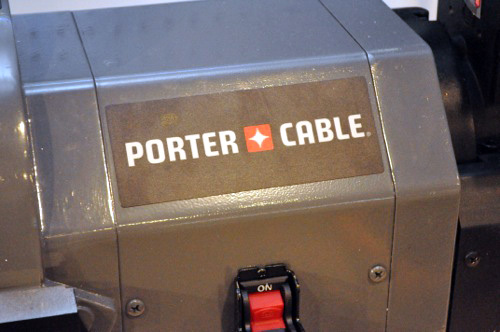 The belt sander and the disc sander have dedicated, aluminum worktables. Each table includes a slot for the miter gauge and can be angled from 0 – 45°.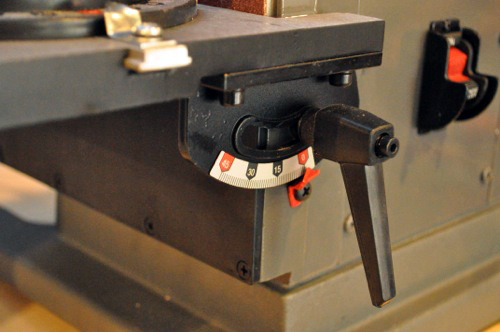 A dust port can be found on the backside of the sander, and PC includes a dust bag. The port is conveniently sized at 2-1/2″ for easy connection to a shop vac or dust management system.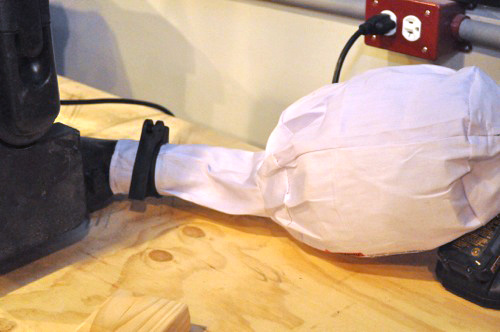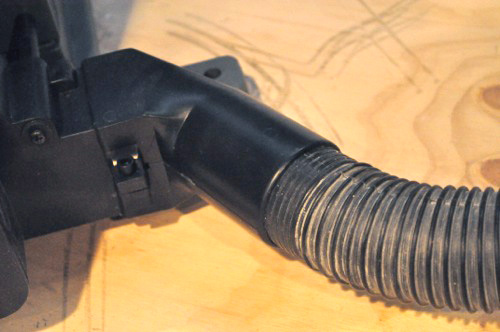 The belt station can be operated vertically or horizontally. This is nice because it allows you to position the workpiece in the most comfortable orientation. However, to move between positions, you have to loosen a hex screw. This is common for bench top sanders, but I hope to see tool-free adjustments in the future.
Setup & Adjustments
This sander requires very little setup. Out of the box, all you have to do is attach the two tables and the dust exhaust port. I used a combination square to ensure the tables were set perpendicular to the sanding disc and belt. I plan on mounting this to a work bench eventually, but at about 50 lbs. I'm not convinced it's necessary.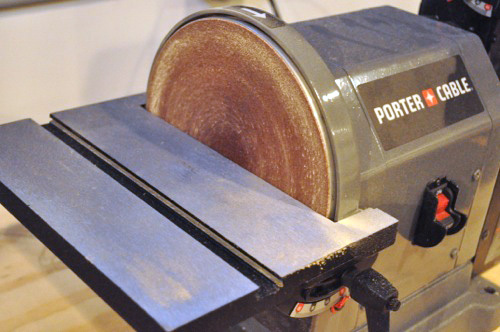 A small knob makes belt tracking adjustments very simple, and it's easy to keep the belt perfectly aligned.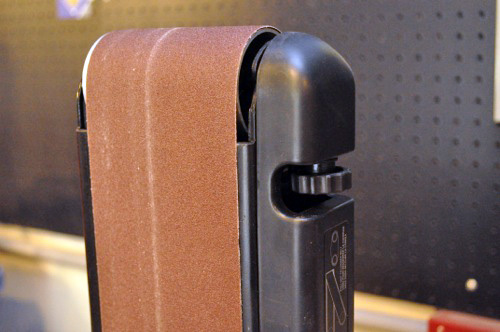 Changing Belts and Discs
Changing the belts and discs is a straight-forward procedure. Unfortunately, replacing a belt or disc begins with removing the associated worktable (and later re-aligning it). Next, you back out several screws to remove the disc cover or belt cover. The belt has a quick release lever for belt changes, and discs are held in place with a stick-on backing.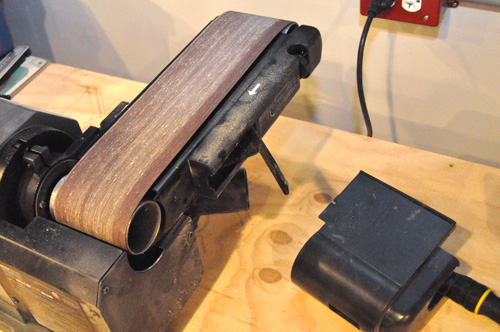 Overall
So far I'm really pleased with this sander. The aluminum tables and cast iron base seem very durable. The motor is powerful enough for small, precision sanding or large sanding projects. The belt can be positioned horizontally or vertically and the end can be used for curved sanding. I like that the tables are adjustable for angle sanding and include a miter gauge. I feel like this sander is on par with much pricier options like the Grizzly and Jet combo sanders at a fraction of the cost.
Specifications
Motor: 3/4HP, 5 Amp
Speed: 3450 rpm
Abrasive Belt Size: 4 x 36 "
Disc Diameter: 8 "
Table Size: 4-15/16 x 6-11/16 "
Dust Collection Outlet: 2-1/2 "
Table Tilt: L: 0 – 45 °
Miter Gauge Groove: Yes
Height: 14 "
Length: 20 "
Width: 23 "
Weight: 51.10 lbs
Shipping Weight: 58.15 lbs