If you follow the "other" side of the blog, One Project Closer, you may have seen Ethan's big reveal of our Pottery Barn knock-off farmhouse style dining room table. I'm hoping you haven't seen it, because I have been dying to tell you about it! But don't worry, even if you saw the finished DIY Farmhouse Table, you can still get the full story here that wasn't told by Ethan….he's a man of few words. Lol.

Pottery Barn Inspiration
I was tired of our old, round dining room table. It wasn't that old, actually. In fact, we bought it new when we got married 7 years ago. The round table was not real space efficient, and the chairs were so large not many people could fit around the table and the chairs kept banging up the walls.
So I started begging. I mean BEGGING Ethan to build me a farmhouse style table. I found this fabulous Keaton Extending Dining Table in French White at Pottery Barn but it was $1,599! And that doesn't include shipping. I love this table in particular – the off-white base, the sturdy nature of the table, the size and ability to extend, the stained top, and its slightly rustic feel without being too casual.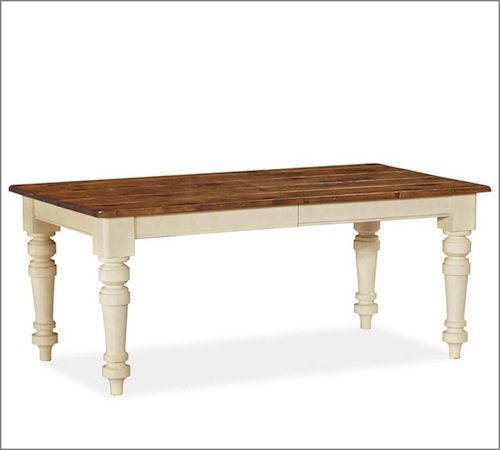 Building Our Knock-Off
I had pretty much had Ethan convinced to build me the whole table from scratch when I came up with the most genius idea of my life. Seriously, I am awesome. Why not use an old, cheap table for the legs and parts, and have Ethan build a new table top?
Ethan thought it was an equally genius idea, especially since it meant less work for him. Haha. So we got to work looking for a table. It turned out to be pretty difficult. We went to the Habitat ReStore and Second Chance with no luck. Meanwhile, I was stalking Craigslist. Granted, I wanted a CHEAP table but also sturdy.
Finally, we found one on Craigslist for $60. I wish I had a "before" picture to show you, but it was a steal! The sliders, bought brand new, would have cost over $100, plus the cost of wood, table legs, screws, and latches would have hiked the cost up even higher. In total, we spent a total of around $400, mostly because Ethan wanted an oak table top.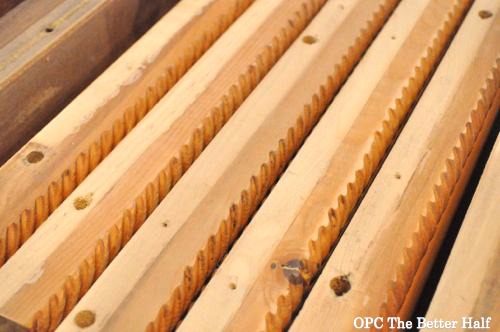 While Ethan worked to build a table top (feel free to check out his post to find out how), I painted the base. I decided to use Annie Sloan Chalk Paint in Old White.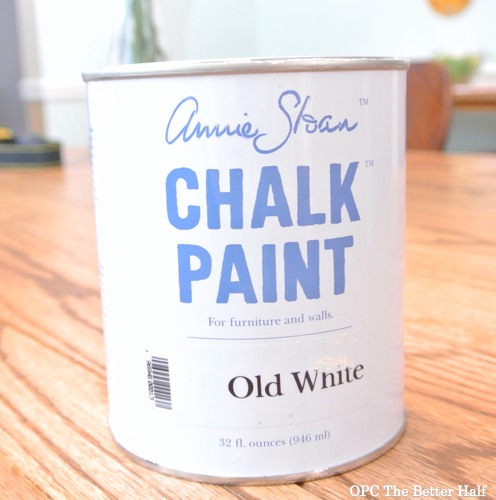 While it needed 2 coats, I was very pleased with the finish and coverage, and didn't have any problems with cracking or peeling like with Lucy's day bed. I chose to paint the main pieces of the table frame while disassembled, and then painted the rest (that didn't touch the table top) once assembled.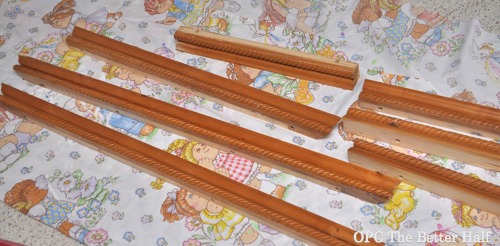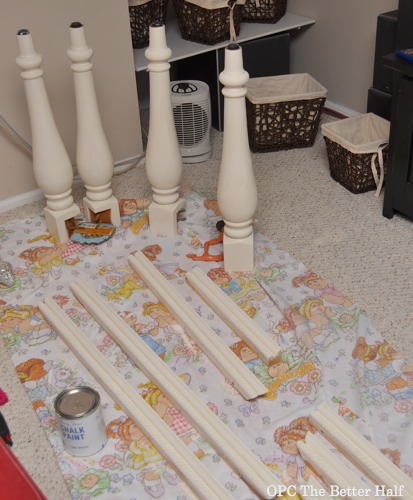 The table legs had a bit of trouble standing up while drying, so Lucy's favorite Barbie, GI Joe offered to help out. He really has sacrificed a lot – first going to war for his country and then enduring the love of a 2 year-old, losing his leg and hand in the process. Plus, Lulu doesn't let him wear clothes…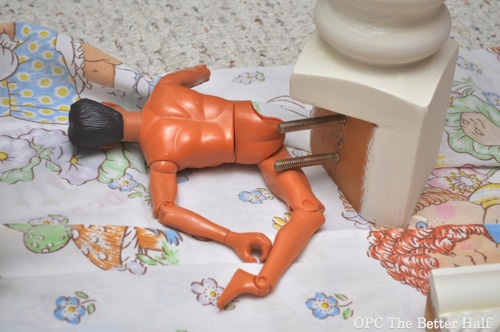 After completing the painting, I used some Annie Sloan soft wax to finish the base. I have said it before and I'll say it again – Annie Sloan wax rocks! Totally worth the price, but extra stinky! lol!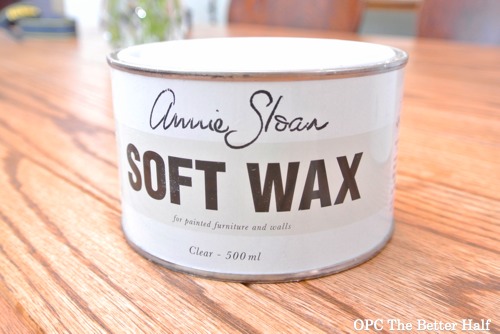 For the table top, Ethan used Rust-Oleum's Ultimate Wood Stain in Early American and then finished it off with several coats of water-based polyurethane.
DIY Farmhouse Style Dining Table
For one-quarter of the price, Ethan and I designed and built a fabulous Pottery Barn knock-off that is by far the prettiest and most sturdy piece of furniture in the house! Plus, our knock-off dining room table is of higher quality – the table top is oak, while PB uses pine. Seriously, almost $1,600 for a pine table top…it wouldn't last a week with my kids! lol.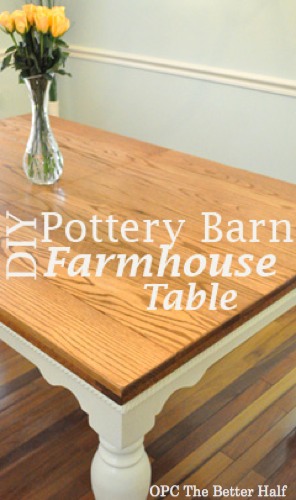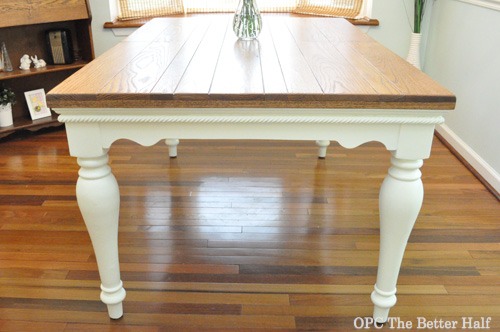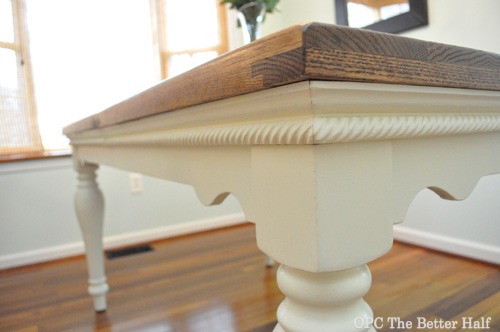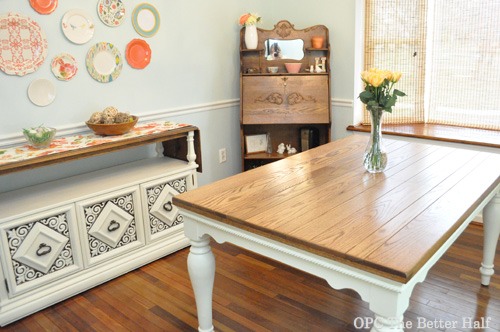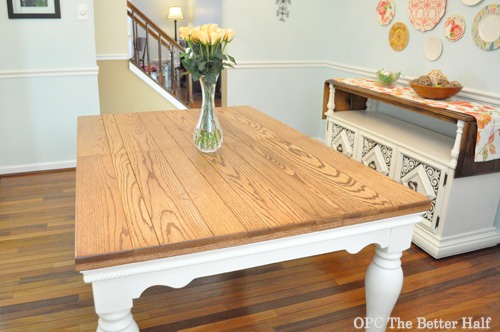 And here are the girls Easter morning, coloring and eating some candy! 🙂 They are sitting in the chairs Ethan's grandfather built. Those are awaiting some special attention, so stay tuned!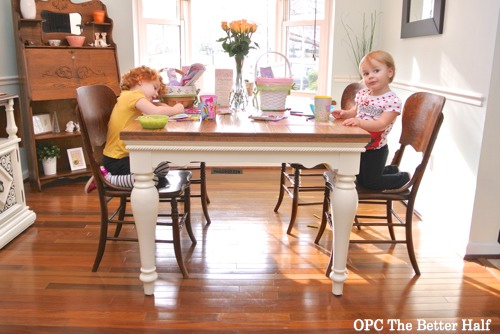 What do you think? What's at the top of your Pottery Barn Knock-off list?
Thanks so much for reading along about our fabulous DIY Pottery Barn Dining Table!