If you keep up with Jocie and The Better Half, you know that she's been busy giving our dining room a makeover. She has done a great job, and so far Jocie has painted the walls, refinished an old buffet, created a very cool plate wall, and incorporated some furniture we just inherited. Well Jocie has been pining for a farmhouse table to go with the new decor, and she really liked the Keaton Dining Table from Pottery Barn. Don't bother clicking on that link. The PB table costs $1,600 + $100 delivery! That's a bit out of our price range, and instead I built a Pottery Barn farmhouse table knockoff for about $400.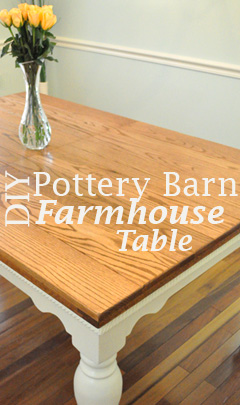 The secret behind this DIY farmhouse table is that I purchased a table on Craigslist and built a new tabletop. How else could I have gotten table legs, latches, extension rails, screws and all the other hardware for only $60?!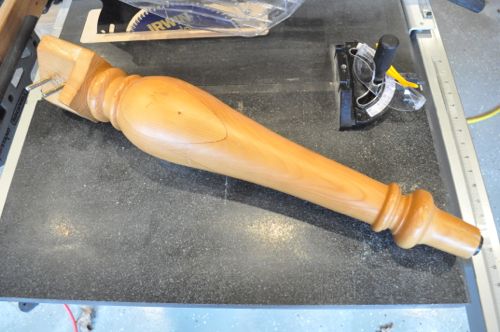 The legs and most of the molding were solid wood, and everything was a little worn. The damage was nothing that a little wood filler and sanding couldn't resolve.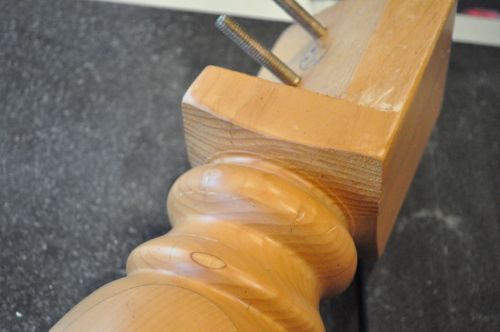 I carefully labeled all the supports, extension rails and pieces of the table apron. I also took a few pictures to refer back to when it came time to reassemble everything.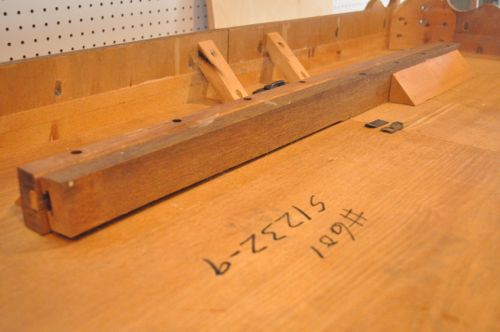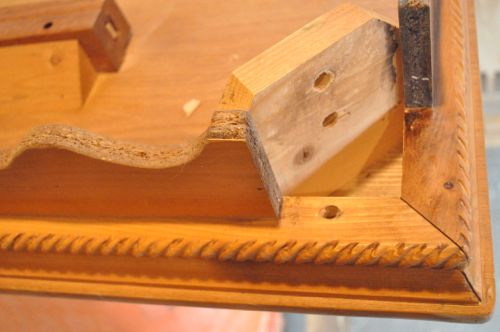 After I cleaned up the rope molding and the rest of the apron, I gave the pieces to Jocie for her to paint. She's been really pleased with Old White Annie Sloan Chalk Paint, and Jocie painted the pieces to match the buffet.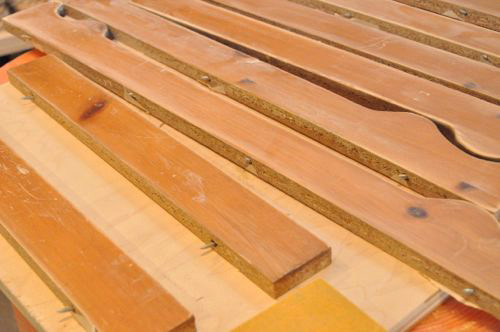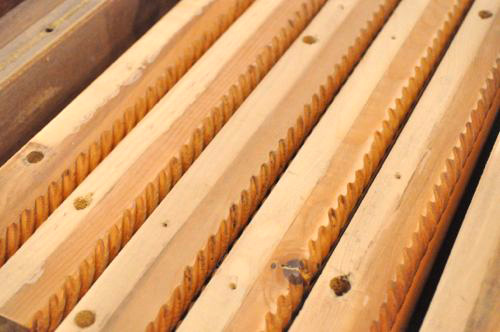 Surprisingly, the PB table has a pine top which is a relatively soft wood. I wanted something more durable, and most of the cost for this knockoff is due to the fact that I opted for an oak table top. If I'd gone with pine, it would have probably cost closer to $300.
I purchased a variety of 1x oak boards at my local HD, and I started by jointing the boards at my shop. When Joe offered to help me joint the wood at his shop (on a jointer), I couldn't refuse.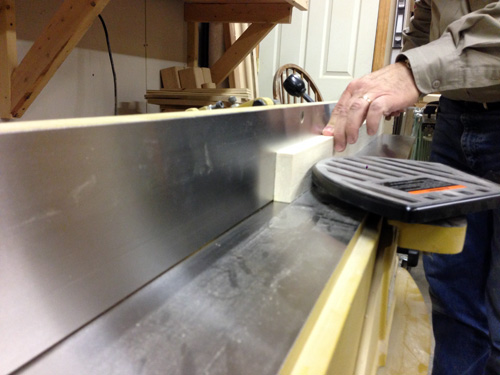 I ordered the boards with alternating wood grain patterns. That was another tip Joe gave me, and the argument is that it helps cancel out seasonal cupping. Here's a look after jointing and cutting one side of the table to approximate length.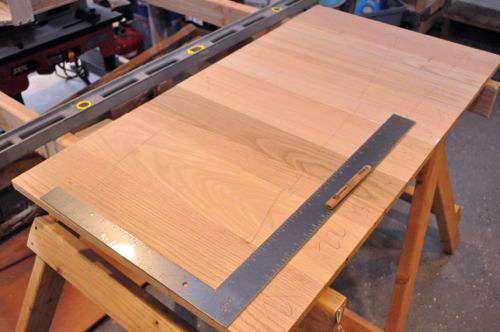 Next, I used a biscuit jointer to cut slots for about 100 biscuits. All the table joints have four biscuits and the leaf joints have three biscuits.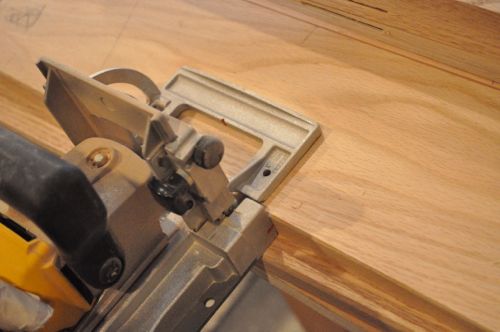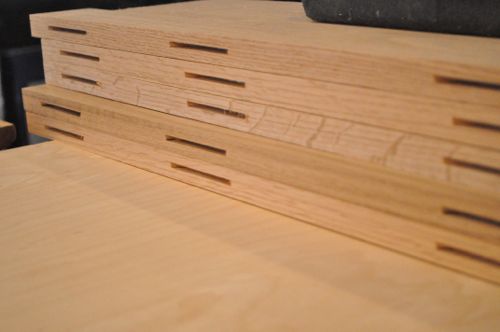 Jocie wanted a small chamfered edge at all the joints so I ran the boards through my table saw.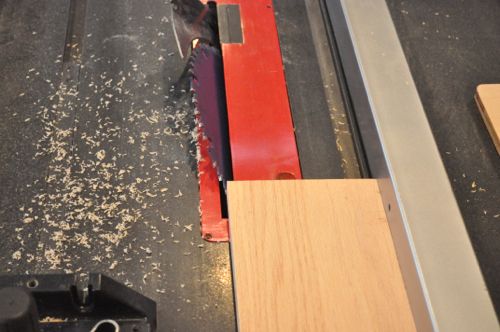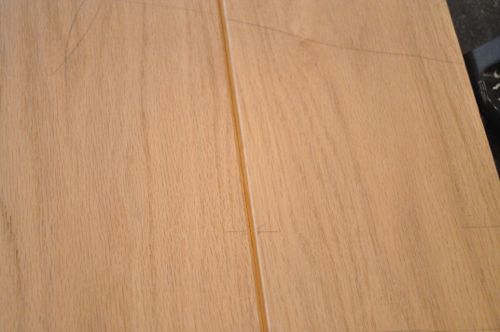 Glue up was a slow process because I didn't want to glue too many boards at the same time. I used Titebond II which is a water-resistant glue. Hopefully, water never makes it into any of the joints, but I didn't want to take any chances.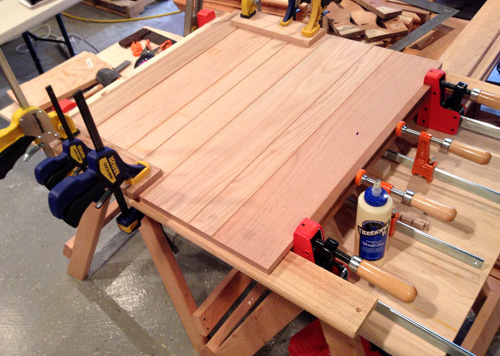 Here's a look at the two table sides and the leaf in the middle after glue up. If you remember my article about building a sled for my table saw, this was why. I needed to be able to trim the 30″ x 40″ sections after gluing.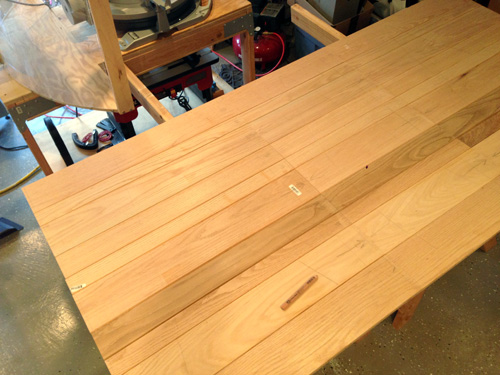 Even though these are all 1x boards, there was quite a bit of variation, and I used a belt sander to even out the underside. Next, I cut lap-joints and glued and screwed a frame which gives the table top a thicker appearance, and it helps support all the glued joints.
Here you can see I've attached the extension rails. After that, I sanded the top of the table with a random orbital sander, progressing from 60 to 100, 120, 150, and 220 grit sandpaper.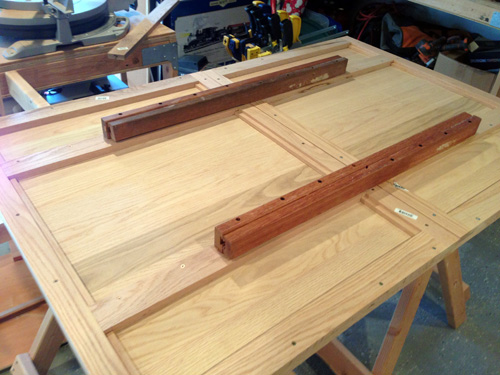 Next, I stained everything with Rust-oleum Early American wood stain. The best part about this stain is that my tabletop was ready for poly in only 1 hour!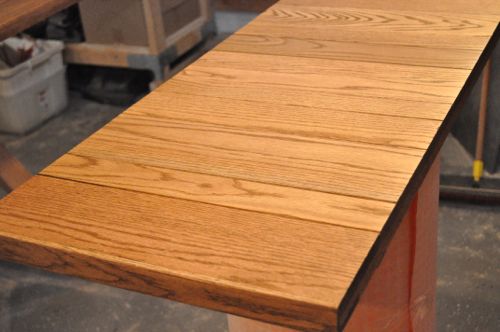 I applied three coats of Rust-oleum satin polyurethane to protect everything. I expect this table will get lots of use so eventually I'll need to reapply.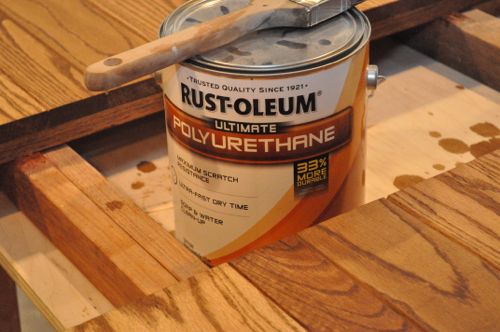 After finishing the wood, I glued and screwed the apron back in place and attached the legs. Jocie gave everything one last coat of paint, and the table was done! Now I just have to come to grips with the fact that the table is going to be used… by small children… sometimes with crayons.