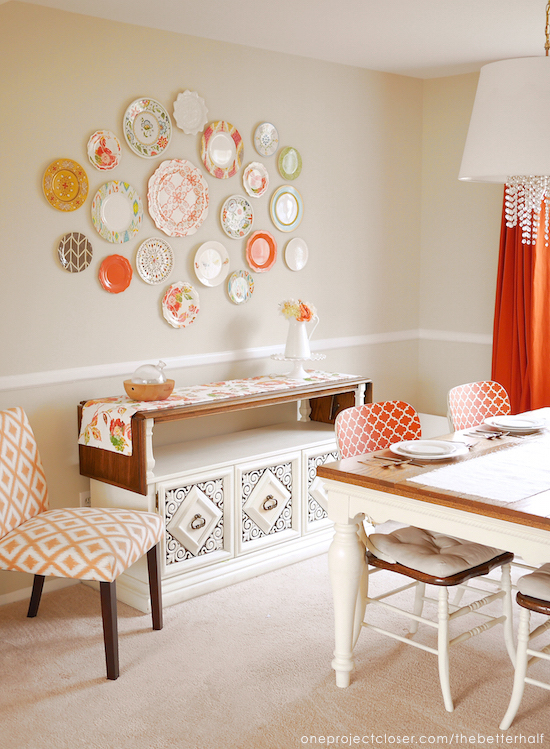 It's been a busy couple of weeks, updating our dining room, and I'm so excited to share with you my buffet makeover – turning a drab 1970's buffet into 2013 fab!

Have you been following along on my dining room redesign? Let me catch you up…
First, we sold all our furniture, and we painted using Ben Moore Green Cast. Its made a HUGE difference in brightening up the room and giving it some style. It was bare for a while, and I was a little freaked, having seller's remorse. I mean, who sells beautiful, near new condition furniture? This girl!

Next, we brought in a secretary desk from Ethan's uncle – it's so beautiful and really opens up the room since it is so much smaller than the previous furniture.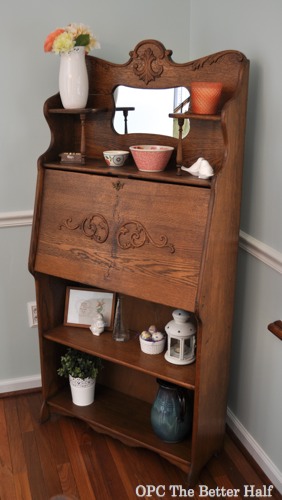 It came to us with a pretty worn out knob, so I repurposed a little knob from a decorative rack from Pier 1 that just so happened to fit perfectly.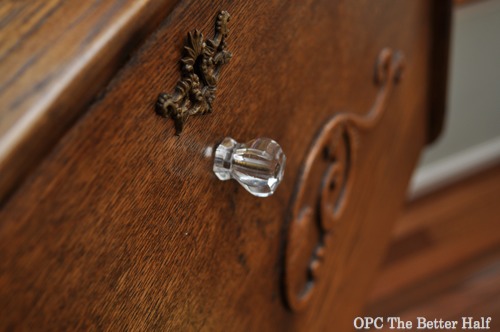 But, since the secretary desk is so petite, the room felt kinda empty, so I went on the hunt for a buffet.
Before: The Ugly 1970's Buffet
Ethan and I love Second Chance Baltimore! Much like the Habitat ReStore, Second Chance takes apart buildings that would be demolished, reclaims wood, furniture, home fixings, the works! Then, they sell everything that is reclaimed to the public at a discount. Not only does this save great materials from the landfill but also creates jobs for men and women coming out of the prison system…hence, Second Chance.
In my search, I started at Second Chance – the selection is far larger than Goodwill and quicker than Craigslist. At first, I didn't even see this buffet and then once I did, I dismissed it because it was so 1970's. But after phoning a friend to give me some courage that I wasn't making a huge mistake, I bought the buffet for $90.
I was a bit worried it wasn't going to fit in the car, but after putting the empty car seats in the front seat and with the help of a couple strong guys, it fit with several inches to spare in my RAV4.
It looked great in the room, especially once I put up my plastic plate wall!
ASCP Buffet Makeover
I've been doing a lot with chalk paint recently, with Lucy's new daybed and a vase in the dining room with homemade chalk paint. I was excited to use a fresh can of ASCP Old White for the buffet, in hopes to lose a bit of that 70's charm.
I opted to lightly brush the detailing on the door to preserve some of the dark color. What do you think?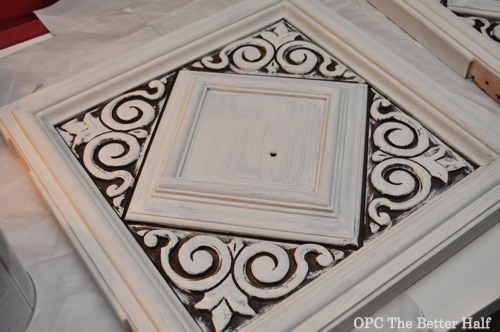 After two good coats, I busted out the Annie Sloan Soft Wax.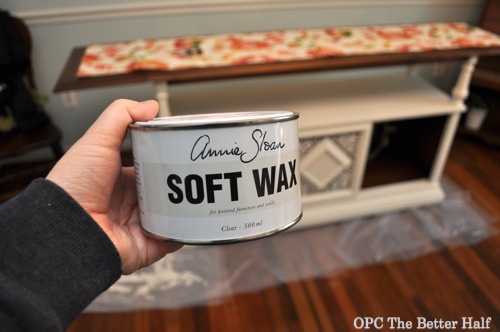 This stuff is worth the cost for sure, but boy does it stink! Of course, I was determined to wax on the one day of the year we got serious snow. LOL. So I got a space heater running and put a fan in the window in hopes to not kill too many brain cells in the process!
An hour or so after brushing on the wax, I buffed my buffet. (haha, get it?)
Ta-Da!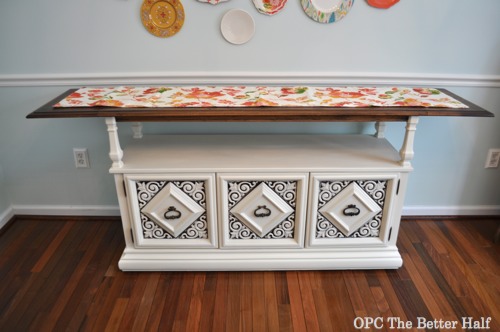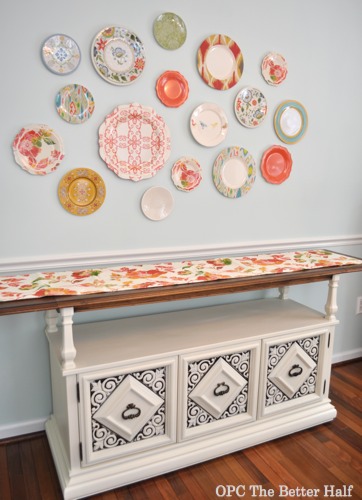 And one final, side-by-side…which do you prefer?

What do you think? How do you like the detailing on the doors?
Thanks for following along on Annie Sloan Chalk Paint buffet makeover!