A fresh coat of paint is one of the fastest ways to make a space look new again, and it's one of the most popular DIY projects. But how do you determine which paint to buy? It seems that everyone has their own opinion on the best paint, and brand loyalties run deep. To provide some analysis, we've tested several of the top brands available to determine which paint provides the best coverage for the price. In each section, we'll review coverage, price and availability.
Editors note: This post originally ran in April, 2008. Since that time we've received lots of comments, feedback and suggestions. In an effort to continue providing accurate information, we've updated this post, and retested new paint samples. We've also added a lot of pictures so you can see the results for yourself. Many of the comments may no longer be applicable after this update, but we've preserved them to incorporate reader insights.
The Test
To accurately compare the paints, we needed to devise a balanced test that would be applicable in a real-life scenario. In that effort we setup a sheet of drywall and painted a deep red checkerboard pattern. Each paint was applied to a large section with a fresh roller and paint brush to see how well they covered. Pictures were taken with consistent lighting immediately after application and after allowing the paint to dry. Let's see how they stack up!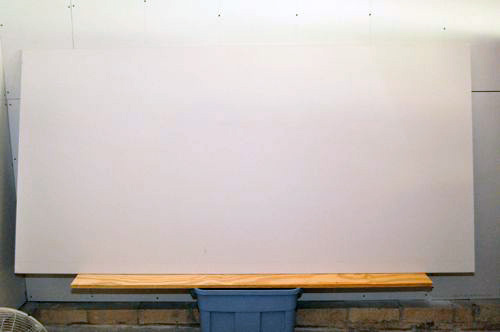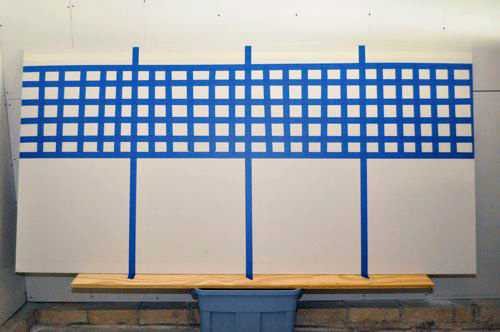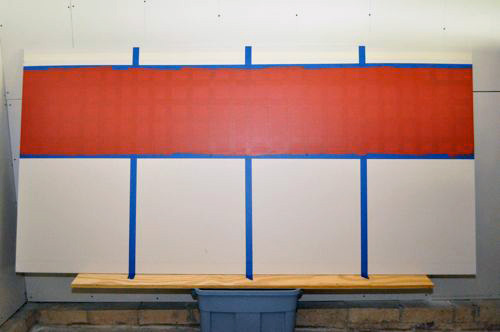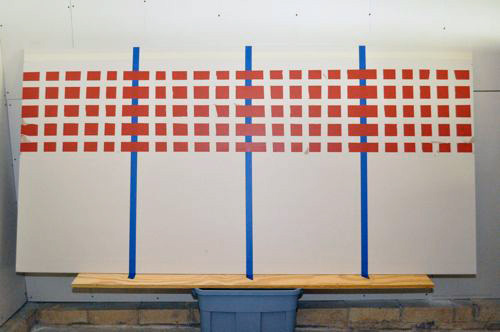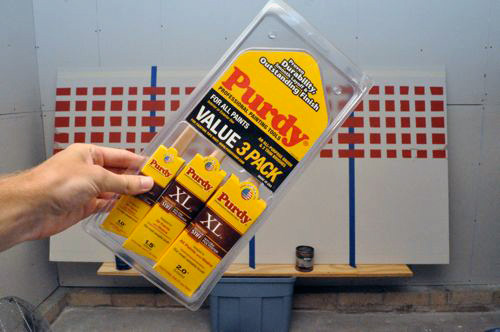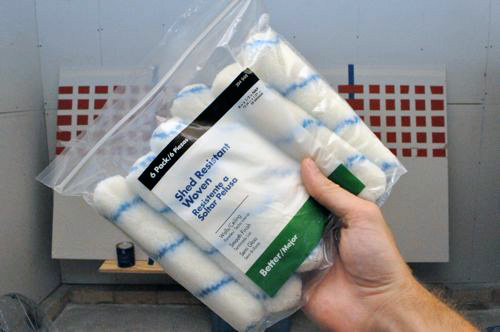 Valspar
We purchased Valspar Signature Interior Semi-gloss which is a paint and primer in one. This is an acrylic latex, interior paint designed for "ultimate hiding." Valspar is a Lowe's specific brand and is available nationwide at their retail locations and online. Click here for product details.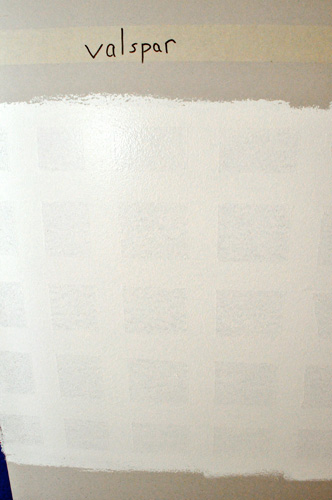 You can still see a faint outline of the red squares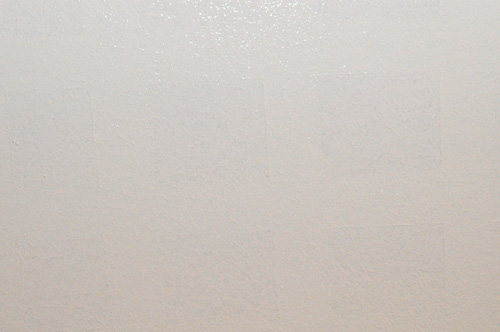 This is an up-close picture of Valspar covering the red squares.
Duron / Sherwin Williams
Sherwin Williams purchased Duron in 2004. They kept the name, mostly for brand recognition according to one sales associate. Sherwin Williams stores can be found nationwide. For this test we used Sherwin Williams SuperPaint Interior Acrylic Latex. It's another self-priming paint, and is available in over 1,500 colors. Here's the product page.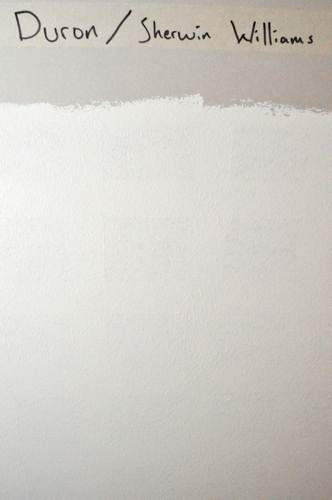 You almost can't detect the red squares after one coat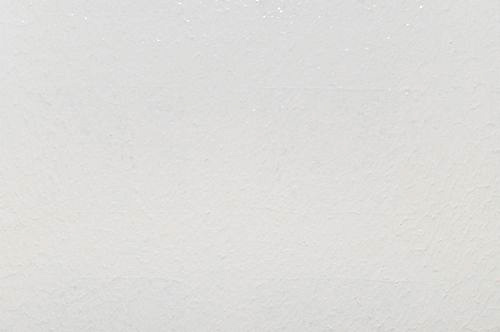 The square is barely perceptible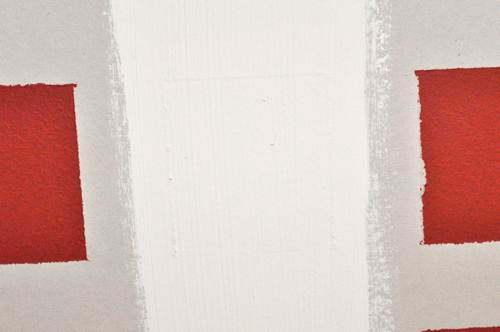 The brushed paint yielded similar results
Behr
Behr is Home Depot brand paint and has their own paint with primer offering called Behr Premium Plus Ultra. This acrylic latex paint has the added benefit of having low volatile organic compounds (VOC). This paint is available in 386 exclusive, designer hues or choose from over 2000 standard Behr colors. Behr paint can be found in any Home Depot store and online.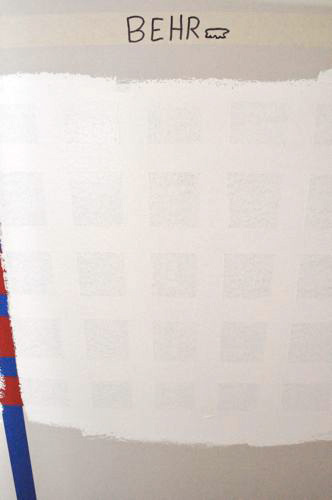 Red squares are plainly evident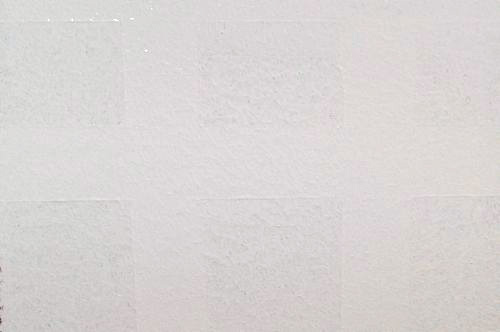 Up close

Brushed paint results are similar
Ralph Lauren
Home Depot stopped carrying Ralph Lauren brand paint in early 2010, and now it is only available from specific distributors. We did not include them in our updated test for the simple reason that the closest store is located about an hour away. We can confirm that right now Ralph Lauren does not make a self-priming paint. For the sake of comparison, we pulled information for a generic interior acrylic latex paint.
The Verdict
So what paint do you think is worth the cost? None of our test samples proved to be one-coat-wonders, but we didn't expect any of them to completely conceal the dark red paint. If you couldn't tell from the individual photographs, Duron / Sherwin Williams was the clear winner. No matter if you roll or brush the paint, we found similar results.  While it may save some time, you'll pay for the improved coverage in significantly higher prices. Here are some final pictures if you're not convinced.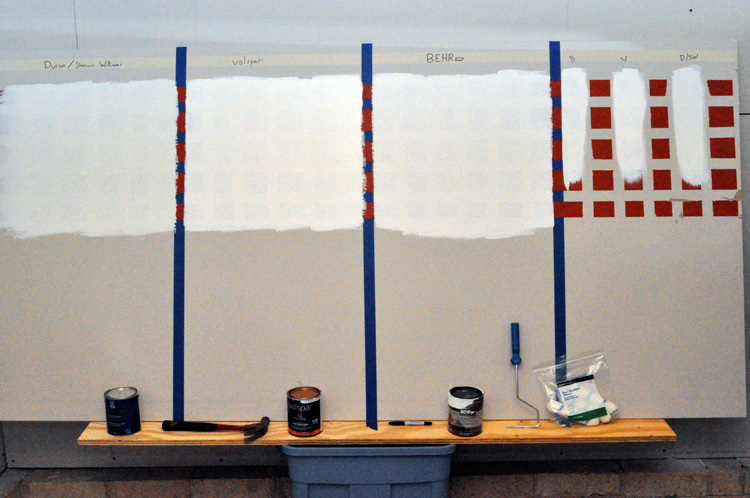 Click to enlarge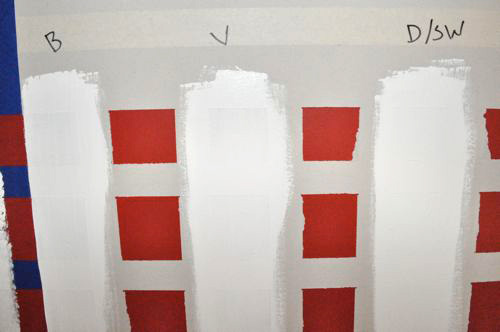 Paint Disposal
Many people don't realize all the different ways to get rid of old paint. Old paint can be donated, recycled, or taken to a paint disposal center. For more complete information about disposal your old paint, check out the link above.
What do you think? Do you agree with the pros and cons? What's your experience been? What brand would you recommend?
Editor's note: Valspar paint is offered exclusively at Lowes and before you head out the door, grab a free Lowes Coupon. The same is true of Behr and Home Depot so pickup a Home Depot coupon too. We keep a couple great coupon pages and that one allows you to sign up for 10% off any in-store purchase.