Our guest bathroom was one of the only rooms we hadn't updated or decorated since purchasing our home. With Izzie getting bigger and another one on the way, we knew it was time to make some improvements. We wanted to replace the vanity, paint the walls and lay new ceramic tile on the floor- all on a budget.
Jocie and I are writing this post to be an overall guide through our bathroom remodel. We will try and summarize the main points and provide links for more details.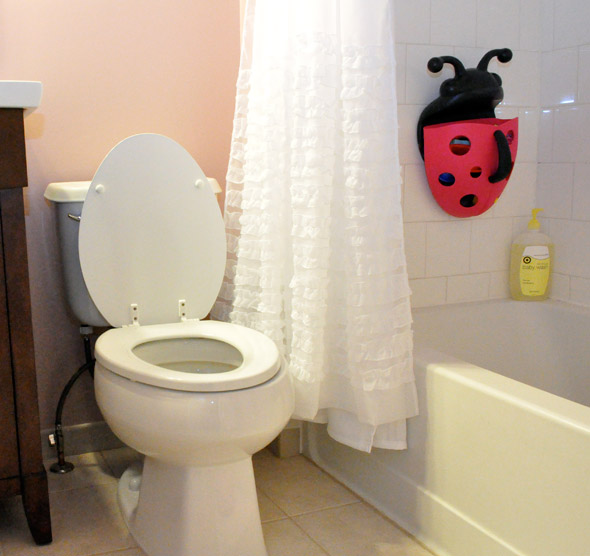 Demolition
I started by removing all the floor tile. The tile was installed over an uneven subfloor so it was not a surprise that it was cracked and poorly bonded. My Dremel Multi-Max was really helpful with removing the tile and left-behind thinset.
The vanity, toilet and light fixture came of without incident but revealed that I had a broken toilet flange. Fortunately, repairing the toilet flange was a simple project.
Tile
It was a lot of fun to lay the new tile and see the floor come together. It's important that ceramic tile be installed on a rigid, even subfloor. If the subfloor is uneven or flexes too much, the tile will crack before long. I installed concrete board but there are several other acceptable materials.
Before you get started, make sure you have the right tools to lay ceramic tile and that you plan a tile layout. It's also important that you are comfortable cutting tile.
Once you've laid the tile, it's time to grout the tile and the bullnose. It's amazing how grout can make the tile look so good.
After the grout has set, take the time to seal the grout to help keep it clean.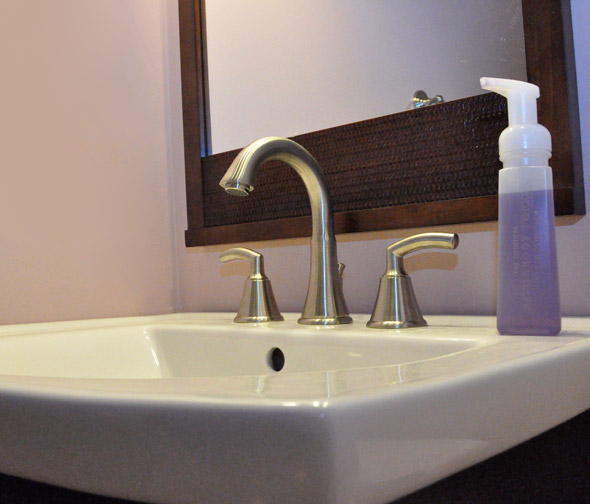 Paint
We chose to try out a new paint with this home project – Glidden Interior Paint with a Satin finish. The color is an antique rose, chosen from another line of paint. I love the soft color and how the white fabric and satin nickel fixtures pop against it, creating a beautiful shabby-chic look that our girls can grow into. Even with priming the bathroom first, the Glidden paint did not cover well and needed lots of touch-ups. I would definitely choose Ralph Lauren or Behr paint in the future.
Fixtures & Furnishings
Tropic Vanity and Wall Mirror by American Standard
This is by far my favorite aspect of our new bathroom! It is a sturdy, yet beautiful vanity and mirror that adds so much style and interest to a fairly basic room and design. Its been several months since we installed the vanity and hung the mirror, and I have no regrets. In fact, the quality and beautiful design makes me wish we had used their products for our other bathroom.
American Standard Tropic Faucet in Satin Nickel finish
This faucet perfectly compliments the vanity and style of the room. I have been very pleased with the quality of this faucet – it never leaks, easily shuts on and off, and wipes clean without water spots.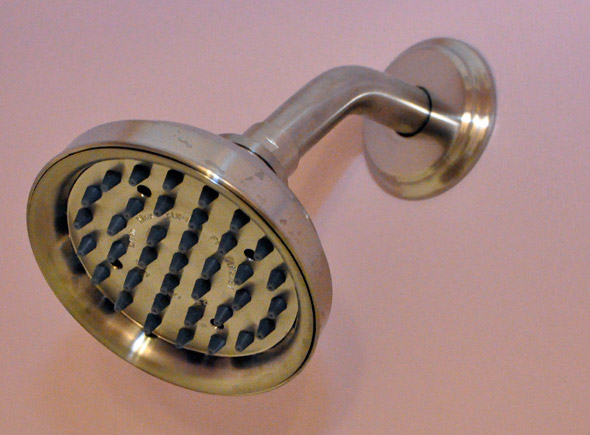 Price Pfister Avalon Trim Tub and Shower Fixtures in Brushed Nickel Finish
We chose this set for its classic, clean look and it has not disappointed. I love the finish and overall design. While needing to be wiped down after use to reduce water spots, it is a quality set with a beautiful look.
Price Pfister Redmond Robe Hooks and Hand-Towel Ring in Brushed Nickel Finish
Before we remodeled, the bathroom originally had a large towel bar and a smaller hand-towel bar, however they took up a lot of wall space and were not always utilized. So in choosing new fixtures, we decided on replacing them with a hand-towel ring and two robe hooks. I'm very happy with our choices, utilizing less wall space and easy use, even for small children (Izzie can hang her own towel on the robe hook!).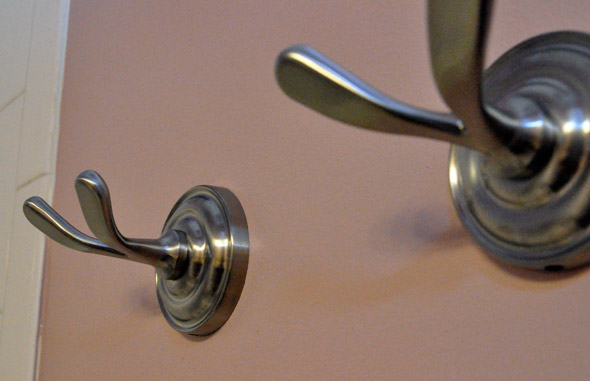 Target Ruffles Shower Curtain and Simply Shabby Chic Ruffles Hand Towels
I love this line from target. The shower curtain adds a soft delicate look against the antique pink walls. A word of caution, the shower curtain is very sheer, so I had to buy a white fabric liner to go behind it. The hand towels, while more expensive than the average, are absolutely worth the cost as added decor.
What do you think? Do you like the bathroom?