I love working on my lawn. Whether it's aerating the lawn or applying weed and feed, I take a sense of pride in how my lawn looks. Up until a week ago, Jocie and I paid a neighbor-kid to edge and trim our lawn. It was easy money because we don't have a very big yard. Unfortunately of him, I've got a brand new trimmer / edger now.
Black & Decker recently shipped us the brand new 24 volt High Performance Cordless Trimmer / Edger to test and review. Yesterday was a sweltering day but I braved the heat because I was really excited to try it out. The trimmer has worked out well so far but read on for a detailed review.
Black & Decker Cordless String Trimmer / Edger Review (NST1024)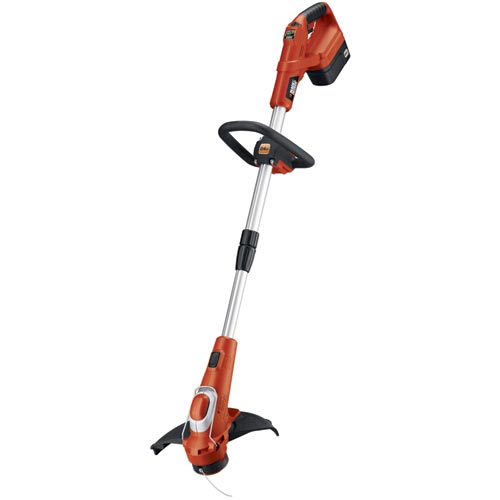 The Good: Easy trimming and edging; lightweight; quiet. Auto-feed works great. Trimmer head rotates for easy, comfortable edging.
The Bad: 24 volt battery is insufficient for extended use, heavy-duty trimming.
Overall: This trimmer works well for medium and small yards, making it a breeze to shape-up your lawn.
General Information
This B&D trimmer weights a modest 8.5 lbs and is well balanced for comfortable operation. The lightweight, aluminum shaft is extendable and the auxiliary handle can be placed for individual height. The standard 24v battery is attached at the top of the handle near the trigger and snaps securely in place. To operate, push the safety button and pull the instant start trigger.
PowerCommand Boost
The PowerCommand switch is located on the top handle, opposite the trigger. This switch allows you to toggle between "Normal" and "Boost" mode. It's a nice addition as this allows you to optimize performance. Set the power at "Normal" for typical trimming- conserving battery. Increase the power with "Boost" to cut through thicker grasses.
Edging
Most string trimmers, you can flip around to use as an edger- it's awkward and cumbersome. This trimmer includes a great feature enabling it to easily convert from a trimmer to a maintenance edger. By pressing the release button, the trimmer head can rotate 180° to the proper alignment. Next, flip the wire guide in place and you're all set. Edging is easy and comfortable.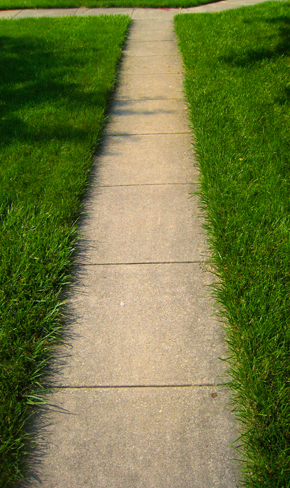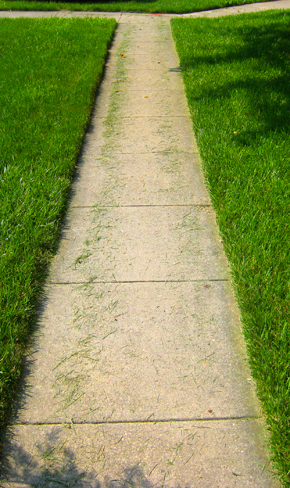 Battery
B&D included one 24 volt, rechargeable, NiCad battery and charger. The initial charge takes 11 hours with subsequent charges only requiring 9 – 11 hours. The charger slides into place and has a green LED that blinks until fully charged at which time the LED turns off.
B&D boast that the 24V battery, combined with PowerCommand, enables you to cut up to 2.5X more grass per charge than an 18V battery. While this may be true, one 24V battery won't be enough for a large yard or constant use. I have a small lawn but was able to completely trim, edge and begin on my neighbors lawn before the battery began to lag.
This trimmer also accepts all other Black & Decker brand 18 volt batteries. If you own other B&D cordless tools, it's handy to keep a spare in the charger.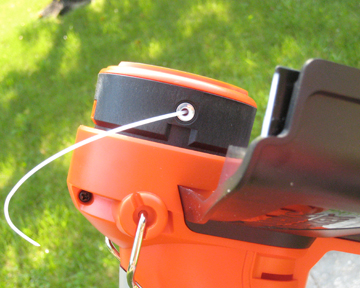 Automatic Feed System
This trimmer utilizes 1.65mm diameter nylon line. As you work, the feed mechanism senses when more cutting line is needed and automatically advances the line. There's no need to bump the trimmer or manually adjust the line. There's even a cutting edge (foreground of picture) that will trim the line to the appropriate length. I really enjoyed this feature. It worked well and eliminated the hassle and guesswork of many other string trimmers.
Technical Specifications
9000 rpm Motor and gear drive
Voltage – 24 V
Cutting Path – 13 "
Line Diameter – 0.065 "
Weight – 8.5 lbs
Feed System – Automatic Feed System
Includes
24V Cordless Trimmer / Edger- model #NST1024
24V Battery Charger
(1) 24V Battery- model #HPNB24
Nylon line- model #AF100
Auxillary Handle
Guard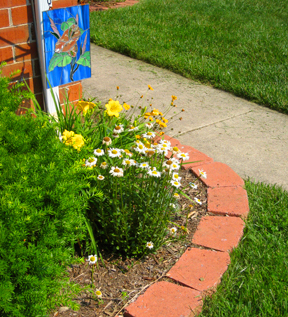 Overall Impressions
Overall, I'm really pleased with this trimmer / edger. I really like how easy it is to get started- pop in the battery and pull a trigger. There's no need to worry about a gas-oil mix, yanking a starter or finding an extension cord. This trimmer enables you to get the job started (and finished) faster. Black & Decker included some nice features (like the rotating head) that allow you to work faster too.
If you're in the market for a more heavy-duty string trimmer, consider the Echo SRM-225i. The Echo features a two-cycle engine and an easy-pull start system. It's a great choice for professionals and enthusiastic homeowners. Read the full Echo SRM-225i review on ProTool Reviews.
Buying the 24 volt High Performance Cordless Trimmer / Edger
If you're in the market for a good, cordless string trimmer, the NST1024 is a great choice. It's perfect for homeowners and lawn enthusiasts with medium to small sized lawns. It's available through the Black and Decker site or, for a better price, check out Amazon plus there's free S+H. The links are below:
What do you think? Do you own this trimmer? What's your experience?