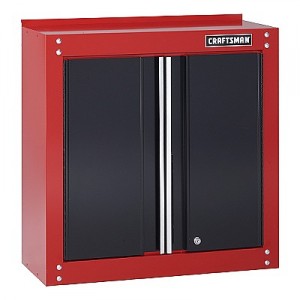 The next item in the Craftsman Tool Storage series is the Craftsman Wall Cabinet. Craftsman was kind enough to provide several elements from their Garage Storage System. Be sure to check out the Workbench, Floor Cabinet, 5-Drawer Addition, and VersaTrack Reviews.
The Craftsman Wall Cabinet provides great, off-the-floor storage. It's easy to assemble and mounts to several different surfaces. It's a great value for any garage or workshop.
Where to Buy the Craftsman Wall Cabinet
The wall cabinet, like all the other elements of this system, features an all steel construction. It has one shelf and an opening for electrical cords. The cabinet provides latching doors with a keyed lock for additional security. This wall cabinet can be purchased from Sears or Craftsman.com for $149.99. Here's the link:
Craftsman Wall Cabinet Review
Storage Shelf
This cabinet has one stationary, steel shelf, located at mid-height. The latching mechanism is built into the front of this shelf and easily adjusts to ensure the doors close every time. This cabinet is rated to hold a total of 60 lbs – 30 lbs in the base and another 30 lbs on the shelf.
Quality Construction and Dimensions
The wall cabinet is constructed of high-quality, steel with a baked enamel finish. Here are the dimensions and weight:
28″ wide
28″ tall
12″ deep
45 pounds
Assembling and Mounting
Assembling the cabinet was quick. The instructions were clear and easy to follow.  All of my hardware was included but in case you're missing something, call 1-800-4MY-HOME (1-800-469-4663).  This cabinet can be mounted on drywall, studs, masonry, and VersaTrack. There are pre-drilled holes in the back for mounting on 16 and 24 inch centers.
Drywall – make sure it's anchored to studs
Masonry – pick up the appropriate hardware and use a hammer drill
VersaTrack – There is an included bracket allowing it to hang from VersaTrack. This is how I mounted it because I can slide the cabinet as necessary. There is also a small foam block to keep the cabinet parallel to the wall,  however this block compresses over time making it ineffective.
Overview
Overall, this is a great wall cabinet. It's sturdy and made from quality materials. It mounts to just about any surface and goes up quickly. Craftsman added a few nice features like the locking doors and opening for electrical cords. This cabinet and the VersaTrack compliment each other well – providing great storage.
What do you think? Do you own the Craftsman Wall cabinet?