Who doesn't love a painted chair? I mean, I obviously do…I've painted my dining room chairs multiple times and love a good excuse to make a colorful change!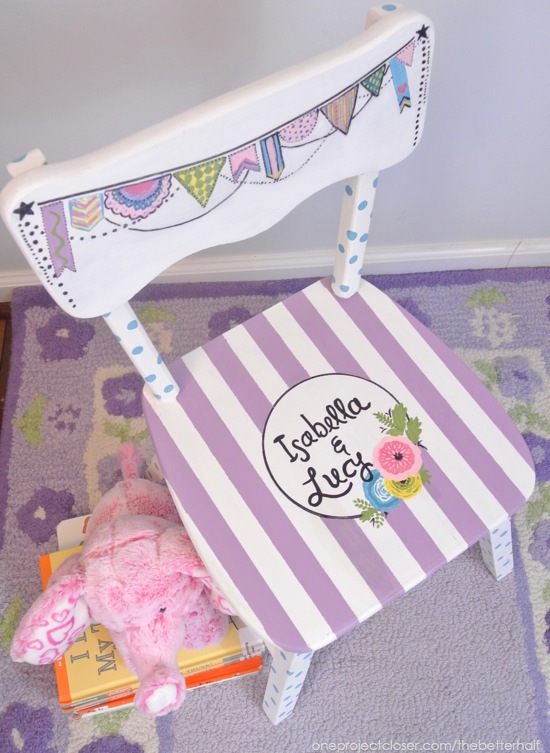 Well, my neighbor, who may be a hoarder, was getting rid of this children's wooden chair a year (probably longer) ago and offered it to me. At the same time, she gave me some vintage metal chairs that I rehabbed and gave to a friend. The wooden chair had good bones and I would have loved to keep it wood toned, but there was just too much damage and staining.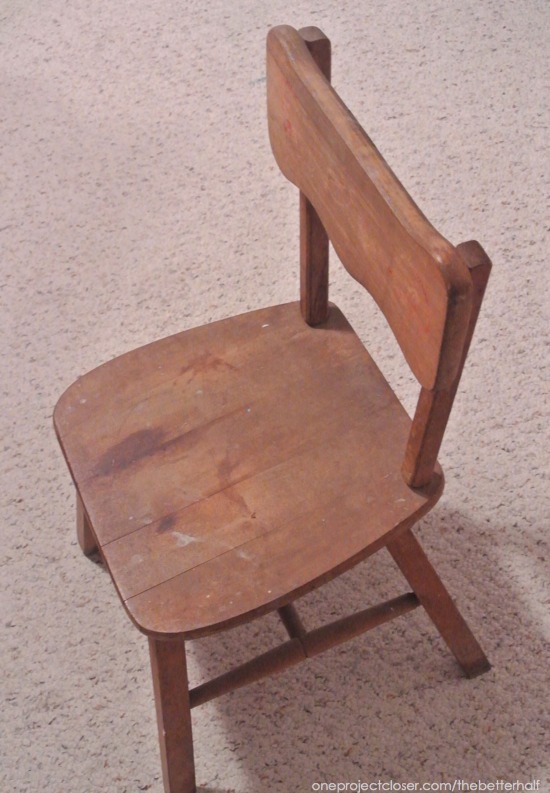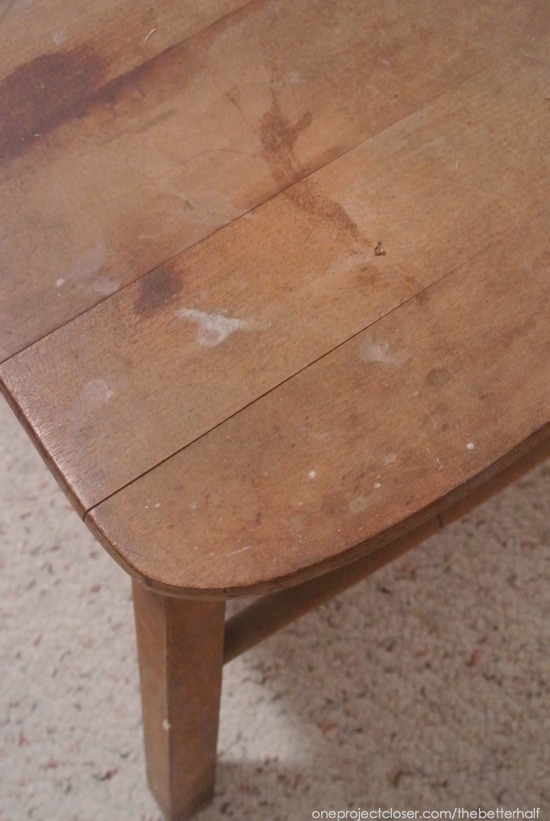 Anyway, its been sitting in our basement for a shameful amount of time and DecoArt happened to send me some Chalky Finish paint to try out. BAM! Free Project!
I first painted the chair with Everlasting Chalky Finish Paint, a good two coats. Once dry, I used a bowl and Sharpie Paint Marker to draw a circle in the middle of the chair. Then I taped with with Scotch Blue and painted the purple stripes, avoiding the circle. I also grabbed a small, circle sponge dauber and put circles on the legs.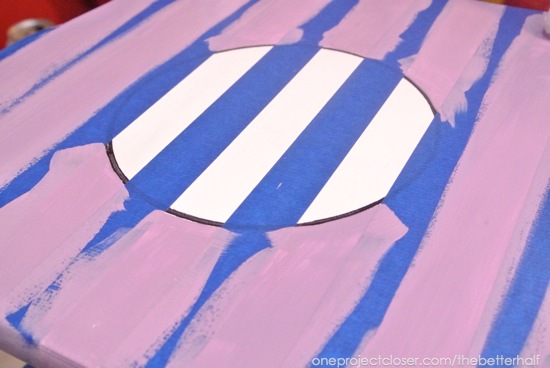 If you didn't you didn't know, I'm a huge fan of the rhonna designs app for my iPhone! And while I was trying to decide what to paint on the chair, I felt inspired when looking at some of the designs on my phone. I didn't trace or copy exactly, but tried to use a mixture of colors and patterns in a fun and creative way, and free-handed the design! I totally recommend you go buy the app (she's not a sponsor, I just love her).
Btw, I used just a painted brush and chalky finish paint on everything except the black – for that I used the Sharpie Paint Pen.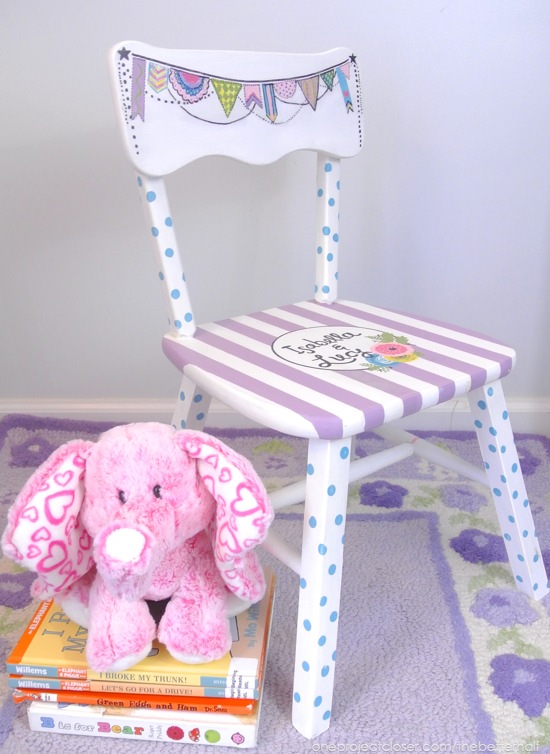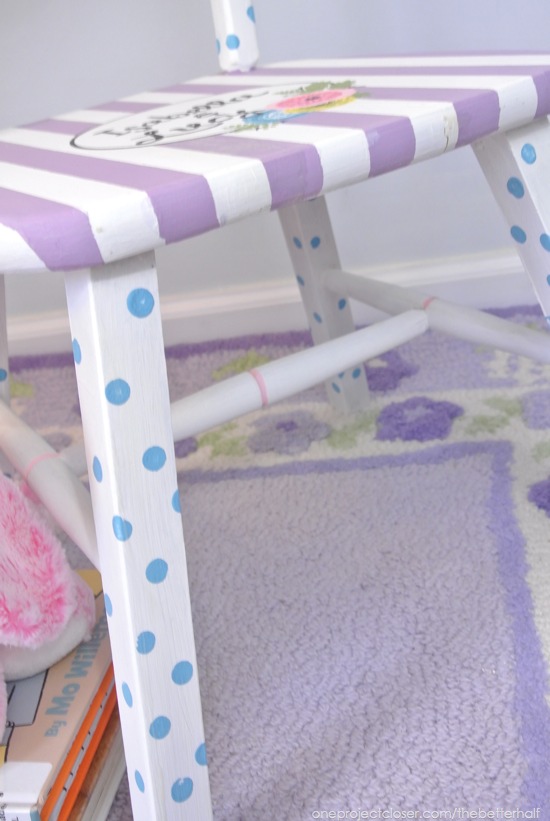 I know its a little off, but I wanted more color, so I painted the back pink. Obviously, it needs to look even MORE girly! lol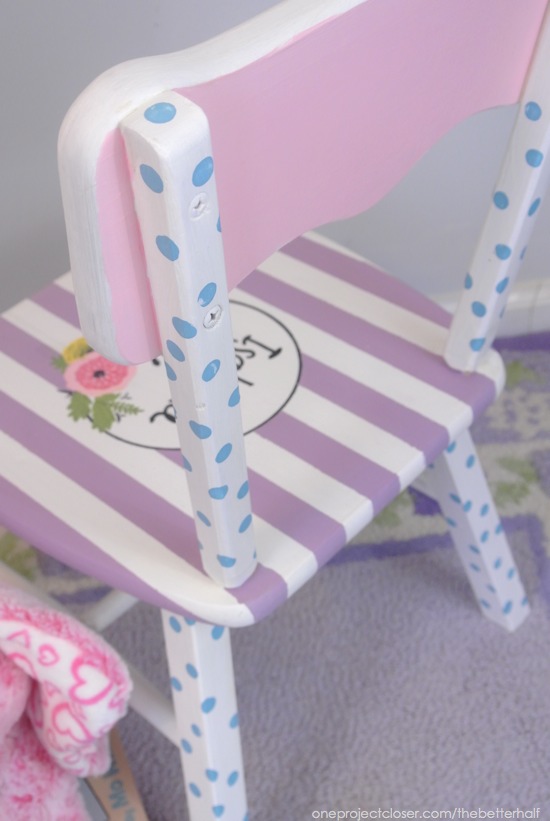 And of course, a close up of the legs….and Izzie's current favorite stuffed animal, "Pinkie." Also, the Piggie and Elephant books are super fun and we all love to read them!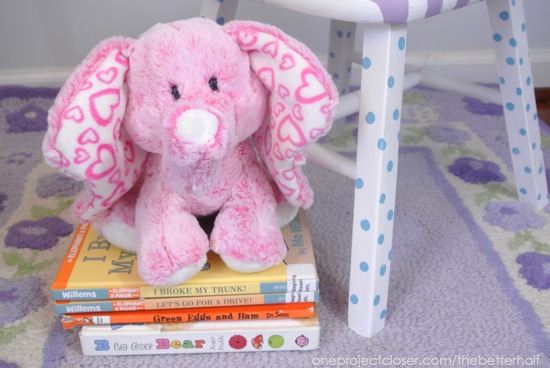 Of source I couldn't do a kid project without showing off a kid! Here's Izzie, and I tried to get some pix of Lucy too, but she was not really feeling it.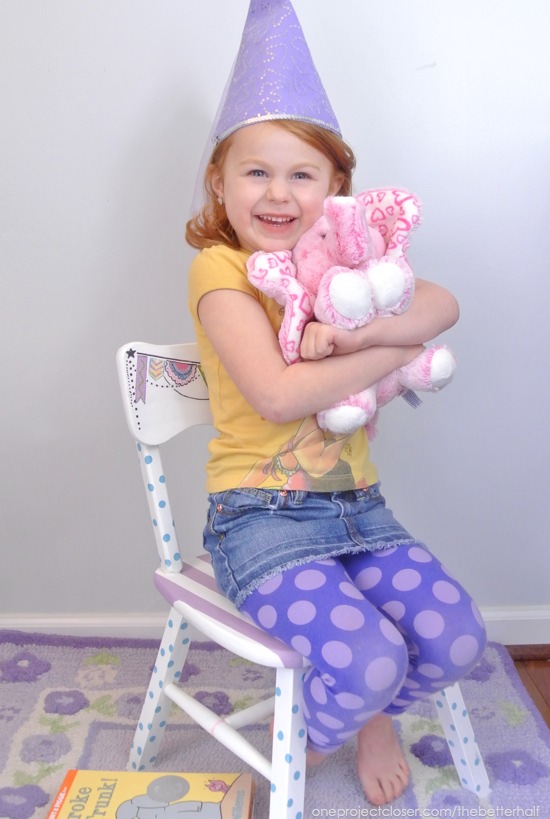 And finally, my favorite part – the girls' names and the flowers. I was a little worried my spacing was off, but when you free hand with paint, that's what you get. lol.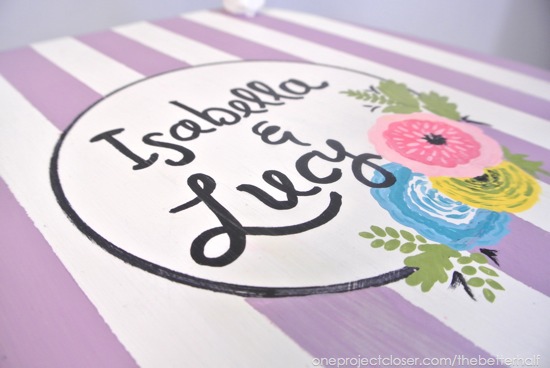 What do you think? I'm debating painting a small table and bench to go with it…suggestions?!?
As always, thanks for reading!