This Annie Sloan Chalk Paint Chairs post originally ran in October 2013, but to this date, still remains one of my favorite projects. I am proud to report it has held up to two toddlers, lots of goo, and more than their share of abuse.
Sometimes, I make more work for myself and these Annie Sloan Chalk Paint Chairs are the perfect example. One set of chairs, 3 different styles. I can't wait to hear what you think? Plus, you get to see how my dining room is coming along!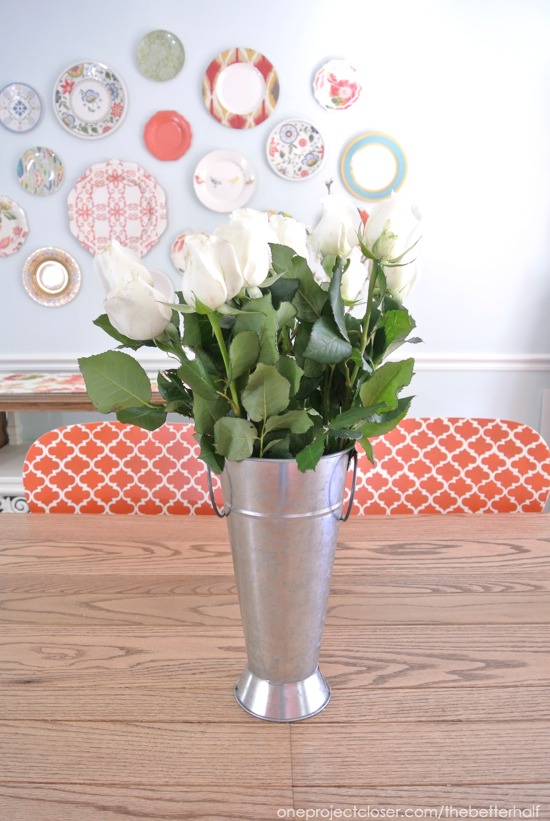 In case you missed the story first time around….we inherited these chairs that Ethan's grandfather built. Beautiful chairs but badly damaged veneer.
Ethan and I went back and forth about what to do with the chairs (he was uncharacteristically opinionated). We finally compromised on keeping the seat base wood and exposing some of the veneer (which he loved) with painting an inverse stencil.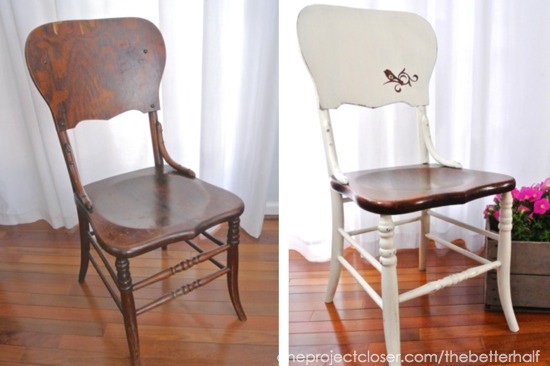 While pretty, I just never really feel in love with the painted chairs within the room. They were just a little too casual and country for my style.
I started looking around for a stencil to meet my vision, and then went to Craft Night with my friend, Liz at Naptime Decorator who let me borrow a Martha Stewart Stencil that she recently used to makeover a dining room bench.
And then, the next day while Ethan was at work, I painted! Its better to ask for forgiveness than permission, right?
My Chalk Painting!
Its a lot of money, I know, but ASCP coats nicely, has fabulous colors and is reliable! So I used my Old White along with Annie Sloan brush to repaint the chair, to give it a cleaner finish and get rid of all the distressing.
Then I started stenciling with the Martha Stewart lattice stencil. I mixed Barcelona Orange with a touch of Emperor's Silk (red) ASCP and applied using pouncers with an up and down motion, cleaning the stencil between applications. This is one of my Instagram pics from that day. Are you following me on Instagram – jocieopc?!? You should! lol.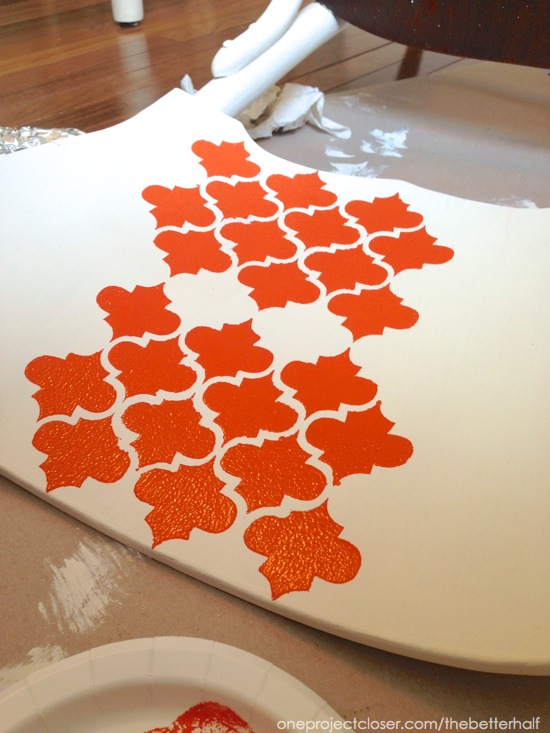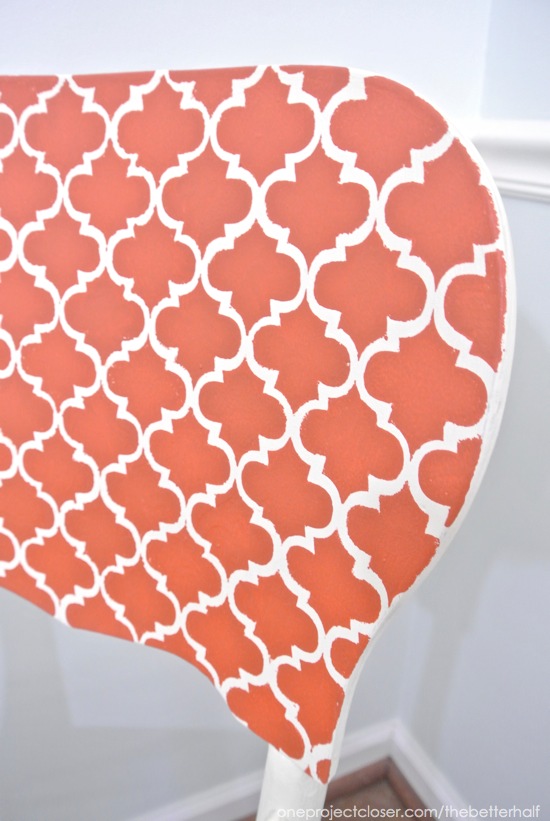 Then, once it was all dry, I chose to use a MinWax Polycrylic to seal and protect just the painted parts. Previously, I used Annie Sloan Soft Wax, but the Polycrylic spray paint is quicker to apply and doesn't yellow with application.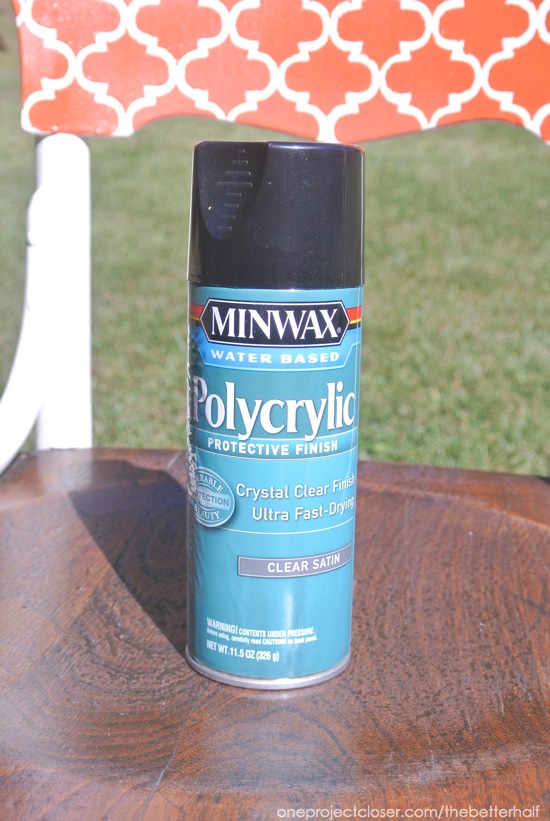 Then, I used Rust-Oleum Semi Gloss Polyurethane for seat base. I love the shine!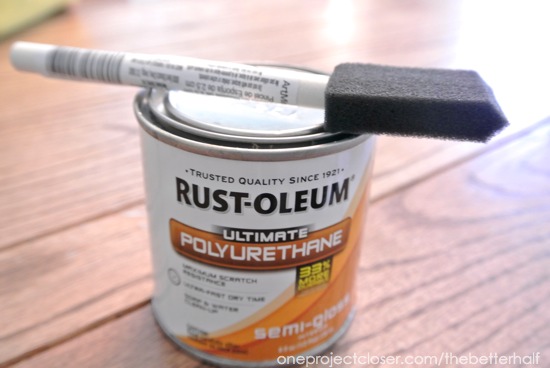 Finally, I finished off the chairs with some seat cushions from IKEA for $6.99 each. Say what?!? Pretty awesome compared to the other ones at Pier1 for more than $20 each! For that price I won't have a heart attack each and every time the girls eat spaghetti.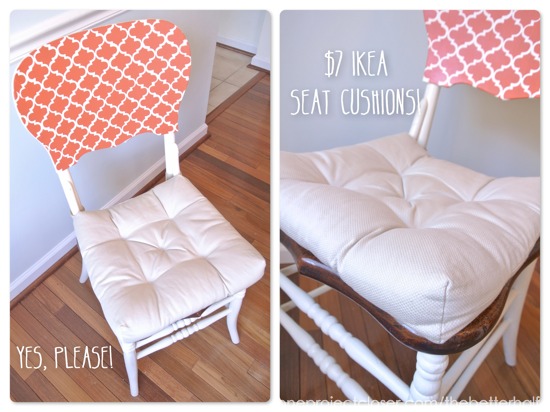 Dining Room Progress
Now here they are in the room, along with some fresh roses I bought for the occasion (a nice excuse, right?) I love how the orange on the chairs pulls out the orange on my plastic plate wall!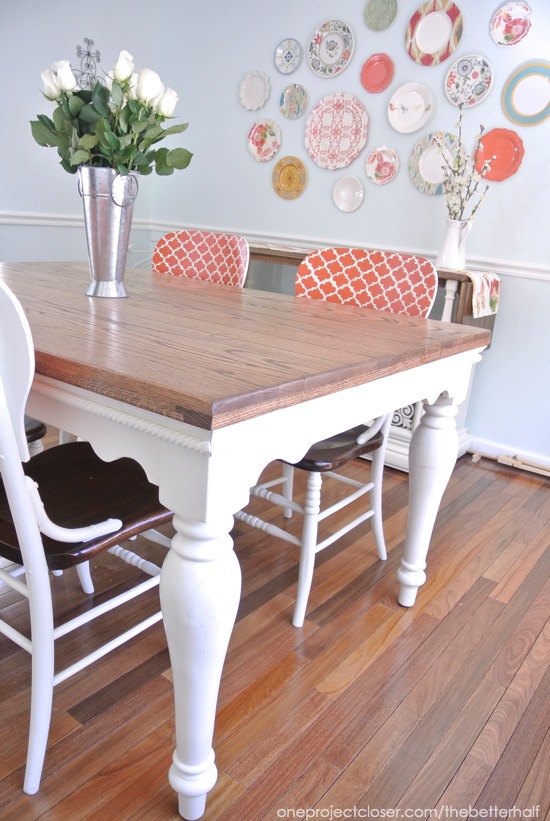 And how amazing they look with our Pottery Barn Knock-Off Table.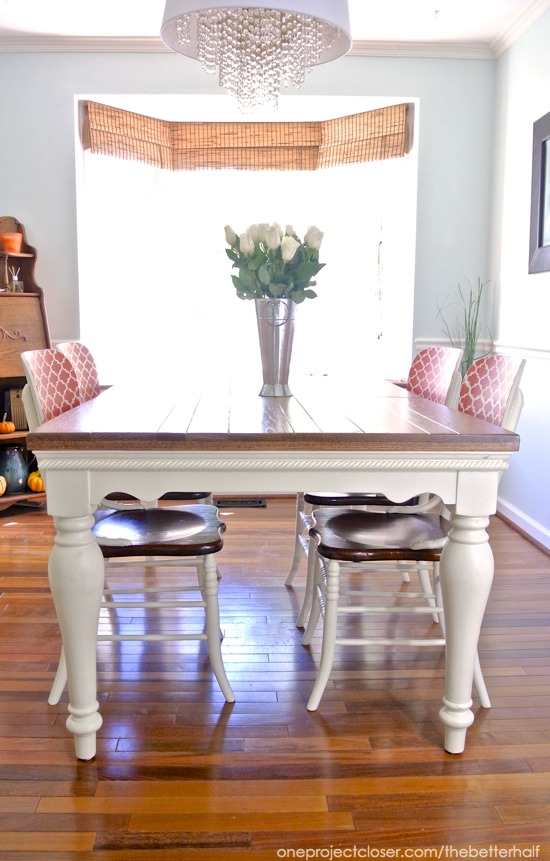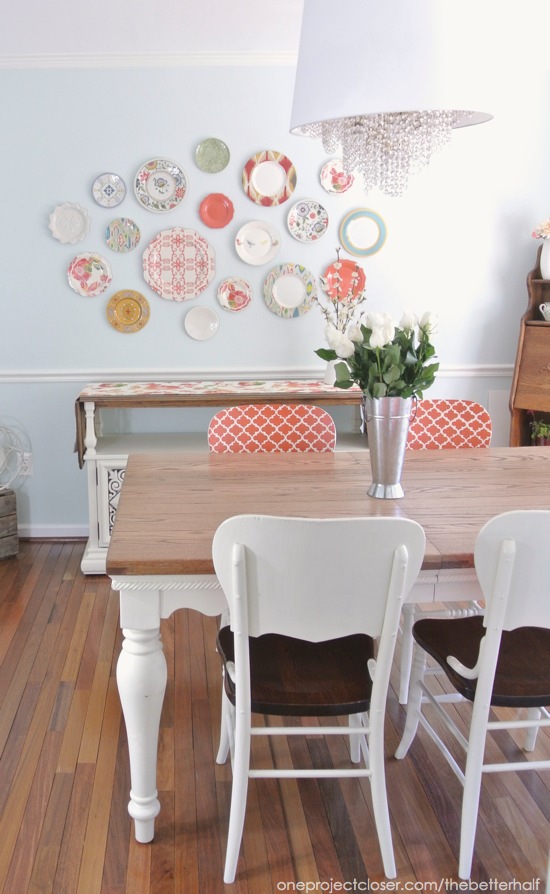 What do you think???
So here are all the versions of the chairs, side-by-side. Which is your fave?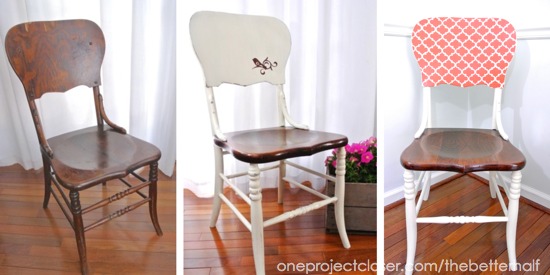 Thanks so much for reading along about my "new" Annie Sloan Chalk Paint Chairs!