This has been a project long in the works, and I am so excited to finally share with you my Chalk Paint Tutorial: how I gave some old chairs a dramatic new look!

Remember a few months ago when Ethan's aunt and uncle gave us a bunch of family heirlooms, like a 48 star American flag, an antique dresser for Lucy's room, and the secretary desk that is currently in our dining room? Well, we also were passed six beautiful dining chairs that were built by Ethan's grandfather!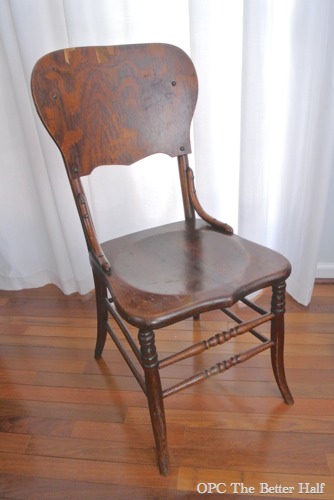 When we got the chairs, they needed some serious TLC, but Ethan and I were at odds about what to do. The main structure of the chair was fine but the veneer backing was chipping and in really bad shape!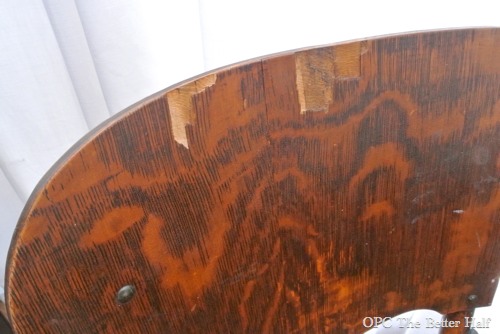 I wanted to paint them and Ethan wanted to preserve the natural wood and grain. The wood and grain really were beautiful so I can see where he was coming from, but in repairing the damage to the wood veneer it would be impossible to stain without looking kinda funny. We talked about covering them in fabric or replacing the veneer entirely, but we were stuck at an impasse, unable to agree.
So I waited, worked on some other projects, and then brought it up again a few months later. We agreed that something needed to be done with the chairs, and Ethan trusted me that I would do my best to preserve the wood and show off their best features. 🙂
This past weekend, while shopping at Luckett's with my bloggy BFF, Liz at Naptime Decorator, I picked up some Annie Sloan Chalk Paint in Old White to match the farmhouse style table and buffet that I painted using Old White. In case you missed my Facebook and Instagram pix…here's a few of my faves. Oops, I may have accidentally tripped and impaled myself on some antlers! lol.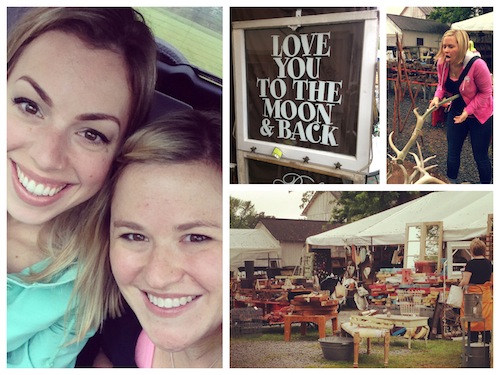 After gathering my supplies, Ethan helped out by repairing the damaged chairs with wood putty, then I sanded and cleaned them with a mild vinegar solution.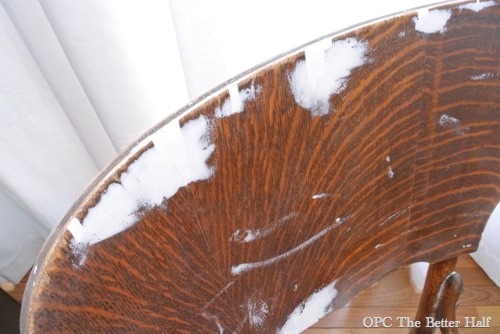 After they were completely dry, I painted them with two coats of Annie Sloan Chalk Paint in Old White. It was a slow process because of all the spindles, but I got to catch up on Grey's Anatomy, so it wasn't all bad.
Again, we wanted to display some of the original wood and Ethan doesn't love the idea of painted seats with kids (because they take such a beating). So, I decided not to paint the seats and paint an inverse stencil on the back of the seat. An inverse stencil is where you paint around the stencil rather than inside it. This allows some of the underneath wood to pop out!
Originally I was going to paint numbers on the chairs but a friend suggested that I may be driven mad trying to keep them in order. So I browsed the Silhouette Store and found a super cute bird with a bit of a flourish – just the right amount of fancy!
So I stuck the inside of the stencil to the bottom right of the chair back and made sure to press it down evenly and fully. I then painted the entire chair backing and removed the stencil while the paint was still wet.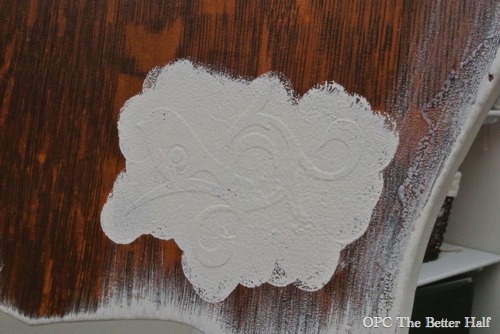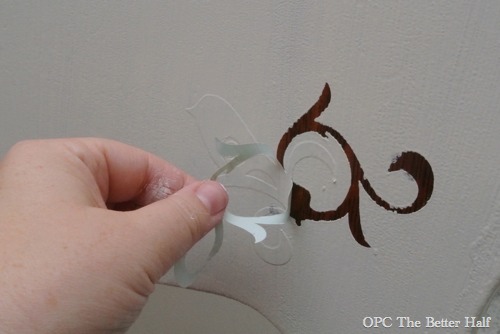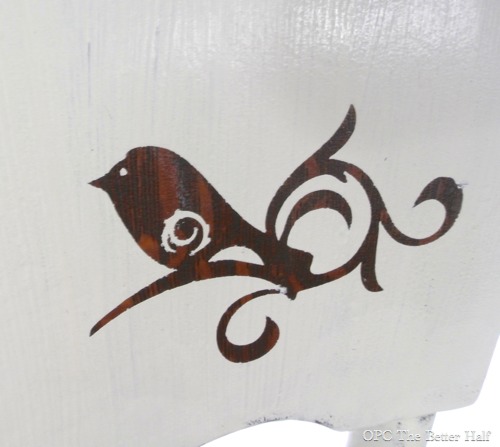 After I had finished I realized that I must have subconsciously been knocking off my friend Jacque from the DIY Village. Have you seen her fabulous coffee table makeover that she also used inverse stenciling on to expose the underlying wood?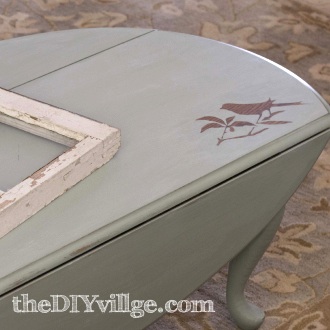 I let the chairs sit overnight and then tool them outside to distress. It was a hot mess so thank goodness it was a pretty day!
Next, I waxed them with Annie Sloan clear wax – this stuff rocks!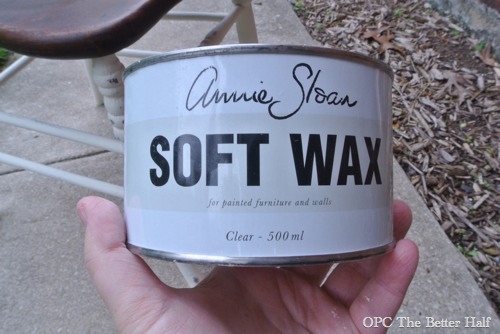 A couple of hours later, after buffing them, I realized the seats now looked a little dull and beat up. So I pulled out some Rust-Oleum Semi-gloss polyurethane and covered the seats. I was a little surprised that it went on with a slight blue hue, but that went away when it dried and it looks fabulous!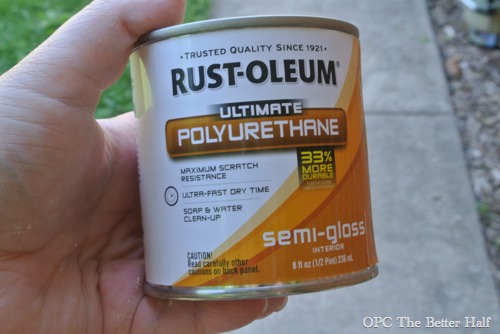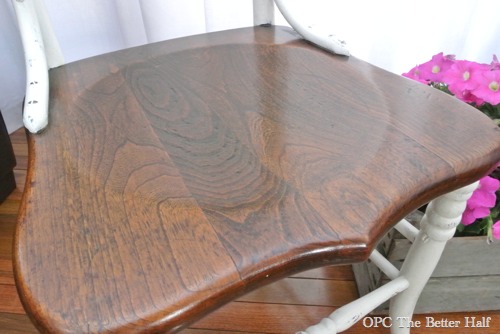 I now have three of the 6 chairs done and it makes a HUGE difference!! I really love them. Here's some close-ups of the details…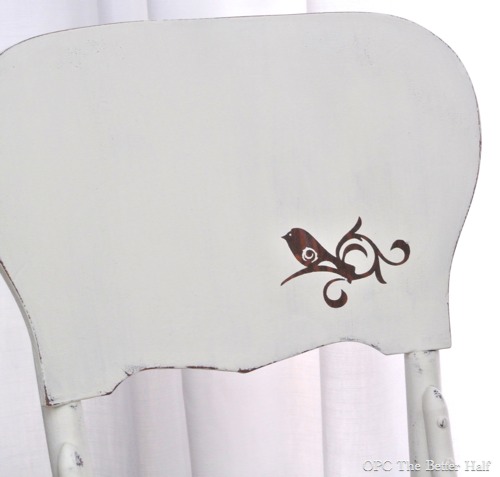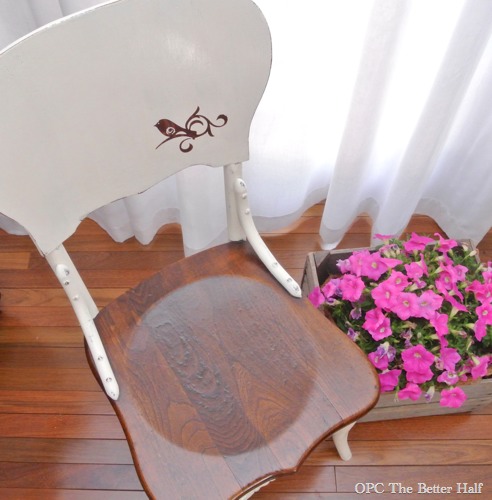 And the chairs in the dining room…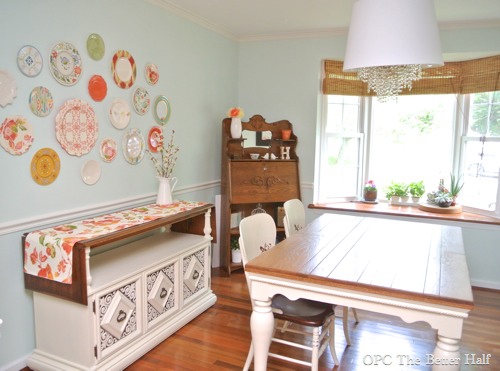 Oh, and Izzie REALLY wanted to be in a picture when she came down from her nap and saw that I was taking pictures! lol.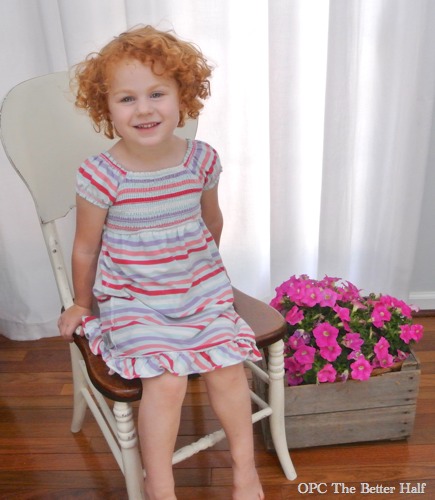 And finally, here's my favorite picture of the bunch!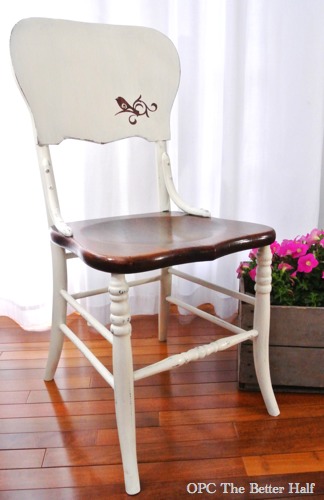 What do you think? How would you have updated the chairs?
Thanks so much for reading along about our Chalk Paint Chair Makeover with an inverse stencil!