The 13″ Ridgid thickness planer is a new addition to the OPC workshop, and it fills a huge void in our tool arsenal. This planer enables me to process rough-cut boards and true-up lumber before starting a woodworking project. It can handle stock up to 13″ wide and 6-1/8″ thick, and the resulting finish requires very little sanding afterward. Best of all, it's about $100 – $200 cheaper than comparable models!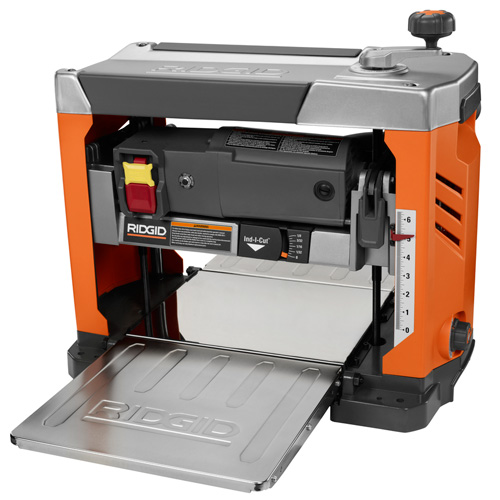 Ridgid provided the R4331 Thickness planer for review, and I've already put it to good use for some small projects. So far I really like this planer, and I wish I had it when I was building my Pottery Barn knock-off dining table. If you're looking for a planer, this is a great choice. You can find the R4331 at Home Depot for $399.00 and a pack of extra blades costs about $30.
Features
The Ridgid R4331 features a three-blade cutter head with high-speed steel (HSS) blades. The blades are self-indexing for easy alignment, and they are reversible which means replacing the blade less frequently. There's some debate over HSS blades versus carbide blades. From my research online, carbide blades are more expensive because they are stiffer, making them a good choice for very hard woods like Teak or Ipe. For other species (walnut, cherry, maple), the HSS blades result in a better finish.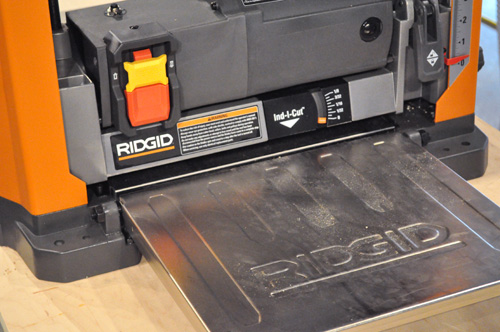 The R4331 is equipped with a 15 amp, 9,000 RPM motor, and this is right in-line with competitors products. This planer cuts 96 cuts per inch (CPI) and a moves material through at 23.5 feet per minute (FPM).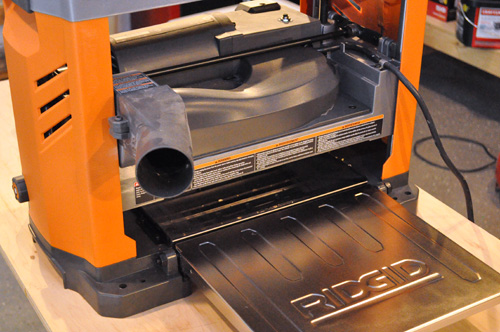 Ridgid positioned a 2-1/2″ dust port above the out-feed table. There's no need for an adapter for connecting to a shop vac like some competitors' models, and the chip impeller helps keep the cutter head clear for better cut quality.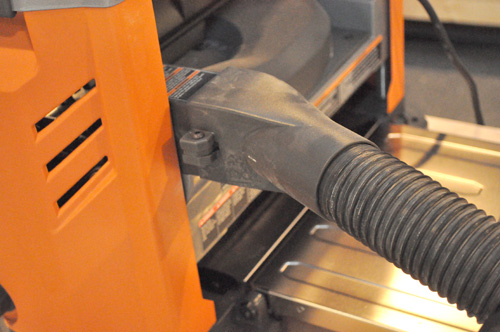 The depth adjustment handle is on top of the planer and 1/4 turn results in 1/64″ height change so you can dial it in to the exact height required.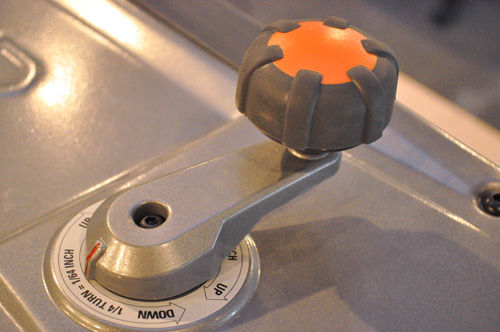 The R4331 Ridgid thickness planer features the Sure-Cut carriage lock to securely lock the cutter head in place. This is an expected feature on bench top planers to eliminate movement and thereby snipe (more on snipe below).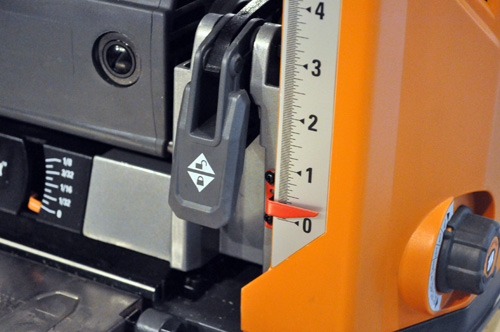 The Repeat-A-Cut feature is an 8-position preset to set the plane to an exact height. It's really helpful for planing multiple workpieces down to the same height, and it ranges from 1/8″ to 1-3/4″.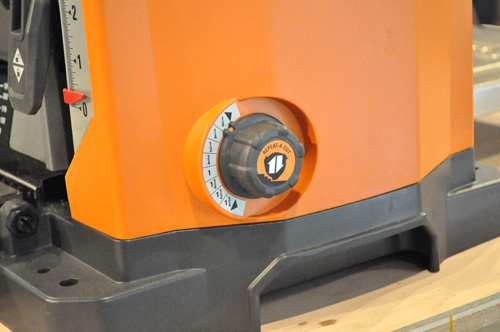 Using the Planer
I've had this planer for about a month, and I've used it for a few small projects. I was pleasantly surprised with the easy setup, and the quality of the finish. After running boards through the planner, they only require minimal sanding.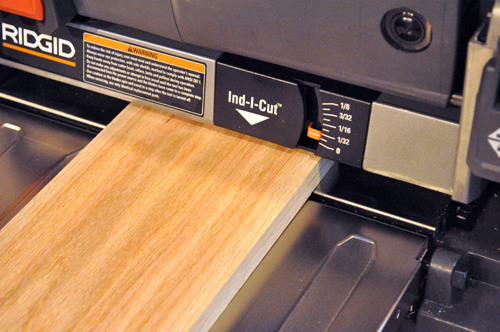 The Ind-I-Cut is a gauge that reveals how much material will be removed from a workpiece before sending it through. It's helpful when you know the difference between two boards, and it prevents me from trying to plane off too much in one pass.
Ind-I-Cut works when a small ball bearing comes in contact with the board. Unfortunately, that only occurs in the middle of the planer. I would have preferred a full-width gauge that would have allowed me to position my workpiece anywhere across the planer.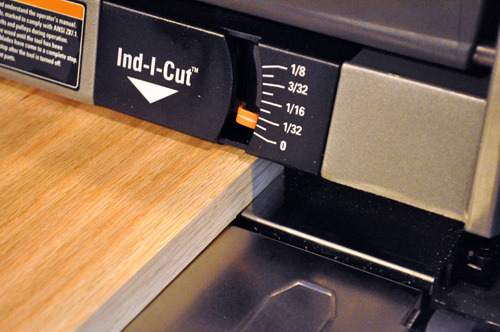 Eliminating Snipe
Snipe is a term commonly used when discussing planers and jointers, and it refers to a slightly deeper cut usually found at the beginning or end of a workpiece. Snipe usually occurs when a board isn't fully supported and the weight puts additional pressure against the cutter head. You can see a very faint line on the board pictured below, and that is snipe.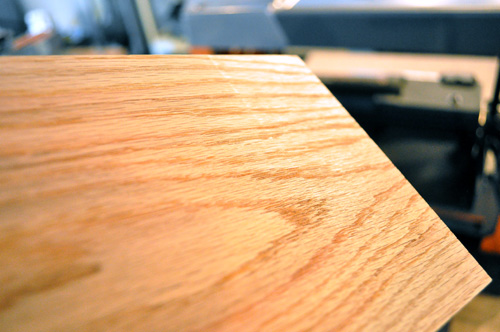 To eliminate snipe with the R4331, Ridgid makes it easy to adjust the in-feed and out-feed table supports. After a few tries, I was able to run boards through without any noticeable snipe. The tables measure 13-1/4″ wide x 12″ deep, and I may build a mobile workstation with bigger supports in the future.
If you're experiencing problems with snipe, check for dull cutter blades and try to butt workpieces end-to-end as they are fed into the planer. Alternatively, you can cut boards longer than necessary and trim the snipe after planing.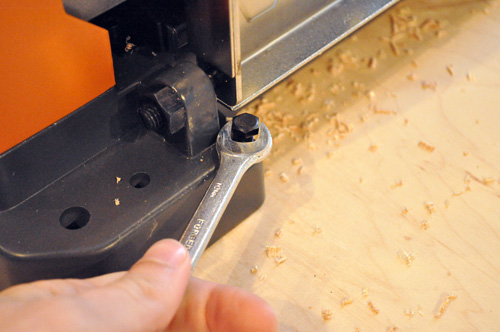 Blade Changes
Ridgid provides convenient, on-board storage for the magnetic blade wrench.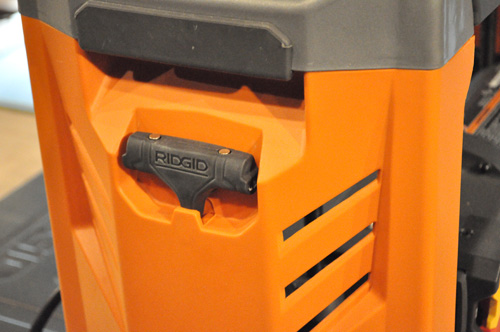 To change or rotate blades, all you have to do is remove the dust hood (2 screws), make sure the cutter head is locked and remove the screws securing the blade. It's very simple and only takes about 5 minutes.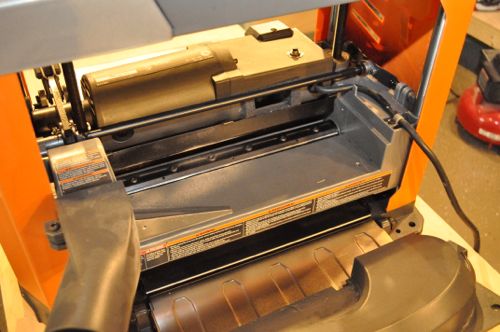 Overall
Overall, I'm really excited about this planer. It has a powerful motor and can handle large stock. Ridgid included a great feature-set, and the planer works intuitively. I haven't had any problems with the planer. It does come lubed up with lots of shipping grease so it needed a good cleaning. Whenever I get around to making that workstation, I'll update this review.
Specifications
Motor: 120 V, AC only, 15 Amps
No Load Speed: 9,000 r/min. (RPM) 27,000 CPM
Cuts per Inch: 96 CPI
Feed Rate: 23.5 FPM
Capacity (W x H): 13 in. and 6-1/8 in.
Maximum Depth of Cut: 1/8 in.
Weight: 73 lbs.
Assembled Dimensions: 21″h x 24″w x 18″d