Doesn't it seem like just about every home improvement project could use a second set of hands? We think so… and our friend's at Rockwell Tools are betting you'll also answer yes to that question with the latest addition to their line-up: the JawStand.
The Jawstand is a simple, inexpensive, tripod-based clamping tool designed to provide a little extra help in your garage or on any number of tasks throughout your home. If you're thinking you've seen a version of this tool before, you're right. The JawStand is actually a simplified and scaled down version of Rockwell's very popular JawHorse product (link to Todd's review).
In the workshop, the JawStand can be used as an outfeed for rip-cutting boards on a table saw, or for extra lateral support when cross cutting boards on a table saw or mitre saw. Two stands together can be used to make an ad hoc workbench.
Inside your home, the clamp can be rotated 90 degrees to hold up a door for changing out hinges or held flat for tasks like supporting kitchen wall cabinets while you hang them (see below).
Rockwell recently shipped us the Jawstand for review. This is our first official look at a Rockwell tool since our Sonicrafter Review about 4 months ago (we loved it). Read on for our take on Rockwell's latest.
Rockwell JawStand Review
The Highs: Performs exactly as advertised; very solid construction; simple and straightforward to use; no assembly required; very portable; excellent price.
The Lows: No included carrying tote; we wish it had a jacking mechanism.
The Verdict: Rockwell finds a gap in the tool market and delivers in the sweet spot. Again.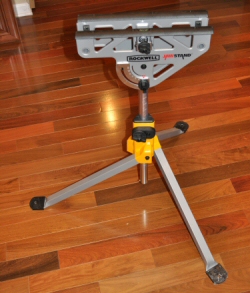 Features Review
Capacity: The JawStand is rated for up to 220 lbs, although we suspect this is a conservative claim by Rockwell given the sturdy construction. The clamp accommodates materials as large as 1-3/4 inches, which makes it ideal for clamping the most common material that the JawStand will see in most workshops: 2x dimensional lumber.
Main Shaft: The cylindrical shaft in the middle can be raised or lowered so that the clamp height is between 28 and 41 inches (with markings on the shaft to help you measure the exact height). The shaft is held in place by friction applied via the large black knob on the yellow base. We liked that you didn't have to turn the knob too much to get a pretty tight clamp (though you are still tempted to turn the knob more than is necessary to provide sufficient hold on the shaft).
Clamp: The clamp can be rotated 90 degrees to function in either a horizontal or vertical plane.  Because of the way the pads on the clamp are designed, you must be clamping at least 12-1/4 inches of material in order to get a solid grip.  The clamp also sports an easy-slide surface so that it functions well as an outfeed table for a table saw. The surface of the clamp features an integrated level which is useful if you are trying to get the clamp level even if the legs are on a slightly uneven surface.
Legs and Feet: The legs on the tripod fold out and are held at the appropriate angle by the preformed metal base. There's no locking mechanism as the Jawstand relies on friction and gravity to keep the legs in place. This approach actually works well and we were happy not to be fiddling with the traditional locking pin that most tripod-based stands use.  The ends of the legs are covered with a rubberized plastic to prevent marring (making it great for use on hardwood floors, as we did in our house). This design does present a compromise, though: the tripod legs cannot be adjusted to take up a smaller footprint, which means you'll need a larger floorspace in your workspace than you would with adjustable legs.  Our guess is Rockwell opted for this design because it is safer since you aren't tempted to use the JawStand with the legs at an angle that is likely to cause the stand to tip over.
Performance Review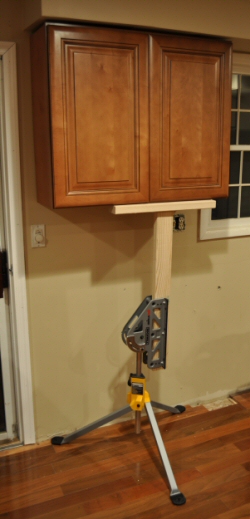 We used the JawStand to assist us in hanging kitchen cabinets as shown above. It certainly lived up to its claims, as this is a job where a second pair of hands is essential. The Jawstand allowed us to rest the cabinet in place while we planned the screw locations and took a break from lifting.
The one drawback we found in this scenario is that it was hard to get the JawStand to hold the cabinet perfectly tight against the soffit above, leaving us wishing it featured jacking mechanism so that once we got the cabinet close, we could apply some additional upward pressure from below. This likely wouldn't be a problem for hanging cabinets that didn't have a soffit or ceiling directly above.
We also tested the JawStand as a second pair of hands while working on the hinges of a door. When placed with the third leg towards the door, it can actually hold the door's full weight without tipping, a nice plus for this job.
The one area that we didn't test the JawStand but expect it would be a huge help is in the workshop along side of a table saw or router table. Imagine clamping a 6 foot 2×4 horizontally with the JawStand, and then using it as support as you cross-cut or rip-cut a whole sheet of plywood. This is normally a very difficult task with only one person but the JawStand would make it simple.
Price, Availability, & Where to Buy
The JawStand retails for right around $60.00. For the quality of the construction in the stand we think this price point is right on target (in fact, we were expecting $75-80).
The JawStand is available at a variety of retailers. You can purchase it online or in store at Sears (or Sears.com).
What do you think? If you own the JawStand or a similar product, feel free to weigh in with your own experiences in the comments!