Update May, 2014: After a full year, our deck continues to look great and we are very happy with Rustoleum's product. However, other users have had a poor experience with this product and that is reflected in many of the comments. It is important to note that people visiting who do leave a review are more likely to write a negative review than a positive one. This happens because people only look for reviews on sites like ours after they use a product when that product didn't perform well. We have not taken the time to analyze all of the use cases, as this product was installed on our deck (and we only have one!). It could be that this product performs better on certain wood species than others, or with certain pre-treatments, or in certain climates. It may fail when being used over top of an existing stain, or over top of newer wood. Given the number of negative reviews below, and the amount of negative user reaction on Rustoleum's Facebook page (www.facebook.com/rustoleum), we encourage you to tread cautiously before proceeding.
Early this year Jocie and I attended a Rust-Oleum media event. They shared information about several products, and the one that really piqued my interest was the Rust-Oleum Deck Restore. They described it as a thick coating that fills gouges and cracks and buries splinters. It also hides imperfections, and the textured surface is slip resistant. In short, Rust-Oleum Deck Restore sounded like the perfect product for my old, weathered deck.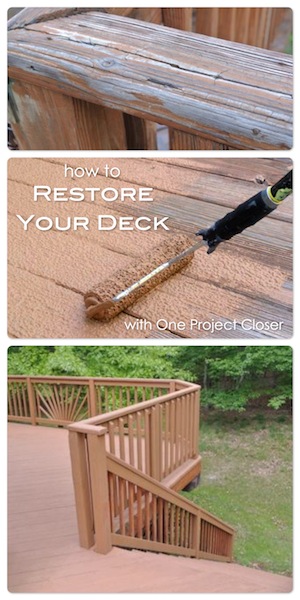 When Jocie and I purchased our home, the deck was already a bit neglected. It was bad enough that you'd easily get splinters, and subsequently we never spent too much time on the deck. If you know anything about decks, they require periodic cleaning and sealing to combat mother nature. Fred and Kim went through the process with their pine deck and used Behr Premium Deck Sealer. After witnessing their experience, I was convinced composite decking was the way to go. However, the cost for materials to re-board the deck was high enough for me to abandon the idea. Needless to say, I was excited about a low-cost alternative that would enable us to enjoy our deck again.

ADVERTISEMENT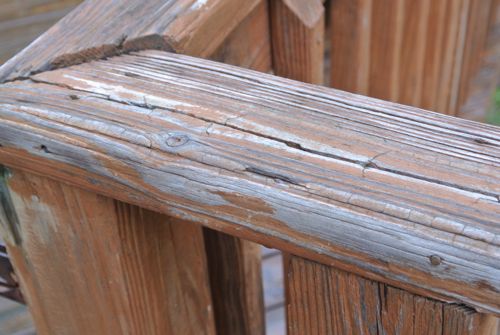 Rust-Oleum kindly provided enough Deck Restore to cover the horizontal surfaces of our deck and stairs. Deck Restore isn't intended for vertical surfaces (like balusters) so they also provided a matching solid acrylic stain. Rust-Oleum offers a broad range of color choices, and we selected Saddle. I estimate all the materials cost approximately $450 (Deck Restore, stain, rollers, roller grids).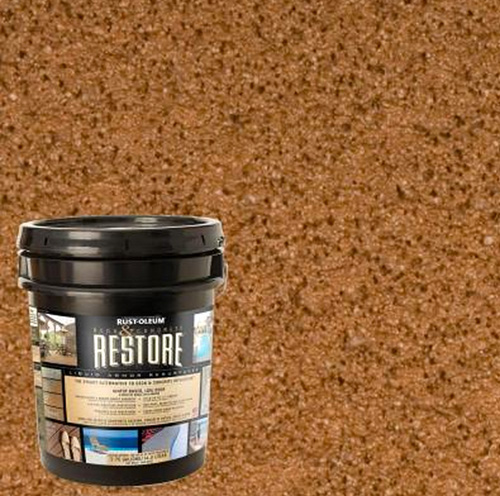 Preparing the Deck
To get the deck ready, we cleared it off and removed any embedded dirt. Around here the Oak flowers can be a real hassle, and we had to sweep the deck periodically.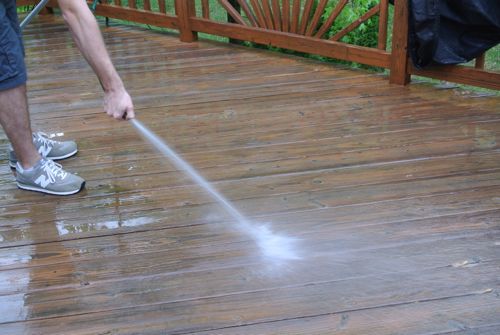 The deck needs to be dry before applying Deck Restore so we waited till the next day to resume.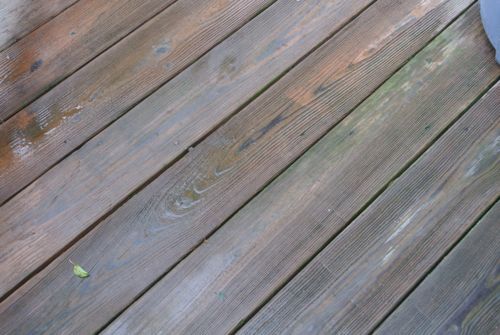 We taped off were the deck meets the house. We also covered the shed underneath the stairs and the HVAC unit underneath the deck.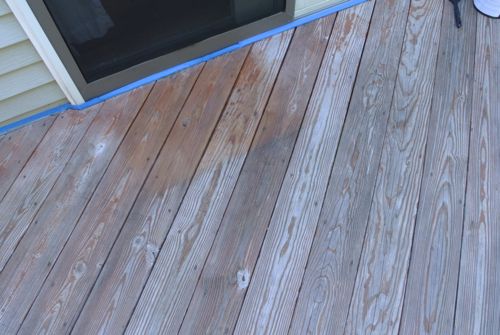 I went around with a hammer to pound in any nail-pops. I also removed various hardware like the gate latch and some plant hangers.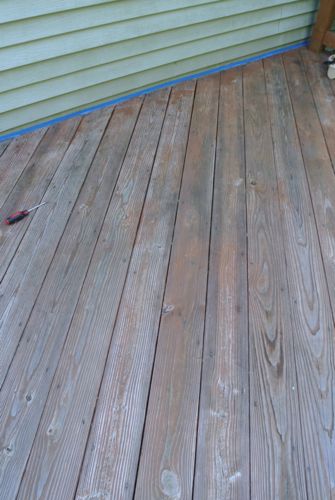 I put in a bunch of screws to further secure the railing and any boards that had a tendency to bounce.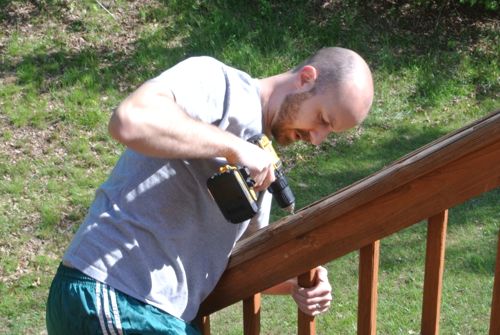 Applying Rust-Oleum Deck Restore
Deck Restore is very thick, and we used a lot more product than I expected. Rust-Oleum states that a four gallon pail covers about 100 square feet with two coats. It's applied with the Restore rollers which are a polyester honeycomb roller designed to help texture the surface of the deck boards.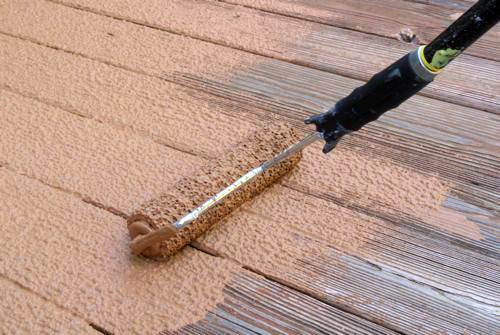 I rolled it on in the direction of the deck boards, and I was pleased to see it fill in so many cracks. I also rigged up a painters tool for edging the boards. More on that later though.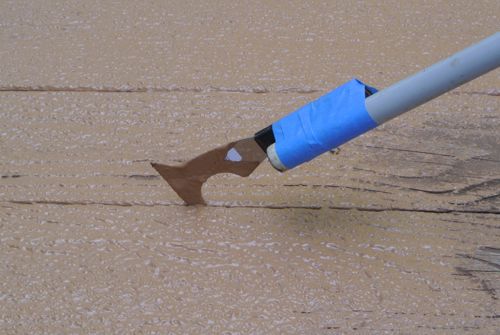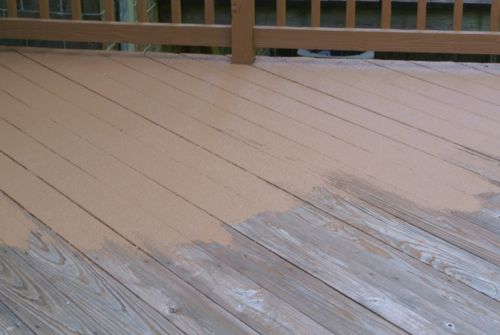 While the first coat dried, I went to work on the stairs.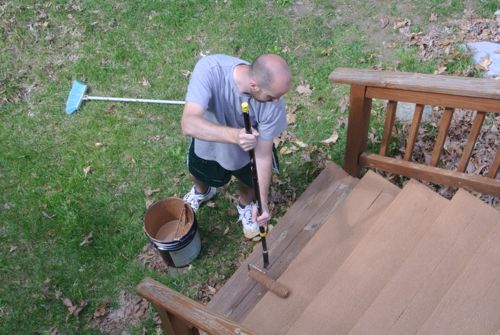 Four hours later I was back applying the second coat, making sure to fill in missed areas like the one pictured below.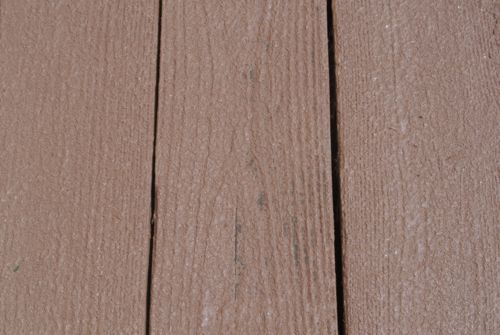 I found that letting the Deck Restore dry enough to walk on and using a garden hoe to cut the gap between boards worked really well. It resulted in nice, clean lines.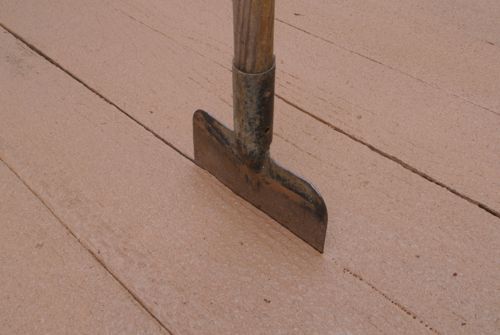 The Finished Product
We found that the deck needed a little more than 48 hours to completely dry. It's only been a few days since the work was completed, but already I'm extremely pleased with results. The deck looks like a hybrid between composite and wood. All the cracks are filled in creating a nice, even surface. Plus, I'm not worried about splinters anymore.