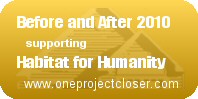 This week's Before and After is coming to you a little late. Sorry folks, it was a busy weekend! However, I'm very excited because Shauna, a first time homebuyer, shares a great kitchen makeover!
For being this week's Before and After winner, Shauna will receive a $50 gift card to Lowes, Home Depot, or Amazon. Plus, we'll make a $100 donation to Habitat for Humanity in Shauna's honor. Read on for details about Shauna's kitchen, this week's Habitat Quick Fact and information for submitting your own entry.
Kitchen Makeover by Shauna
I am a first time home buyer and this project was special in that it was the first project I tackled in my new house.  As seen in the "before" shot, the previous kitchen seriously lacked functionality due to almost no counter space and very little cabinet space.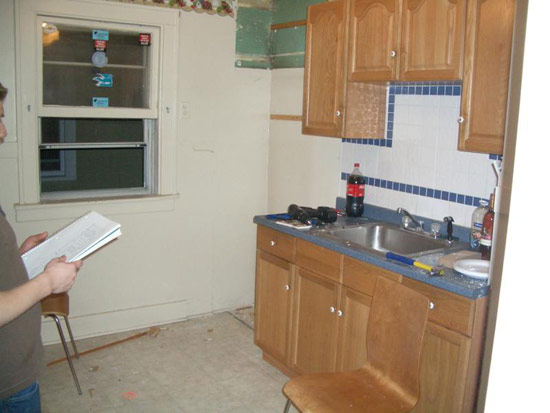 To maximize what space I had, I decided to relocate the fridge to the opposite wall and to add a new set of cabinets adjacent to the fridge.  This design move allowed for the installation of a new dishwasher, custom shelf, and custom wine rack to the existing kitchen wall.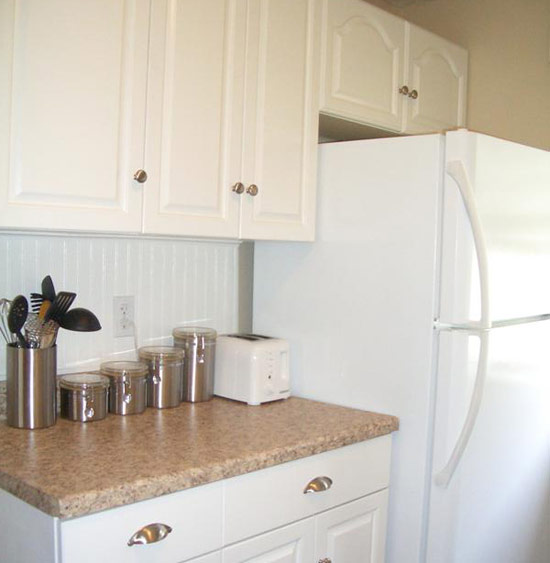 The room is small so I decided to paint the cabinets white and stuck with a neutral wall color (Glidden: Water Chestnut).  One discovery I was delighted to stumble upon was beautiful hardwood floors underneath layers of hideous vinyl tiles from various time periods.  I refinished the floors (not easily, I might add) in a deep, chestnut-brown stain to add contrast to all the light colors in the space.  To add some individuality, I built small shelves based off the design for a picture rail to hold spice jars with personally designed labels.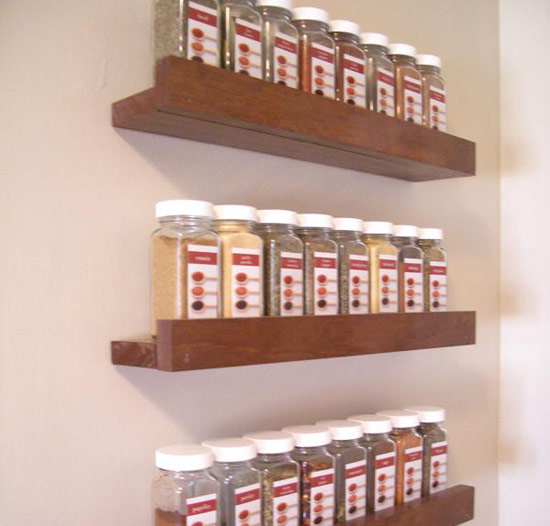 All in all, through this redesign I am very happy to have transformed the kitchen from what was more of a kitchenette to a full kitchen!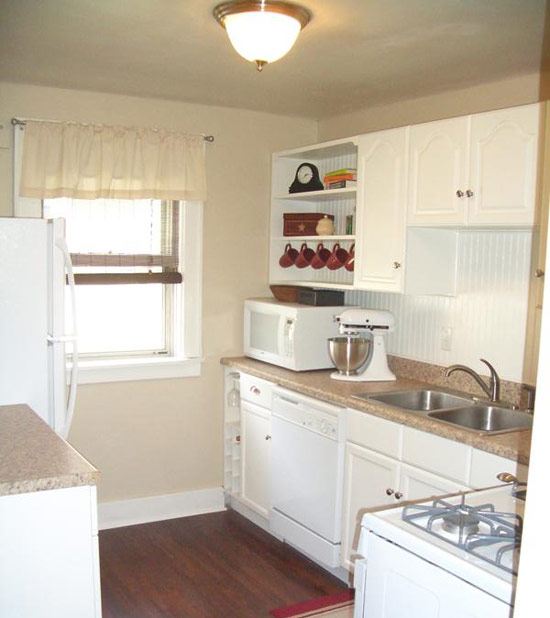 Thanks from One Project Closer!
Shauna, thanks so much for sharing this great kitchen transformation with us! As homeowners, we can really relate with wanting to create s beautiful and functional space. It turned out great.
Habitat for Humanity Quick Fact
From the Habitat website on Hurricane Katrina and Rita, 5 years later:
Hurricanes Katrina and Rita made landfall in late 2005 and became one of the most destructive disasters in United States' history. The two hurricanes displaced more than a million residents, inflicted major damage to nearly 550,000 homes and demolished hundreds of square miles of coastal land.

The Gulf Coast region is still dealing with the aftermath of Hurricanes Katrina and Rita. Although Habitat's initial Gulf Coast disaster response program, Operation Home Delivery, is officially complete, Gulf Coast affiliates continue to build houses in the hurricane-affected areas as part of Habitat's long-term program―the Hurricanes Katrina and Rita Recovery Effort.
How to Enter Your Own Before and After
Want to win $50 and help a good cause? Send your entry to: beforeandafter@oneprojectcloser.com.