Kim and I were talking today about the lives lost in CT last week and the sadness, fear, and mourning that continues. How sad that families will have wrapped presents under the tree that will never be opened. Parents who will not see their children graduate or get married. And parents around the country fearing for the lives of their own kids. That one hurting, angry, and broken man could shake a country. We are sad and mourning alongside these families and our country.
As we chatted about what should be our response, Kim and I agreed that while we are sad (and even fearful at times), we refuse to let one man change the way we live our lives. So with respect, we celebrate and mourn the lives lost, but keep on living. Also, as we approach Christmas, we are going to keep praying for these families that there would be healing and comfort in an impossibly hard time.
The Silhouette Cameo
The time has FINALLY come – we have selected a winner for the amazing Silhouette Cameo. Have you heard of a Silhouette Electronic Cutting tool yet?  I have wanted one for a long time, so much so I harassed my friends to enter the giveaway in hopes that I could play with it if they won! haha But, as an unexpected Blog Christmas Bonus I was GIVEN one!!!! woot woot! I haven't had time to make anything yet, but it is high on my to-do list.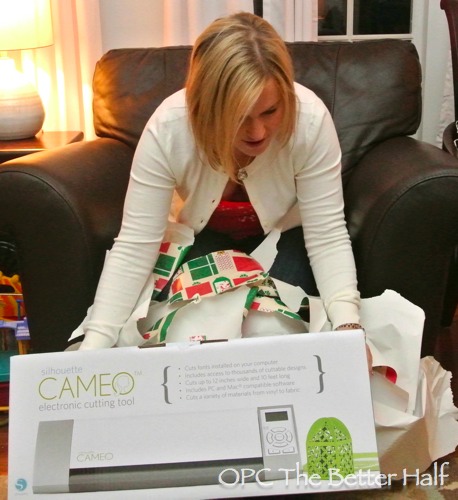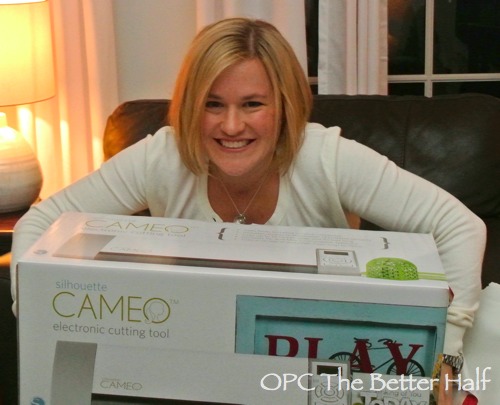 So here's what the winner will be getting:
The silhouette cameo includes a 12 inch cutting mat, cutting blade, 50 exclusive cuttable designs and $10 gift card to the Silhouette Online Store
Includes access to thousands of downloadable designs; Includes PC and Mac compatible software
Cuts up to 12-inch wide and 10-feet long; cuts a variety of materials from vinyl to fabric
Great for Scrapbook layouts, cards,custom apparel, vinyl decor, etched glass, sketch designs, and paper crafts
Intricate cuts, precision duplication, and smooth edges make the Silhouette the perfect tool for paper crafting projects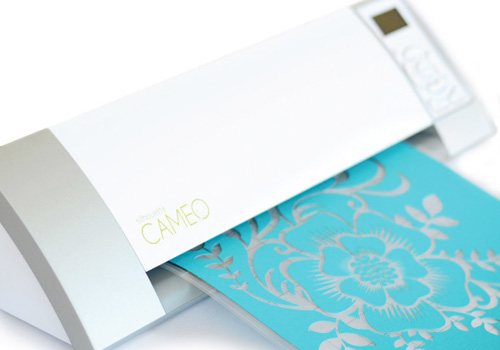 The Winner
We had 925 entries – men, women, long-time readers, new followers, and some bloggers. People were able to enter in a variety of ways:
After the giveaway ended on Sunday, December 16th at 11:59 pm, Rafflecopter (the program we used to keep track of all the entries) picked a random winner – number 326, an entry from sharing the giveaway on Facebook. Congrats to Loretta!
I contacted Loretta through the email address she provided to rafflecopter and when she replied, I found that she is the same Loretta as Loretta from A Finn In The Kitchen! Loretta is so very sweet and has a wonderful blog herself. You may recognize her Apple Pear Hand Pies that we featured a few weeks ago at The Humble Brag.
More Free Stuff
Chances are, you were not the winner of the Silhouette, but the good news is that we are constantly giving away free stuff to our readers! We often do giveaways on the site and on FB. However, the easiest and surest way to get free stuff is by joining our rewards program. "What?" you say, "rewards program?" Its pretty simple, really. You sign up for the program, creating a user name and password. Then every time you visit the site (as long as you are signed in), you get points. Every time you comment on a post on OPC or The Better Half, you get MORE pointsOnce you have saved up some points, you visit our rewards center and use your points to bid on cool stuff. Sometimes its tools or gift cards, sometimes its craft stuff. If there's ever something you really want, we're always open to ideas! Check out the top left hand side of the website – that's where you sign in. And the top right is where you can bid on items and check who's leading the pack in points.
It's that easy! No tricks. We won't spam you with emails or solicitors. We won't sell your email or info. We just appreciate you as readers and want you to come back!
We just added some fun stuff to the Rewards Center:
A Ridgid Jobsite Radio
Irwin Vise-Grip Set
Kwikset Handle Set
Chalkboard Vinyl (great for labels!)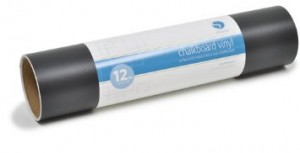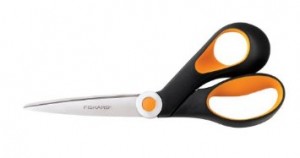 I added the scissors to the Rewards Center because I was recently talking to a friend of mine who was trying to do a craft and it didn't turn out as well because she didn't have nice fabric scissors. So even if you have good scissors, it's always nice to have another pair!
If these things don't speak to you, shoot us an email and let me know what you want! Also, check back because we are constantly adding new, fun things like tools, hobby Lobby gift cards, and more!
As Always, thanks for reading!