Reader question: I just picked up a new Trane programmable thermostat for our air conditioner/heat pump system. When I took the front off the current honeywell thermostat, it looks like there are quite a few more wires than what the new thermostat will accept. The thermostat has seven wires connected to terminals labeled C, R, W2, E, Y1 and W1 together (with a jumper), O/B, and G. There's also a tan wire that's not connected to anything. (I've attached a picture). The new thermostat only has RC, R, O, Y, G, B, S1, and S2. Based on the instructions, it looks like I can match up C, R, O, Y, and G, but that would leave me with no place to connect the wires that are currently connected to E and W2, unless I connected them to S1/S2, which doesn't seem right – the instructions say this is for an outside sensor.  Do I need a different thermostat? – Rick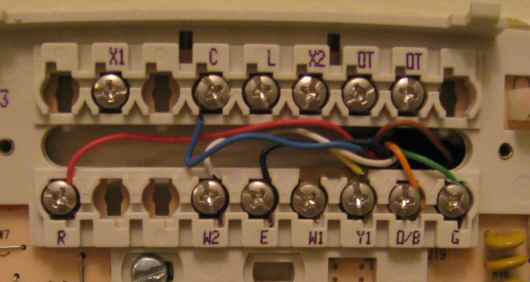 Rick, Sounds like you're trying to install a single stage programmable thermostat instead of a two-stage. Without any additional information, I would assume you have an air conditioner & heat-pump system with an auxiliary emergency heat electric furnace back-up system. Your current thermostat is designed to allow independent control of the outside heat pump and the inside auxiliary furnace (two stage on the heat side). This setup saves money by using only the outside heat pump unit when the temperatures are milder, but ensures you have a warm house when the outside unit can't keep up with the cold temperatures.  Here's what the wire labels are on your existing t-stat:
R – Hot side of transformer.
C – Common side of transformer.
W1 / Y1 – Heat / Cool Stage 1 (jumper since you have a heat pump that can both heat and cool).
W2 – Heat Stage 2 (inside furnace).
G – Fan on/off.
O/B – Energize to cool (controls the reversing valve).
E – Electric Heat Override
The thermostat you purchased is designed for a single stage system (such as an air conditioner and a single-stage gas furnace). The E and W2 hook-ups are for the emergency heat relay and auxiliary heat control, respectively. The new thermostat doesn't have these because it isn't designed for this type of installation.
Without additional information, the best solution is to purchase a thermostat designed for your HVAC system–likely a two stage on the heating side (or in some districts your utility will provide you a thermostat for free). You should be able to check the manual that comes with the inside unit and select a thermostat using that. Be aware, different manufacturers use the same wiring ID labels to mean different things (e.g., in your picture you can see that some of the terminals have multiple labels for multiple system types). Be sure you are following the wiring diagram for your system.  Of course, you can always call an HVAC repair technician for help.
Either way, it is a great time of year to clean your heat pump's coils in preparation for the winter. You'll get better performance from your system all winter long . Coupled with a thermostat upgrade, you'll be all set.  Thanks for the question. Cheers!