Quick update from The Better Half: Today Kim's getting the girl's DIY sharing party started again. Swing over and submit your own DIY project, or just check out the features! Also we've finally gotten the bugs worked out with our RSS feeds, and now OPC and TBH are completely separate. So if you want to keep up with the ladies' projects, make sure to sign up over there!
And now, for today's article…
—
In my effort to create the ultimate man-cave workshop, I've been eyeballing table saws. No shop is complete without one, and I was getting tired of wrangling a sheet of plywood through my Bosch job site saw, which has only an 18″ rip capacity. Just imagine my elation when Lowe's offered to send me a Steel City contractor table saw for review.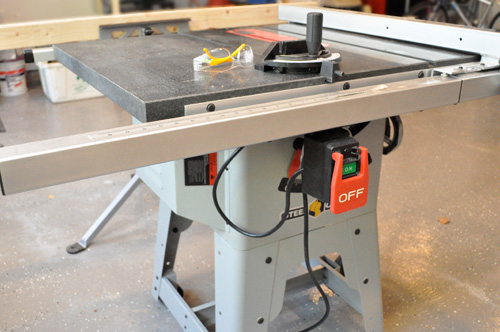 Setup
I had the saw delivered, and good thing too because it weighs about 350 lbs.! Just moving the box was a struggle. However, it wasn't until I started putting the saw together that my real frustration began.
The instructions are probably the worst I've ever read. For instance, step 1 says "Attach leg assemblies [with] M8X16mm carriage screws." No problem, right? Unfortunately, steps 1, 2, 3, and 4 all need the same screws and you definitely don't have enough. After a lot of back and forth and staring at pictures, I discovered that steps 2 and 3 utilize different carriage bolts, and this wasn't the only instance where I needed to puzzle out the correct hardware. Also, I thought some of the nuts were missing. It turns out that Steel City decided to weld them in place (without updating their instructions).
The next big glitch came went I started mounting the front rail. The left-side scale was adhered to the wrong side, and it was obvious because the guide tube only attaches one way. I had to pull the scale off, reposition it (which I'm sure isn't 100% accurate), and it lost some of its stickiness.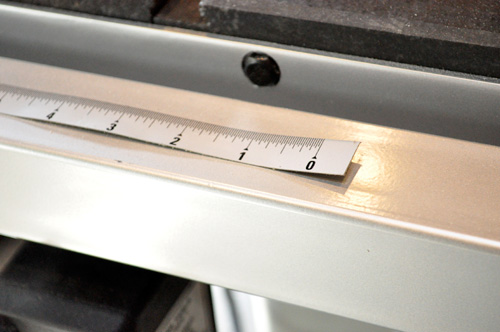 Next, after making a few cuts, the blade stopped spinning. I opened the housing, and I discovered the belt had become misaligned. I called tech support, and they walked me through adjusting the belt tension (which is not typically required). When the problem persisted, we decided the belt was defective and Steel City shipped me a replacement.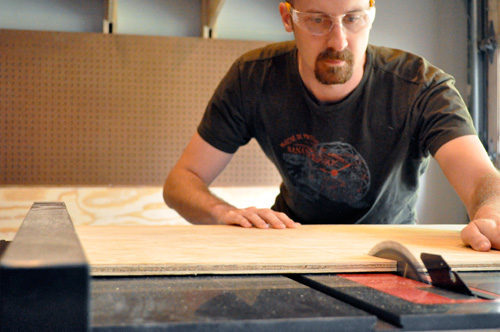 Breakdown of Features
Despite all those problems, I eventually got the saw setup, calibrated and was able to use it for a number of projects. Here's a breakdown of the features and why I selected this table saw in the first place.
Cabinet Mounted Trunnion
The trunnion holds the saw arbor and allows it to be raised or tilted. Trunnions are either cabinet mounted (like the 35990G) or mounted underneath the saw table. Having the trunnion mounted to the cabinet makes it easier to adjust which helps ensure the blade is properly aligned with the fence and miter grooves.
Belt-Drive
Table saws usually have a direct-drive or belt-drive motor, and I prefer belt-drive. Since the motor is independent of the spindle and arbor, the motor can easily be replaced. I've also found that they are more reliable since the motor is off-set and further from sawdust. Lastly, belt-drive table saws are quieter, and this is something I appreciate every time I make a cut. With that said, you have to check the belt and tension periodically, and that's something direct-drive saws avoid.
Granite Table-Top, Wings
A flat, seamless table-top is very important, and granite makes for an excellent choice. I also like that the joint between the table and wings is hidden in the miter slots. In the picture you can also see the red, table insert. This is held in place with magnets making it simple to remove.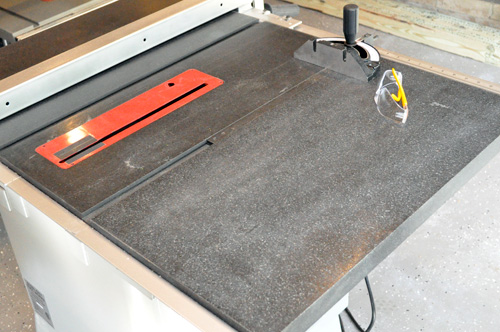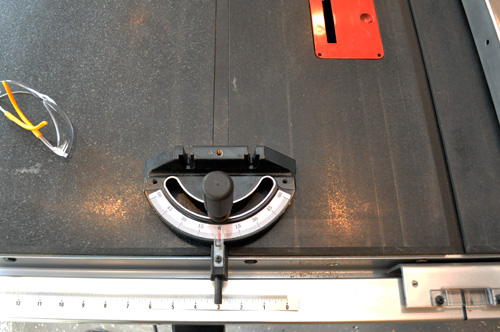 Fence
Your table saw is only as good as your fence, and the T-Square fence system works well. There's nothing fancy to it, and it only locks on the front rail (not the back). However, once I dialed it in, I was able to make accurate, straight cuts every time, and I haven't noticed any deflection. It has a 30 in. right and 20 in. left rip capacity. Maybe one day I'll upgrade to a nicer fence system.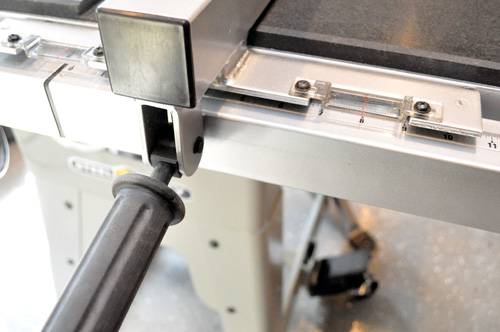 Power
The 6.5 amp, single-phase, 1.5 HP TEFC motor is right in line with other comparable saws. I haven't tried any 8/4 oak, but the motor seems plenty powerful to me.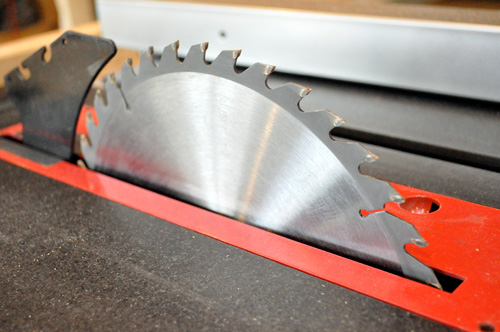 Mobile Base
Something that's included on more and more contractor table saws is a foot pedal that engages a set of wheels so that you can move the saw. This is important to me because I like being able to reorganize the shop if need be.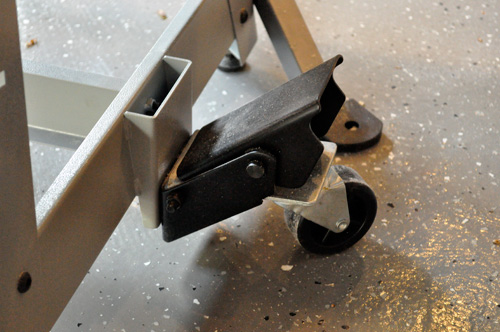 Safety Features
Steel City includes a riving knife, anti-kickback pawls and a blade guard. I tend not to use the guard or pawls, but if I wanted to, they connect easily. I really like the giant, on/off paddle switch. It's very convenient to give it a kick with my knee when I'm finished making a cut.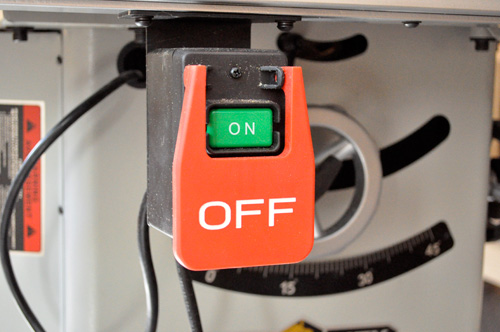 Controls
The front of the saw has a wheel to adjust the blade height, and the bevel adjustment is on the right side. It's nice having a 10″ blade because it provides extra cutting depth for angled cuts. The 35990G has a max cut of 3-3/8″ at 90° and 2-1/4″ at 45°.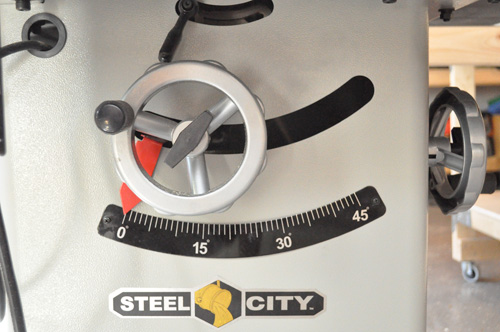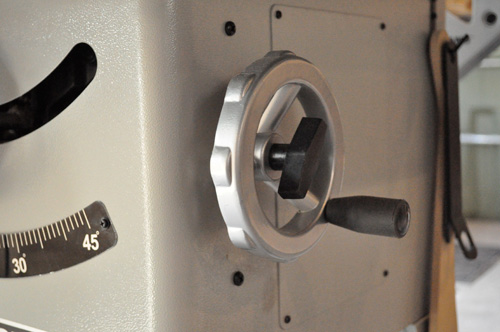 Conclusion
If this saw came pre-assembled, I'd have no problem giving it a strong recommendation as I expect the other problems (like the defective belt) are not typical. The 35990G comes with a solid set of features, and it performs well. It's got a great rip capacity, accepts up to 13/16″ dados, and the solid, granite top is sweet. Other than putting it together, my only (small) complaint is that I think Steel City could have included a nicer fence.
If you're up for deciphering the instructions, I'd say this is a table saw worth considering. It's available at your local Lowe's and here's the related product pages:
Specifications:
Model Number: 35990G
Dimensions: H: 35″ W: 38″ L: 68″
Weight (Shipping): 363 lbs.
Weight (Net): 348 lbs.
Phase: Single-Phase
Warranty: 5 Years
Motor: 1-1/2 HP TEFC, 120V/240V, 13/6.5 Amps
Switch: Paddle Type
Blade Diameter: 10″
Blade RPM: 3,450
Arbor Size: 5/8″
Blade Diameter: 10″
Blade Tilt: Left
Max. Depth of Cut at 90°: 3-3/8″
Max. Depth of Cut at 45°: 2-1/4″
Max. Rip Right of Blade: 30″
Max. Rip Left of Blade: 20″
Table in Front of Blade: 12-1/2″
Dado Capacity: 13/16″
Table Size: 27″ x 40″
Dust Port Size: 4″