On Monday, I explained how to run a new circuit from a breaker panel.  But what happens if your panel is already full and can't accept a new breaker?  In many homes, builders don't leave free slots in the breaker panel.  Why?  Larger breaker panels cost money, and that comes right out of profits.
If you need to run a new circuit but are fresh out of slots, there is a solution: the tandem breaker.  A tandem breaker will allow you to run two circuits using only a single slot in the panel.  Take a look at this picture of a breaker panel with the cover off that features a few different types of breakers, including a tandem breaker: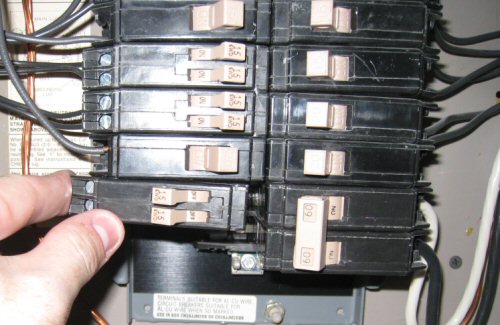 Tandem Breakers, Single Breakers, and 220V Breakers
In the picture above, there are three types of breakers.  The bottom left is a tandem breaker that controls two 110V circuits.  Above that is a single breaker that controls one 110V circuit.  On the bottom right is a 220V breaker.
Single breaker: this type of breaker is the most common in a panel.  It is a single breaker connected to one 110V source on the backplane.  It can control one 110-volt circuit, and has a single screw to connect the hot wire on the circuit.
Tandem (aka Split, double) breaker: this breaker is connected to one 110V source, but provides control for two circuits.  The advantage of this type of breaker is it only takes one slot on the panel.  It has two screws, one for each of the hot wires on the two separate circuits. Note: you cannot get a 220V circuit from this breaker because it is only connected to one 110V source.
220 volt breaker: this breaker takes up two slots and is connected to both 110V sources in the panel (the two sources are out of phase, hence why you get 220 volts from this breaker).  This breaker takes two slots and has two screws: 1 for the black hot wire, and 1 for the white hot wire.
Where to Buy Tandem Breakers
You can find tandem breakers for most panels at the local home improvement store, or at an electrical supply house.
Electrical Code Concerns
Some panels are designed to allow for tandem breakers, and some are not. In a conversation with an electrician on this point, he noted that some panels will have enough ground bus and neutral bus slots to handle more wires than there are breaker slots. The panel will usually be labeled something similar to a "30-40" – meaning that it has 30 slots but can accommodate up to 40 total circuits. In other words, it could have 10 tandem breakers installed.
Obviously, installing tandem breakers in excess of the rating of the panel is dangerous, and probably illegal in your area. You should instead look to upgrade the panel to a new, larger panel with plenty of space.
Questions? Feel free to leave them in the comments section.