Running a new electric circuit is a pretty simple task that can be accomplished with a little bit of effort, care, and the right tools.
This article is focused on running a new circuit for light fixtures or outlets. The same principals apply to all 110V circuits, and slightly modified instructions can be used for 240v circuits.
Tools & Materials Required to Run a New Circuit
Wire strippers.
Pliers or wire cutters.
14/2 or 12/2 Romex wire in the length required (see below).
Electrical boxes.
Receptacles.
Wire staples.
Hammer.
Phillips and flat head screwdrivers.
Electric Code & Regulation Concerns for Running a Circuit from the Breaker Panel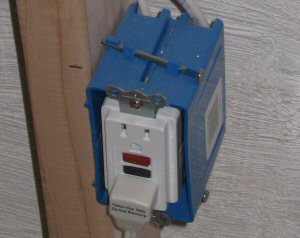 To meet code in most areas you must obtain a permit and have your work inspected by the local electric inspector. In some jurisdictions you can only perform this work if you are a licensed electrician, even if the work is in your own home. Check your local government's web site for details.
Almost all jurisdictions enforce either the 2005 or 2008 National Electric Code (NEC). You can read the 2005 and 2008 NEC online for free, just follow the instructions in that article for how. If you're new to electrical work or looking for some helpful guidance, we highly recommend picking up a good instruction manual. We're big fan's of Stanley's Complete Electric, a resource we regularly turn to for help that is much simpler to follow than the NEC.
Remember, only tackle jobs you are qualified to perform. And as always, if you use our instructions, you do so at your own risk.
15 or 20amp Circuit: Select the Right Wire for the Amperage
Lighting and receptacle circuits in a house are 110v, 15-amp, or 110V, 20-amp. For 15-amp circuits, 14/2 (meaning, 14 gauge, 2 conductor) Romex is appropriate. For 20-amp, 12/2 Romex is appropriate. Note that 14/2 and 12/2 wire will actually have 3 wires inside: a black, white, and ground wire. Remember, as gauges go up, the size of the wire goes down. Do not install a breaker that is too large for the wire. (E.g., do not install a 20amp breaker on 14/2 wire). This is unsafe and could lead to a fire.
For most installations, 15-amp circuits are appropriate. The code requires 20 amp circuits in kitchen appliance circuits and dedicated microwave circuits, as well as in a few other scenarios. You might choose to install a 20 amp circuit in a garage or workshop to handle additional load. Otherwise, 15 amp circuits are appropriate for lighting and outlet circuits.
Running Romex Wire for a New Circuit
Running Romex on studs and joists is pretty simple: Start with the coil of wire at the breaker box. Run wire along side of, or through studs to the first outlet or fixture, and and then run the next strand of Romex to the next outlet or fixture, and so on. Each outlet serves two purposes: to provide power to devices plugged into that outlet, and to bridge the circuit to the next outlet in the line. Leave enough wire on the breaker panel side to run the whole length of the panel. (E.g., if the wire enters the panel at the bottom, leave enough wire to reach just above the top of the panel.)
(Note: Even though it appears that house wiring is serial, it actually is not. House wiring is always in parallel. If a house were wired in serial, current would only pass to the next outlet when a device was plugged in and running on the first. Obviously, that's not how houses work. If this doesn't make sense to you, don't worry about it… it's a question we sometimes hear.)
Here's a picture of a typical Romex run through a single gang box. How to wire a receptacle is outside of the scope of this article, but its a pretty simple, straightforward step.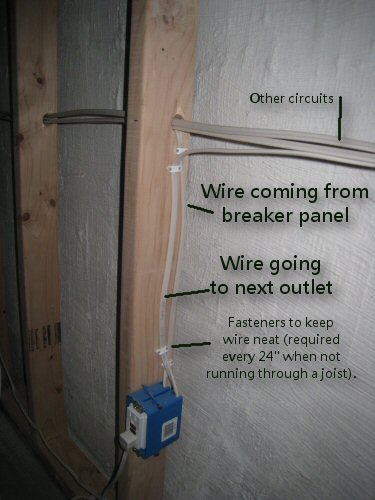 The final electric box will only have one set of Romex coming in: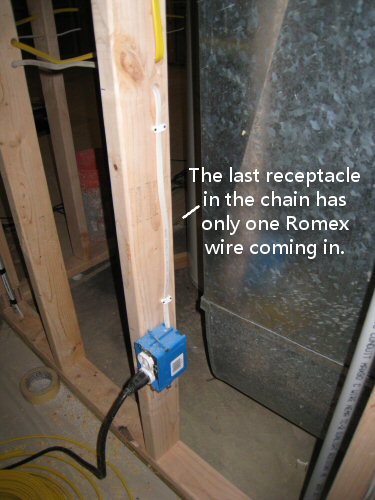 How Many Outlets can be Connected to a Single Circuit?
For lighting fixtures, the limit is 80% of the amp limit of the circuit. For outlets, the limit is 8 based on the assumption of 180W per outlet; however, we recommend installing only 5-6 outlets per circuit given the higher demand of today's appliances and electronics.
Connecting the Circuit at the Main Breaker Panel
To connect the circuit at the breaker panel, you'll need to purchase a new compatible breaker and have at least one free space in the panel. There are several different brands of panels and corresponding breakers, so make sure you get the right one for your panel. Both Home Depot and Lowes sell the most common brands. If you don't have any space in your electrical panel, you can replace one of the breakers with a tandem breaker that will give you an extra slot.
Connecting the circuit to the panel is simple. Remove the front cover of the panel. Remove one of the knock-outs and install a cable clamp in the knock-out to keep tension off the wire. White and ground wires are stripped and connected to the grounding bus, and the black wire is connected to the breaker (usually, via a screw). In most panels, the breaker simply pushes into place, making contact with the hot strip in the back of the panel. Make sure the breaker is turned off before connecting it.
Note: We recommend you turn off the main breaker to the house (the big one, at the top) while installing a new breaker. If you don't, the two center bars in the back will be energized with enough current to kill you. Note that even when you turn off the main breaker, the screws at the top of the main breaker and the exposed wire coming in are still energized.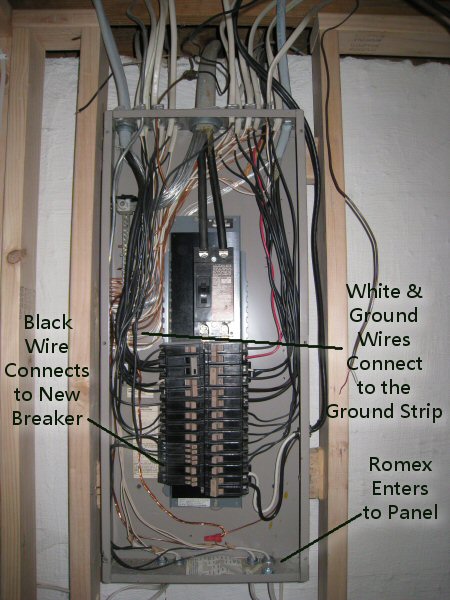 Testing a New Circuit
After you snap in the breaker, ensure your work is clean and double check your wiring. When you're confident everything is set, turn on the breaker and test your new circuit using a circuit analyzer or professional multimeter (review).
What do you think? Have you ever run a new circuit? Let us know about your experience.