I've been able to put in some good hours working on the almost-operational OPC workshop this past week. If you recall, we successfully hung all the drywall and did a fair amount of clean up. The next step was to mud and tape all the joints and screw heads. I'll share with you that this was my first time ever taping drywall. I think it went really well, but I'll let you be the judge.
This project started with a trip to Home Depot where I picked up drywall compound and joint tape. I purchased a pre-mixed, all-purpose compound, and Fred made the good observation that a fast drying compound would have been better for the first pass. That would have enabled me to mud the joints and sand them in one day rather than wait 24+ hours for the first coat to dry. Lesson learned.
You only need a few tools to successfully mud over drywall. I grabbed a 6″ and a 12″ drywall knife, a water bucket and sponge.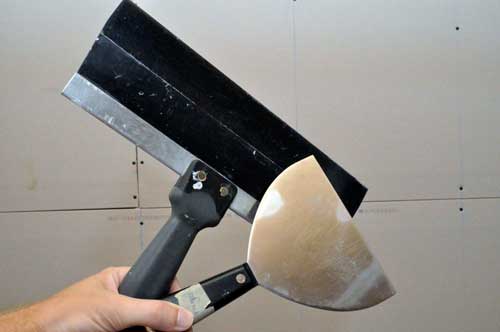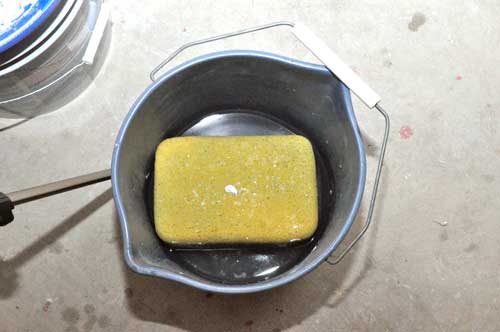 The first thing I did was make sure everything was clean and all the screw heads were sufficiently sunk below the drywall surface. An easy was to do this is run your blade over the surface and see what it hits.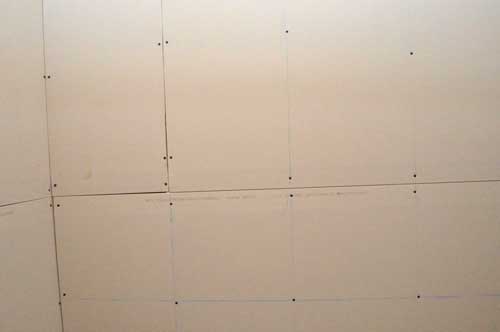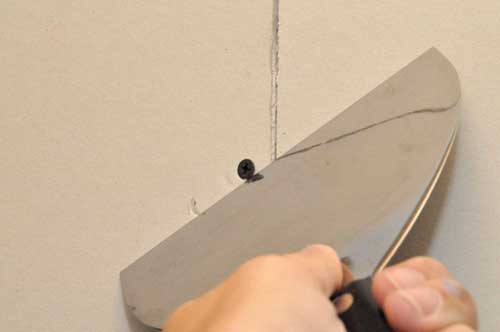 From past experience working with drywall compound, I've learned a few "tricks" that came in handy.
You should work as cleanly as possible. Spattering mud everywhere means a lot of unnecessary sanding later.
Adding a tiny bit of water makes the mud easier to work with. Don't go overboard, or the mud won't bond properly.
Don't rush, and be prepared to apply a few coats.
Take a moment to clean your drywall knife every now and then.
Working in small sections, I used my 6″ blade to apply mud over the drywall joints. I'd suggest starting with the vertical joints and doing the horizontal joints second. The long horizontal runs will better conceal where two joints meet.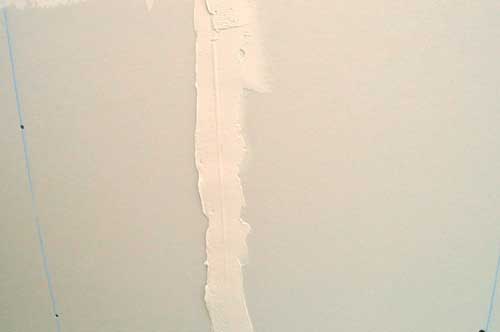 I centered the tape over the joint and pressed it into the mud using the excess to further embed the tape.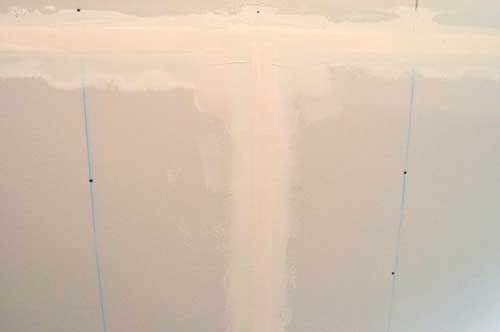 Covering screw heads is the easiest part. You press the mud in and scrape it clean.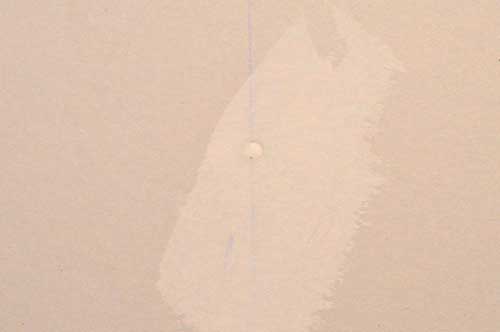 Here's how everything looked after the first coat dried.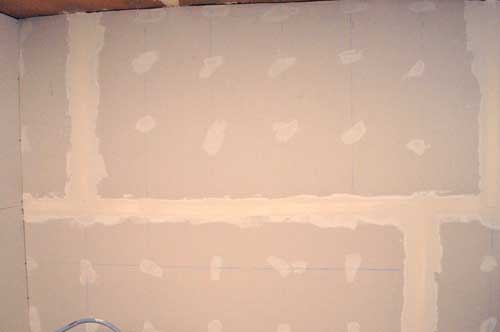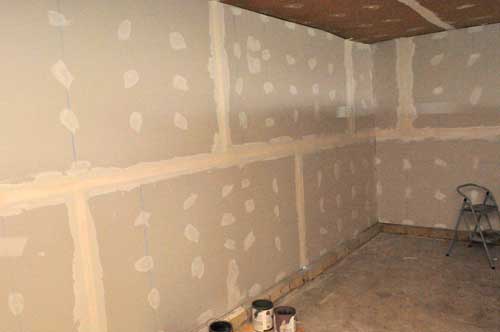 I used a medium grit sandpaper to smooth out the edges and rough spots.
For the second pass, I used my 12″ blade. It's more flexible, and it makes feathering the edges easier. Not to mention, you can work faster. I also double checked all the screw heads because sometimes the compound can shrink a little, and I wanted everything completely flush. Here's how it all looked after the second coat.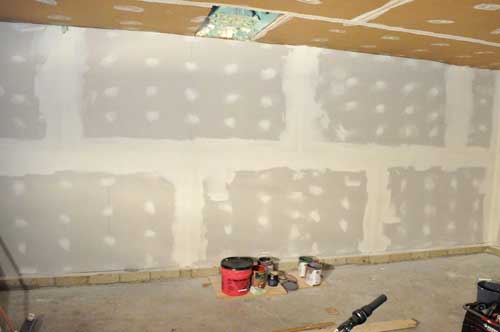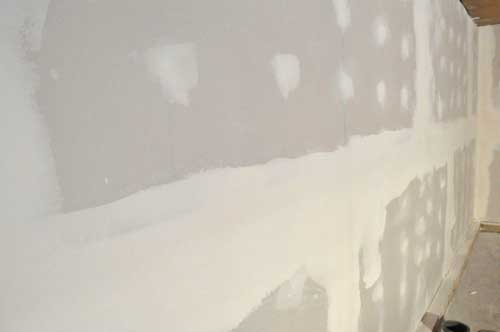 And after sanding.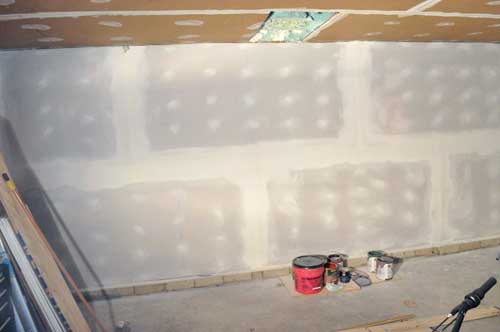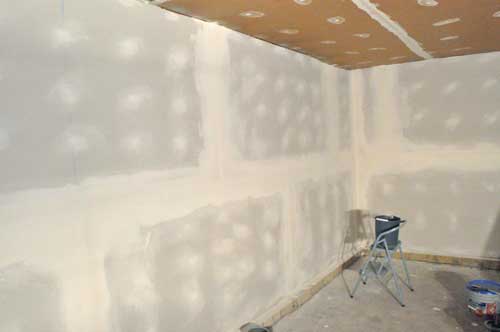 At this point, all the screw heads were done, and there were only a handful of places that needed further attention. I went around with a sharpie marking any spot that were I could still feel an imperfection. The X's were really useful because I was able to gauge how much compound I applied for the third coat.
Here's an X that's barely visible beneath some compound. Here's how everything looks. It's not completely dried and I'll have a tiny bit of sanding left.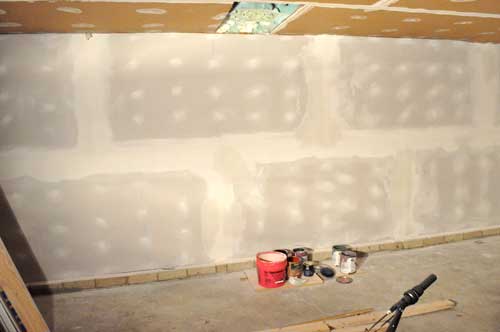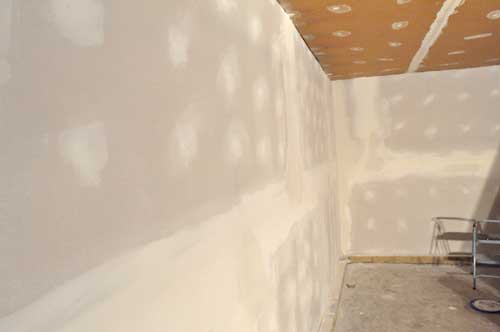 I guess that hole in the ceiling will need to be repaired, and I still need to tape the joint where the ceiling meets the wall. Overall, I'm very pleased with how things are progressing. The real proof will be how the walls look after we prime them.
What do you think so far? Any tips you can offer? Who wants to come over and finish things off?