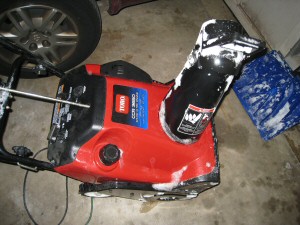 For the last 4 years and through last weekend, we've been clearing snow off our driveway and walkways with the Toro CCR 3650 Single Stage Snowblower.
We inherited this blower with the house (the previous owners were Georgia-bound) and we're happy to say that overall, it's performed well through most everything mother nature has thrown at it.
Toro stopped selling this model blower a few years ago and replaced it with the Power Clear 221. While our version has most every feature of the newer model, one notable difference is the plowing width. Our unit features a 18″ width while the newer model sports a 21″ width.
Read on for our thoughts on Toro's snow blowing machine…
Toro CCR 3650 Snowblower Highlights
The Highs: reliable performance for more than 5 years; electric and pull start; good gas mileage; works great on powdery and even wet snows up to 14 inches tall.
The Lows: self-propulsion is merely adequate; won't move slush no matter how little; can make a terrible squeaking noise when the load exceeds the blower's capacity (either through height or density of the snow). Price is too high for a medium duty machine.
The Verdict: A good machine, but for the same money we'd get a self-propelled Craftsman Snowblower or comparable model instead.
Toro CCR 3650 Feature Review
14.5″ Snow Height Capacity, 21″ Width – The Toro features a 14.5″ x 19″ mouth and effectively drives through up to about 14 inches of snow. Any more than 14 inches and the blower quickly becomes overwhelmed and the paddle will begin to slip around the drive axle (causing a terrible squeaking noise). We've had some fear that the blower would show degraded performance over time but either it hasn't happened, or the degradation has been so slow we haven't noticed.
Self-Propulsion – Toro claims this unit and its successor are self propelled because the snow throwing paddle makes repeated contact with the ground, pulling the unit forward. While this is true, it isn't nearly as effective as a truly self-propelled machine. We're partial to machines where the wheels or treads turn independent of an auger drive.
Electric Start – We consider this a must have on any snowblower we'd own. The Toro starts like any typical two-stroke engine. Follow gas mixture, priming and choking instructions and this blower starts up every time. The electric start has worked flawlessly since we've owned this unit. If you're not clear on the difference between two-stoke and four-stroke engines, ProTool Reviews has a good write-up comparing 2-cycle and 4-cycle engines.
Wheels – 7″ hard plastic wheels sit on each side of a single rear axle on the CCR 3650. We'd like to see more substantial wheels on this model to assist with traversing the snow (10″ or larger). That said, the wheels have worked without a problem and more or less don't get in the way.
Shoot Directional Control – It's not shown on the stock photo to the right (it is on the photo at the top), but our model and the Power Clear 221 feature a directional shoot control that can be turned while standing at the rear of the blower. We've come to expect these on modern snowblowers and the Toro's worked as expected, with a 190 degree swivel range.
Fold-up / Storage – One advantage the Toro CCR 2650 has over it's larger competitors is storage and transport capability. The handle collapses more than 18″ enabling storage in under a total of 40″ of space. The Toro can easily be tucked away under a garage shelf for the bulk of the year when its services aren't needed. At about 75 lbs., this blower can be easily toted in the trunk of a car or van, more than you could say for its bulkier 2-stage competition.
Toro CCR 2650 Performance Review
Performance – With minor exceptions, the Toro CCR 3650 performs as advertised, moving up to 14″ of snow quickly and easily with all but the wettest of snows.
The 30′ throw distance is a bit misleading, but this is true for many snowblowers. We think manufacturers conjure up the best possible circumstances for measuring the throw on their blowers. Perhaps Toro was testing the blower on unpacked powder with a 10 knot headwind. Expect a 10′ – 20′ throw distance for most snows, and as short as 6′ for tall, wet snow.
Longevity – This Toro snowblower has been in operation for more than 5 years without a hitch. Here in MD, I'd say we use the blower on average about 3 times per year for a total of 12 hours of runtime each year. We'd guess this usage is about average for the typical homeowner in the non-mountainous areas of the mid-Atlantic region.
Maintenance – The Toro CCR 3650 features a two-stroke engine that uses a gas oil mixture. We've never changed the air filter or the spark plug on this unit (they are overdue – it's a project for next Spring). We're happy that our lack of diligence in this area hasn't hampered the unit's performance.
Price & Recommendation
Toro's MSRP is a whopping $679.00 for the PowerClear 221Q. Expect street prices around $599.00 – $649.00. (For example, Home Depot sells this model for $619.00… you could reduce this price a bit with a coupon or coupon code from Home Depot).
Toro needs to drop the price about $200 to be competitive. At this price point, we'd recommend purchasing a 2-stage heavy duty snowblower (like this Craftsman Snowblower we reviewed last month). The only exception to this recommendation would be if portability and light weight are important factors in your decision.
What do you think? Do you own the Toro CCR 3650 or the Power Clear 221? Weigh in with your thoughts on this model below.