In the last three months we've told you about both the Rockwell Sonicrafter and the Dremel MultiMax, two oscillating multi-tools that can tackle a wide range of projects.
This past weekend, Ethan, Kim and I teamed up with five other folks to install replacement windows at our friend's house. All told, six windows took this team of eight about seven hours to install. The windows turned out great, especially considering they weren't custom fit windows and required some framing and trimming to fit within the existing siding and brick work.
This Thursday, we've got an instructional post coming on how to install replacement windows. For today, I thought I'd share two small tasks from the installation where it was great to have these multi-tools available.
Flush Cutting Nails and Screws
The first task is cutting nails that have been driven from the opposite side of the board (the one you don't have access to). In the past we've accomplished this job with a hack saw or a rotary tool. The Sonicrafter makes much quicker work of nails like this, speeding through in just 5 seconds. As a bonus, the Sonicrafter delivers a nearly flush cut.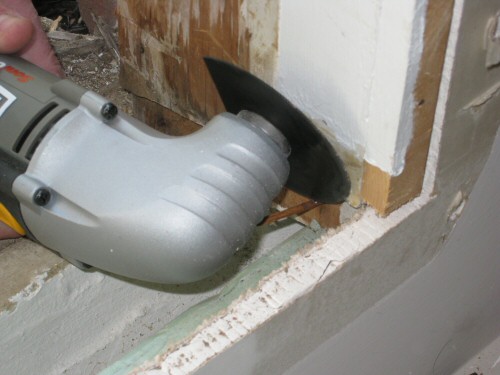 Cutting Shims
The second task is cutting shims in difficult-to-reach areas. Sure, we all see the pros score and snap shims with ease, but for any DIYer who's worked with them, we all know it isn't always this easy. Shims installed in hard-to-reach places can be hard to snap flush. We used the MultiMax with a straight blade to cut all the shims from our window installation.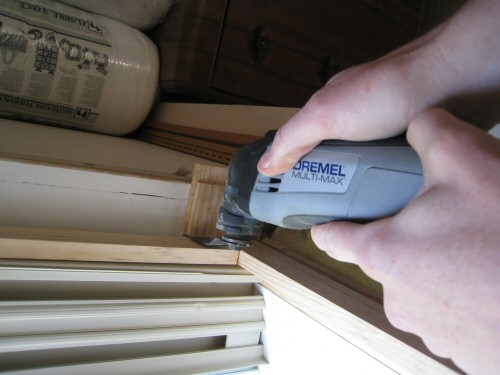 As we mentioned in our review of the Sonicrafter, multi-tools work best when the material is rigid and doesn't tend to move. We had some trouble with the shims when they weren't perfectly tight; however, the tool still performed better than any other method we could think of – producing completely flush shims that can be covered with molding.
Of course, either the Dremel or the Rockwell tool could have done either of these jobs. We happened to have had both on hand so instead of swapping blades, we switched tools.