If you're looking for cheap paint, Walmart's your place.  For a mere $10, you can become the proud owner of a whole gallon of Colorplace Flat White Ceiling Paint.  $43 will garner you a 5 gallon bucket.
To put this in perspective, a gallon of our favorite paint, Ralph Lauren from Home Depot, costs a whopping $27/gallon.  Walmart's ceiling paint is 60% off this retail high, and seemingly a fantastic deal.  But as the old saying goes: Good paint ain't cheap.  Cheap paint ain't good. That quip basically holds true here, though our experience wasn't horrible.  Read on for the details.
We painted our dining room walls with a brown Ralph Lauren eggshell paint, custom mixed at Home Depot at the aforementioned full retail price.  To our amazement, 1 gallon of Ralph Lauren covered all four walls of this 12×14 room with two coats, essentially 390 sq. ft. x 2.  The ceiling was already mostly white, so we decided we could risk painting with Walmart's ceiling white (an experience we expected would be less than overwhelming).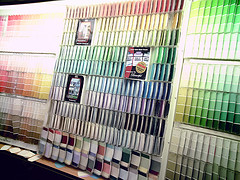 Colorplace flat ceiling white took an entire gallon to cover the ceiling, a 168 sq. ft. area-less than half of the area covered by Ralph Lauren on the walls.  In Walmart's defense, we had just sanded down the stipple texture on this ceiling, and a great deal of drywall patch was exposed.  The result: much of the paint was absorbed into the drywall patch.  Colorplace still took two coats to get full coverage, even though the ceiling started mostly white (there were several slightly discolored areas that showed through after the first coat).
So why weren't we disappointed?  Well, Colorplace costs less than half of its Ralph Lauren counterpart, and covers about half as well, making it ultimately a better deal for ceilings if you're willing to put in the time and your ceiling is already mostly white.
Recycle Old Paint
Old paint can be recycled into new paint or even concrete and cement. Check out this great post to learn more about recycling paint and finding the closest recycling center near you.
What do you think? Have you used Walmart paint?  What was your experience?
Semi-relevant photo by Clean Wal-Mart.