Last June, Ryobi entered the market of small, lithium ion-powered tools with their Tek4 offering. And a big step it was… Ryobi's latest collection of tools goes beyond the usual home improvement suspects, bringing 4-volt lithium ion technology and rugged, easy-on-the-hands feel to a range of interesting little gadgets. The whole line up can be seen at Ryobi's Tek4 Site. The suite features 10 tools including a professional multimeter (that link has our review), a digital lock box, an infared thermometer, and–the subject of this review–a digital camera.
The Tek4 Concept: One 4V Battery Works For Everything
Most of the big tool brands offer a collection of large cordless tools (e.g., drill driver, circular saw, flashlight) that use interchangeable batteries. Ryobi's Tek4 system takes this simple concept and applies it to the smaller tools that are traditionally powered by AA or AAA batteries. The line features a single, rechargeable 4V Li-ion cell that works in all 10 tools, is easy to swap out, and recharges quickly (with the optional fast charger). We think that's a pretty good idea, especially since we've replaced the batteries in our old multimeter at least four times in the last 18 months. Ryobi claims a single 4V Tek4 battery can be recharged 2000 times, for a savings of more than 4000 AA batteries. Ryobi earns their green points for this set of products.
The Tek4 Digital Camera Review
About a month back, Ryobi contacted us and offered to ship us this digital camera for review. We were surprised to see a digital camera as part of Ryobi's Tek4 offering… When we think Ryobi, the first, second… even tenth thing that comes to mind is definitely not digital camera. But this digital camera is different. It's rugged and waterproof… It looks like something that belongs in a shop or garage rather than a camera you'd tote along to a sporting event. It appeals to the inner-home-improvement contractor in us. We liked the concept…
Here's the highs and lows. Read on for the details…
The highs: Waterproof to one meter, dust-proof, rugged grip, great for work sites, takes video and you can add audio to a photograph, 1 GB SD card included.
The lows: No image stabilization makes motion pictures difficult, flash washes out pictures in large rooms. Pictures are grainier than I would have expected for the price; audio pickup is so-so.
Our take: A camera for contractors who need to get a job done, and for anyone else who needs a solidly-constructed, waterproof, dust-proof, digital camera; but not a replacement for a primary point-and-shoot camera.
Picture Quality Review
The Ryobi takes good pictures in outdoor daylight, and in bright indoor lighting. Picture quality is middle-of-the-pack when taking motion shots; and when needed, the flash has a tendency to hit only the center of the photo area rather than evenly lighting the whole room.
The target audience for the Tek4 camera is contractors and do-it-yourselfers who want the durability and robust construction of the Tek4 but aren't concerned with breathtaking photography. For this audience, the Tek4 hits the target. In other words, this camera isn't a replacement for a primary point-and-shoot camera you'd use to document the family's vacation or take "after" shots of a renovation, but it's good for keeping up with ongoing renovation projects and for anyone who needs a camera that can take a little bit of a beating, or go 3 feet underwater.
Video Features & Audio Footnotes
We took a few videos with the Tek4 and it did ok. Video quality is good; audio pick-up is so-so, probably due to the waterproofing. Video length is limited only by the available memory on the SD card. The audio footnote feature is great if you're taking pictures and want to quickly add some notes to the photo for later review (again, appealing to our inner contractor). If you're working on a complex problem and need to get some expert advice at another location, this camera would do the trick.
Zoom Length
3x Optical. Zoom speed is acceptable.
Waterproof and Rugged Construction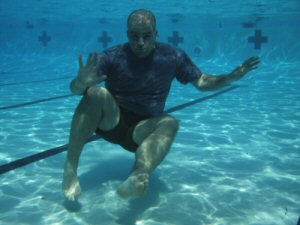 We consider the Tek4's construction by far its best quality. The camera is waterproof to 1 meter and is also dust proof and easy to clean (if you get dirt on it you can simply wash it off in a sink… pretty cool). Grip feel is absolutely excellent. Buttons are rubber-coated and easy to depress. We had no trouble with buttons sticking.
We couldn't resist taking the Tek4 camera to our local pool to verify Ryobi's 1 meter claim. The camera passed the test; we even bounced it off the bottom of the pool a few times with no damage. And to prove it, there's me over there on the right 🙂 The only issue we had was underwater focus: it took several shots to get a totally clear picture. Since this is the only underwater camera we've used, we're not sure if the results are atypical.
Battery Life
800 photos/charge (we didn't verify this, but suspect it is a no-flash estimate);
2000 charges/batttery (also not verified).
Battery takes about 5 hours to charge with the included charger; or you can buy the upgraded charger to get 36-minute quick charges.
Comes With?
1G SD Card
USB Cable
AP4001 Battery
AP4700 Charger
Lanyard and Soft Case
Price
What do you think? Do you own the Tek4 camera? Weigh in below with your own experience!