The weather has become cold enough that I get strange looks walking around in shorts. I love the brisk fall days, and they serve as a helpful reminder that here in Maryland colder weather is on the way. If you haven't weatherized your home, there are simple steps you can take to be ready for seasonal changes. If you have weatherized, it's a good idea to do a quick audit as I usually find one or two things that need attention.
DAP got in touch with us and asked that we share a weatherization project. When they offered to cover time and expenses with a gift card, I was more than happy to oblige. In fact, I immediately remember a few things that were on my to-do list. How convenient, right?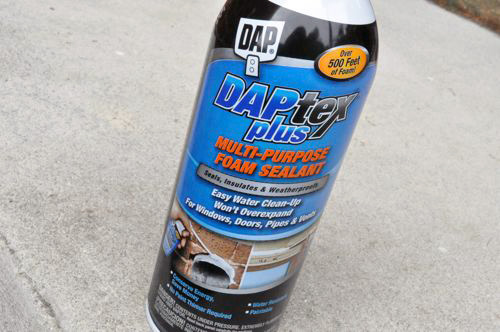 Where to Weatherize
I think the biggest challenge to weatherizing your home is learning where to look. A good rule of thumb is to seal anywhere something (vents, pipes, wires, etc.) passes through an exterior wall. Here are some culprits worth investigating.
Windows & Doors- Inspect the trim for cracks and holes. Sealing the joints will prevent air from escaping your home and insects from finding a way inside.
Vents- Many home have vents for bathroom fans, dryers, microwaves and HVAC units. Again, examine where it passes through the wall (inside and out).

Pipes- I know that at one point ants where entering my house through the gap for our hose connection. It was almost funny to watch the line of ants going in and out.
Wires- You might not even realize all the wires that go through exterior walls. Consider taking a look at the cable and satellite connections, HVAC power and freon, and power for exterior outlets.

Cornerboard- The cornerboard is the vertical board where siding ends at the corner of your home. If you've ever seen a thermal scan of a home, you know that corners are problem areas because they're tough to fully insulate.
Electrical Fixtures- Take a look at your light switches, electrical outlets, and lighting fixtures. The electrical boxes behind each of these often creates a break in insulation. Sealing any gap around the outside of the electrical box helps reduce air exchange.
For a few more ideas, you might want to check out Seal You Home– a DAP site with information about air leaks and how to seal them.
The Right Product
The next question is what is the right product for the job. I picked up a few things at Lowe's including DAP 3.0 Advanced All Purpose Sealant, DAPtex plus, and a caulking tool kit. For the latter, I was curious how well it worked, and in the end went back to the old finger swipe method.
I really like DAP 3.0 because it's a silicone sealant that has better flexibility and durability than acrylic latex. That means it'll last longer and won't crack or shrink. Lots of silicone sealants are not paintable, but DAP 3.0 is paintable. Lastly, it's appropriate for indoor and outdoor applications. It really is "all purpose." This is the same product I used for painting my aluminum overhang.
DAPtex plus is a foam sealant that is great for filling large gaps. It's the sort of thing you'd use around a door or window frame (underneath the trim), and I found it really useful around some exhaust pipes. Again, I like that it's approved for indoor and outdoor use, and it's paintable.
DAP is the leading manufacturer and supplier of caulks, sealants and insulating foams. They have lots of options to help you weatherize your home. Just check the "suggested uses" to make sure it's the right product for the job. You can also connect with DAP by following them on Twitter.
What Did I Weatherize?
I only had a short list of things to weatherize as I had already recently re-caulked several windows, doors and above my bay window. I ended up caulking some baseboard, around several wires and my dryer vent. I also used the foam to fill some gaps around some pipes.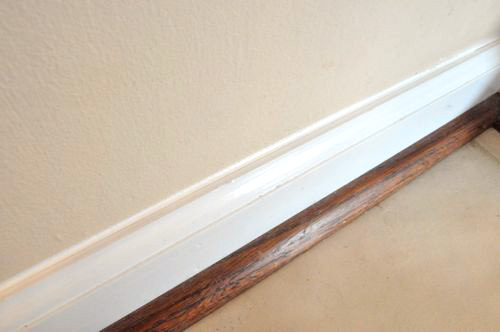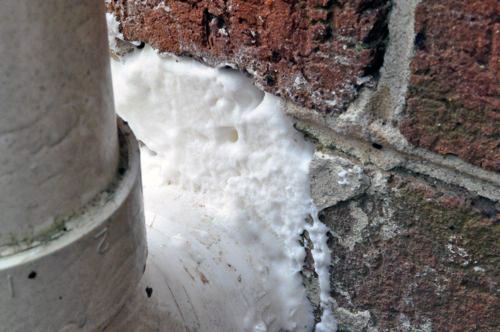 Disclosure Language:
DAP partnered with bloggers such as me to participate in the "Seal Your Home" Blogger Challenge. As part of that program, I received compensation (gift cards to cover expenses and fund future OPC projects. Hurray!). They did not tell me what to purchase or what to say about the products used for the "Seal Your Home" Blogger Challenge. DAP believe that consumers and bloggers are free to form their own opinions and share them in their own words. DAP's policies align with WOMMA Ethics Code, FTC guidelines and social media engagement recommendations.