Early this Spring we started our lawn on the Scotts annual lawn care program, a system designed to make it easy for homeowners to get their lawns looking great over a 12 month period.  The program begins in the early Spring with application of a turf builder and crabgrass preventer, and proceeds throughout the year with products designed to kill weeds, promote root growth, and fill in bare spots.  About four weeks ago we applied the late Spring weed and feed product: Turfbuilder with PLUS 2 Weed Control.  The purpose: eliminate dandelions and other broad lead weeds and build strong, deep, thriving roots.
The Lawn Before a Weed and Feed Product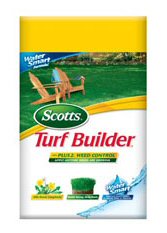 This is the part of the article where I show you what things looked like before we applied weed and feed. Unfortunately, due to operator error, I no longer have the picture.  So, you'll have to generate your own mental picture of the lawn. The lawn was about 95% tall fescue, and about a 5% mix of dandelions, clover, and a minimal number of other broad leaf weeds.  The dandelions where tall and strong, with bright, yellow buds announcing their presence.  The clover was much more subtle, but had grown to at least a 2′ x 3′ patch in one area of the lawn.
Applying Scotts Turfbuilder With Plus 2 Weed Control
We applied Scotts Turfbuilder with Weed Control using a typical broadcast spreader, one of several types of spreaders that are suitable for spreading lawn chemicals. Since we used a broadcast spreader as opposed to a drop spreader, we only made one pass over each section of the lawn, with the goal of only a slight overlap on each pass.  This ensured the whole lawn was properly covered, but that no section was burned by application of too much fertiziler.  We also took care to avoid garden areas completely, as weed and feed products hold the potential to destroy broad leaf flowers too.
Scotts Turfbuilder Review
We're very pleased with how the product has performed to date.  Here's a picture of a typical dandelion about 4 days after the application of Scotts Turfbuilder Plus 2 Weed Control:

The first application has killed about 95% of all the broadleaf weeds in our yard within the first 7 days.  The only exception to this has been the clover, which took much longer to die off.  At four weeks, we've seen about 70% of the clover die off, and as the fescue builds deeper root structures and grows tall, the clover has had much less of an ability to spread.
In the latter part of our four week experiment, we had a series of days that alternated between rain and sun.  Over this period, we saw  the lawn take off. Here's a shot during this period only seven days after the lawn had been mowed…

Pretty good looking right?  We think so, and so would recommend Scotts program to folks considering it for their own lawns.
Tips for Using Scotts Turfbuilder with Weed Control
Follow the instructions exactly as they are listed on the bag.
Do

not

overapply the chemicals.  The product can burn your lawn.
Apply weed and feed a few days after mowing, and when the lawn is damp (either early morning, after rain, or after watering).
Do not water the lawn within 48 hours of application.  Avoid spreading when rain is imminent.
Take care to avoid spreading in garden and path areas.
Apply when broad leaf weeds are growing (early application is a waste).
Don't walk on the lawn barefoot until the first good rain dissolves all chemicals.
Aerate your lawn sometime during the season.  This promotes root growth and helps prevent thatch.
Thoughts on Professional Help
Spreading weed and feed is something you can easily do on your own, but if you're considering professional help, Amy over at Green Gardenista offers some great advice on picking a lawn service that is a good place to start if you're considering TruGreen or one of the other big guys.
What do you think? Have you used Scotts or another manufacturer's weed and feed product? What were your results?