A while ago, I made three owls for my good friend, Colleen, to celebrate the birth of her daughter. Well, her sweet baby is now here and living in her adorable, owl-tastic nursery that Colleen created. Colleen was kind enough to let me take you all on a tour, partially because it's so fabulous but also because she provided me with some inspiration for my upcoming kitchen redesign. I'll fill you in at the end of the post and see if you can guess along the way!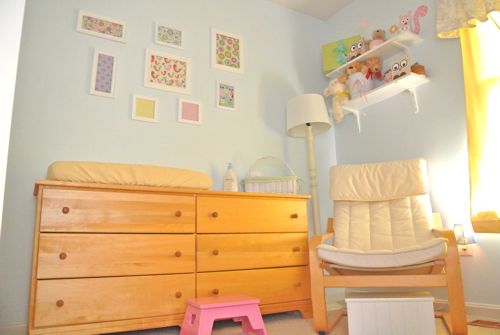 Colleen re-used her baby furniture from her first daughter (Izzie's BFF) and placed it into their guest bedroom that was already painted a very sweet ice blue. It's such a soft and calming effect, without being too baby-ish, while also being feminine without being too frilly.
Check her great diaper organizer over the back of the door. I also love the small bookshelf with accent lamp, bins, and books. Oh, and there's number one of three cute owls!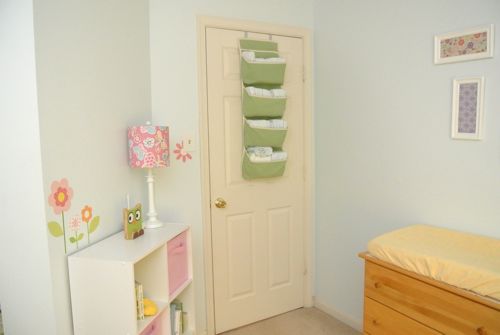 The tree decal Colleen found on Amazon is sooo cute and way quicker than the tree I painted in our bedroom. I also love that she picked a yellow curtain to accent the blues and pinks.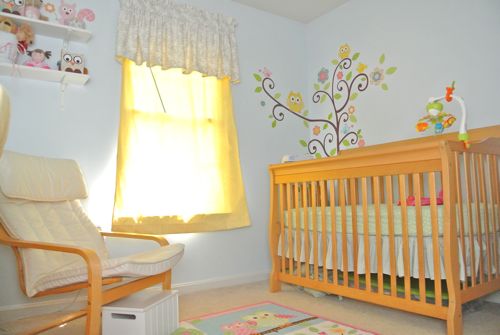 Ever wonder what to do with all those little stuffed animals and trinkets that everyone always gets at their baby shower? Love this double shelf with cute baby stuff. And there are owls #2 and #3!
Check out my tutorials on making your owl wooden owls, elephant, or classy owl, complete with lots of pix and printable stencils!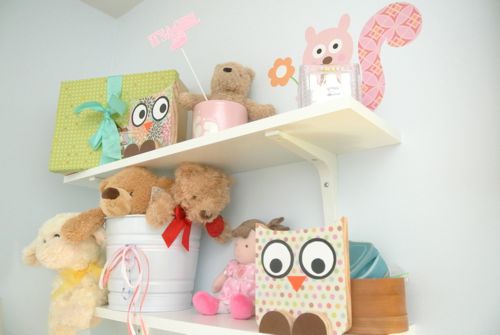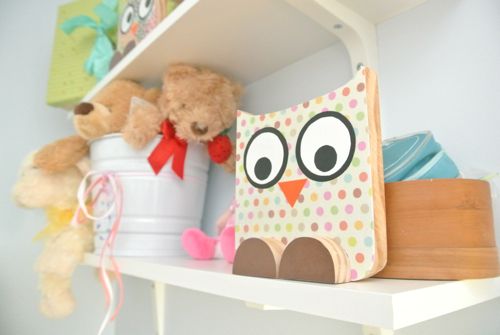 This is one of my favorite parts of the room – framed fabric!!! And what a great way to use all those old, mis-matched frames. Paint them, fill them, hang them. LOVE!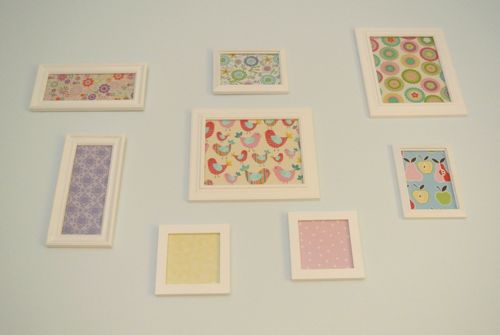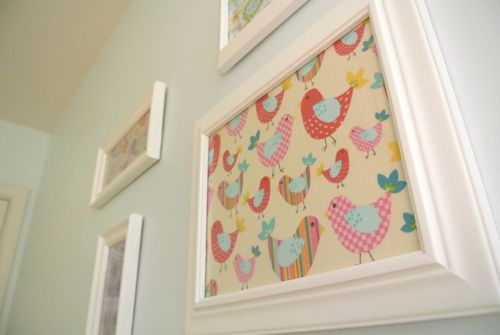 To complete the owl theme, she found this rug at Ikea (I think), for CHEAP! I had serious rug envy at the time.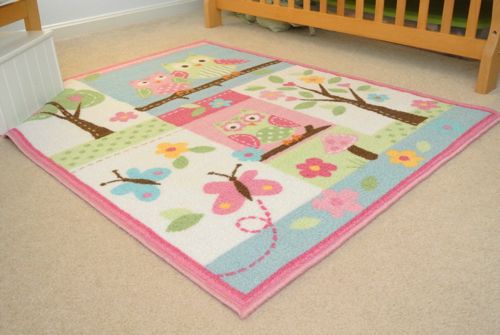 I also love this little mobile that plays music and has a remote. I think it's also meant to travel.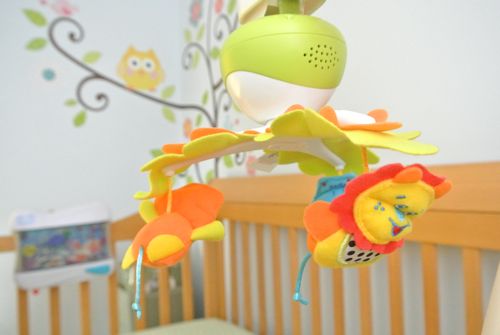 And last but not least, Colleen did a great job organizing the closet and making it look cute. Love the polka dots on the baskets!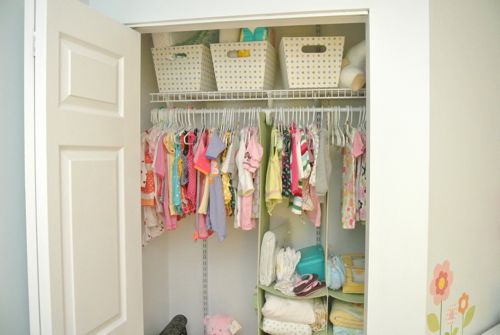 So now that you've seen the whole nursery, any guesses on my inspiration piece???
Maybe you guessed right – the framed fabric! Right now I have 4 framed pictures in dark wood frames in the kitchen that I plan to paint and fill with different accent fabrics. I am so excited!
What do you think? Do you love this owl-riffic nursery?
As Always, thanks for reading!

Do you like free gift cards?!? Our 5th Annual Before and After Series supporting Habitat for Humanity is up and running. Enter your home project now!