Everyone needs their own art wall for kids to display their masterpieces. Sure, they aren't masterpieces to everyone else, but they definitely are to us. Yeah, we love the scribbles, the words no one can read but us, the excess of pink and purple, the crusted boogers in the lower corner…we love it all.
Slowly our art wall has grown. At first, we just hung the pictures (ahem, I mean, masterpieces) on the fridge. That got old pretty quick. Between the alphabet magnets, barnyard animals magnets, and all the art work, it looks like Sesame Street vomited on the fridge. No. Thank. You.
Next, I used my Scrapbook paper clothes pins for an art wall, along with some 3M Command Strips and yarn. I can't help it, I'm seriously addicted to those Command strips!
Then, I learned the wonders of Washi Tape and made some new, bright washi tape clothes pins for a new art display.
But the wall looked a little lonely.
So I broke out my Silhouette and quickly cut out black vinyl letters to say, "Hagan Family Limited Editions." Pretty darn cute, right.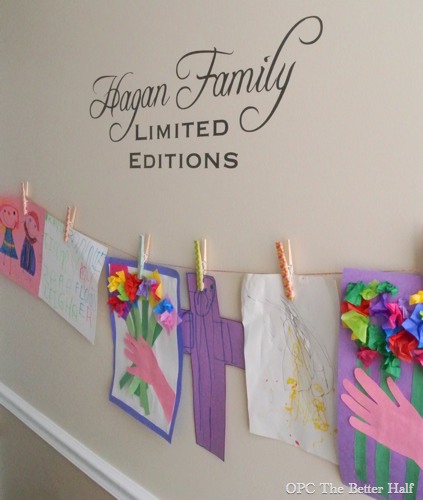 The wall in the hallway right off the dining room and entry way and is seen by everyone. The girls really love it, although Izzie is slowly trying to monopolize all the space on the clothes line…poor Lulu! 🙂
It wasn't real complicated. It didn't take very long. But it sure does mean a lot! Actually, ever since I put it up, every person who has visited our home has commented on it (even before they comment on the big changes in our dining room). Maybe I should stick to the easy projects from now on. lol.
What do you think? How do you display your children's artwork?
Thanks so much for reading about my quick and easy kid's art wall.