Editors Note: This article is from 2009 when Fred & Kim were getting ready to insulate their basement, and it's a great review of the options they considered. If you're thinking about insulating your basement, it's important to make an informed decision about installing a vapor barrier, and there's a lot of misinformation out there. After you finish reading this article about insulation options, be sure to check out the Related Content section to learn more about vapor barriers.
We're just about ready to insulate an unfinished basement game room and this post reviews a number of options for achieving maximum efficiency in basement insulation installations. The article begins with an overview of the basement area and then provides a summary of insulation options.
Basement Wall Construction & 2×4 Wall Studs
The basement walls are constructed of stacked cinder block. The front half of the house is completely underground, while the back of the house is mostly at ground level, with a small area about 2-3 feet underground. The house has decent grading that keeps water away from the foundation, but moisture was still a problem in a few sections.
We used a combination of Super Thoroseal and SunnyDry foundation waterproofers to seal out the remaining moisture, and regraded the gardens in the front of the house. Together, the results have yielded good results, we haven't had any moisture problems since.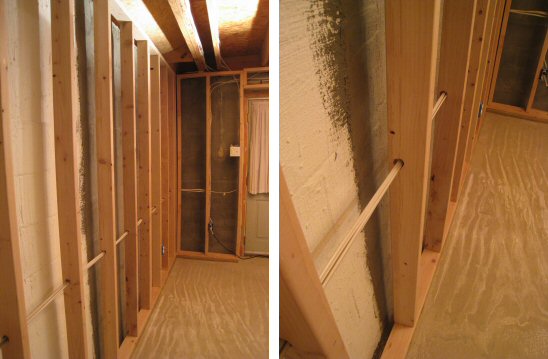 While we've taken precaution to ensure the wall seal is tight and that no water is leaking, we still want an insulation product that is mold resistant, since I have a lingering fear that moisture could seep back in at some point in the future (say, due to settling of the foundation and a break in the seal).
We framed the basement walls using traditional 2×4 stud walls fastened to a pressure treated 2×4 bottom board. We briefly considered metal stud framing, but still like the solidity and rigidity of wood, so we stuck with what we knew. The walls are not fastened to the cinder block (as that would penetrate the water tight seal). Instead, the walls are fastened to the joists above, and we used powder charge nailer to fasten the bottom board in place.
We left about a 1 inch gap between the cinder block and the stud wall to provide extra space for wall insulation, figuring we'd need that to get maximum efficiency.
R-13 Fiberglass Basement Wall Insulation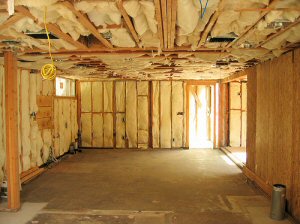 The first option up for consideration is fiberglass batting: the traditional R13 pink fiberglass available at the big box store.
Fiberglass Pros: Fiberglass is good because it's relatively cheap; it doesn't require any special installation tools; it can be brought to the house using a standard pickup truck; and, it can be installed by hand in a single day.
Fiberglass Cons: The drawback of fiberglass is that it doesn't provide great R-value (about R3 / inch), and it can be susceptible to mold with unfavorable moisture conditions. Fiberglass is considered a mold resistant product; however we've seen several instances of molding fiberglass batting, including the fiberglass we removed from this basement when we started working it. Fiberglass also doesn't fill every nook and cranny of the walls, leaving gaps for air to circulate, which ultimately contributes to energy loss. These air gaps are not considered in the reported R value of the insulation, making the effective R value much lower.
We ultimately decided against fiberglass because we've had a pretty significant draft in the basement and even with fiberglass installed, this draft will still be leaching energy from the room.
Wet Cellulose Wall Insulation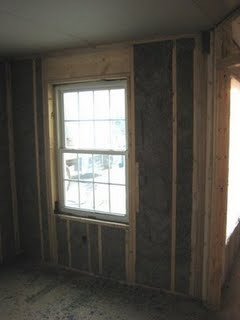 The second option up for consideration is wet cellulose insulation. We looked at products like NuWool Wall Seal Insulation, a sprayed-in wet cellulose insulation.
Wet Cellulose Pros: Wet cellulose is a sticky cellulose product sprayed into the stud walls. The R-value is slightly higher than fiberglass at about R4 / inch. The main advantage of wet cellulose over fiberglass is it's ability to fill the cracks and voids that fiberglass batting leaves open, providing a much tighter building envelope. It has a number of other advantages including being highly fire resistant and eco-friendly. It Provides a slightly more cost-effective solution than spray foam products, but does not offer as tight a seal.
Wet Cellulose Cons: Higher cost than fiberglass (but worth it considering the added insulation value and energy savings); requires special installation tools and entails a somewhat "messy" installation. Would be best performed by a contractor, although DIY kits are available and we considered these. Cellulose is mold resistant but still susceptible to mold in the least ideal environments.
We decided against wet cellulose insulation because spray foam offered a better alternative. If you're looking for cellulose installation instructions, Todd provides them at that link.
Spray Foam Insulation: Open Cell Insulation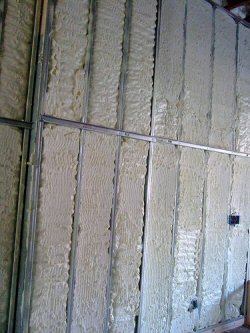 The third and fourth options up for consideration are spray foam insulation products. I'm starting with open cell insulation because it's less expensive and not the option we ultimately chose. That said, open cell insulation is a good product that can be very cost efficient for many installations.
Open cell spray foam insulation is a chemical product that is sprayed onto the wall and then expands to fill the space. The term Open Cell refers to the cell structure of the resulting foam, which cures to a sponge-like material with millions of tiny open bubbles. The consistency is similar to angel food cake. The chemicals are mixed on site using a special compressor and gun system. The compressor may heat the foam to a required temperature. When sprayed on the walls, the foam sticks and expands in place.
Open Cell Foam Pros: Open cell foam is sprayed in place and expands to fill the space. It creates a better seal that spray cellulose and provides a comparable R-value in most installations (about R4, slightly higher than fiberglass). Spray foam is nice because it can be sprayed blindly into a cavity and will fill the space of that cavity.
Open cell foam expands to 100 times its spray-on size, making it extremely good for filling voids and relatively cost efficient. It is also nice because it stays somewhat flexible, which is good for ensuring flat drywall installation.
Open Cell Foam Cons: Open cell foam does not provide as tight a seal as closed sell foam because the bubbles are broken and it is easier for air to flow between the cells. Unlike closed cell foam products, open-cell foam products are generally filled with air. Closed cell products can be filled with a chemical that is much less efficient at transferring heat that air, leading to greater energy efficiency. Also, closed cell products can nearly double the insulation performance of open cell products.
Closed Cell Spray Foam Insulation (Selected Option)
Closed cell spray foam is very similar to its open cell counterpart, with the exception that the bubbles in closed cell foam are 'closed' and so do not permit any air flow. You can think of closed cell foam as a very tight honeycomb of closed cells that are waterproof and air tight.
Closed cell foam can come in a range of different cured hardnesses, all the way up to foam that can support human weight. Closed cell spray foams can also be designed so that they cure with bubbles filled with non-air chemicals that improve energy efficiency.
Closed Cell Foam Pros: Closed cell foams offer very high R-values (R7.5 per inch!). Closed cell foam completes the building envelope and tightly seals gaps to prevent air flow. Closed cell foam is highly mold resistant and also provides a vapor barrier for the installation.
Closed Cell Foam Cons: Best performed by a professional installer, although DIY kits do exist. Significantly higher price than fiberglass, but offers a superior seal.
Recommended Method
While closed cell spray foam is slightly more expensive than other methods, it offers high R-value with the best mold resistance. Given that we've invested thousands of dollars in radiant floor heating, we believe that the higher cost is justified and would recommend this method.
We're currently working with a contractor to price the job, and to share all the details with you!
Alternative Insulation Methods
There are more insulation options than what we've listed here, including hybrid installations (e.g., closed cell foam topped with fiberglass), and installations of rigid foam board, etc. We've covered all the common options here; and hope you find it a good reference.
What do you think? Got a question? Leave it in the comments… or tell us what insulation you choose for your house…
(photo credits: fiberglass insulation by ann-dabney; wet cellulose by todd; spray foam insulation by el diablo robotico)