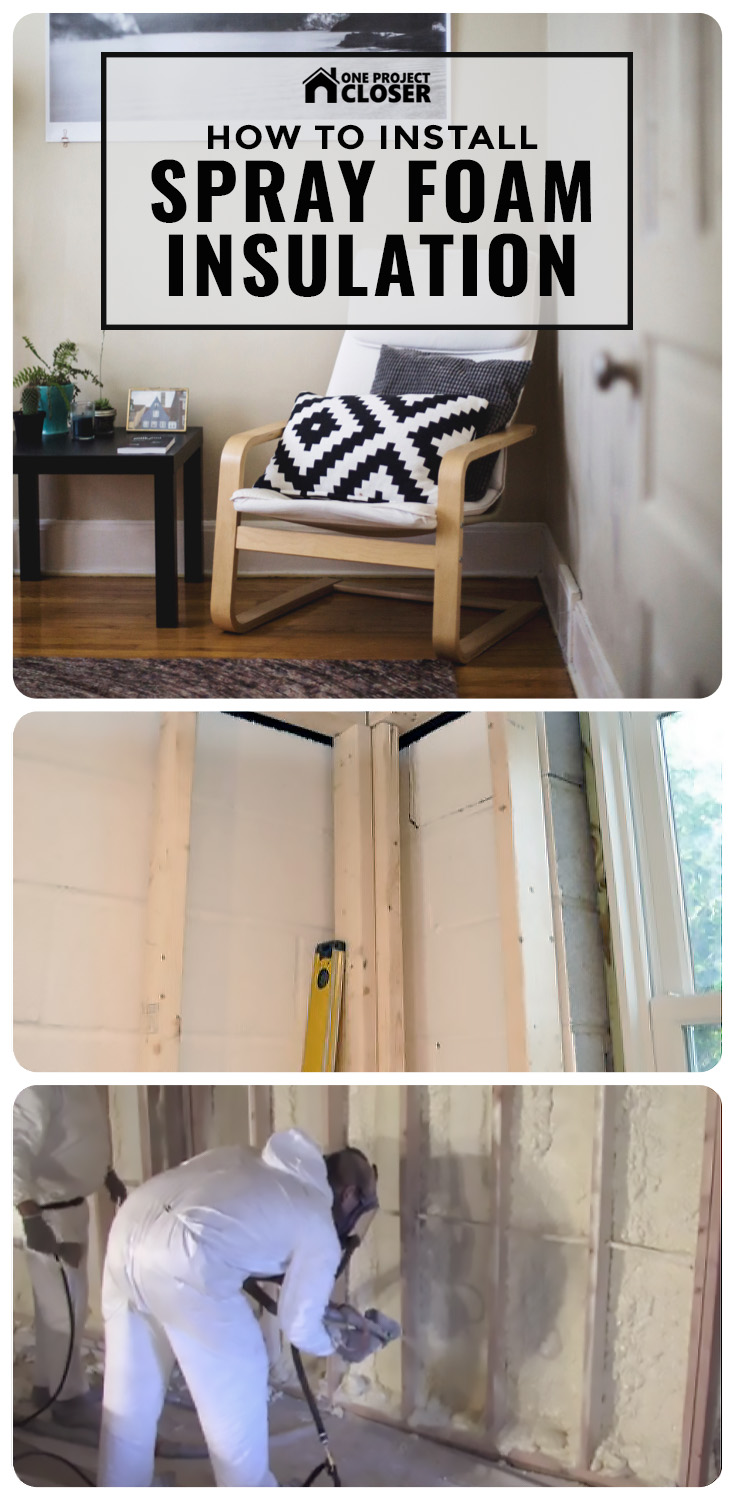 Editors Note: We produced this video on How to Install Spray Foam Insulation a few years ago, and although we didn't realize it at the time, this spray foam installation represents our very first Pro-Follow. If you enjoy seeing and learning from professional contractors, become an email or RSS subscriber and never miss a Pro-Follow update.
We love sharing unique experiences with our readers, and I'm excited to bring you today's article! Fred and I had the pleasure of filming Hottle Energy Solutions as they insulated Fred's basement with spray foam. We worked hard to put out a really comprehensive, high-quality video that will address many different aspects of spray foam installation. If you enjoy the video, please consider linking to this article to spread the word.
There are several different options for insulating your basement and ultimately Fred & Kim chose spray foam. Spray foam is a great choice because it expands to fill tough-to-access space creating a more complete seal than fiberglass insulation. Closed cell foam also has very high R-values, acts as a moisture/vapor barrier and is mold resistant.

This video (9:50) contains a lot of information. We were able to interview the contractor, learn about his equipment, discuss safety concerns, and address some popular spray foam questions. Here are some of the highlights:
When to have spray foam installed (0:57)
The difference between open and closed cell foam (1:58)
The equipment a contractor uses to install the foam (2:35)
Preparing for spray foam (3:43)
Pros / Cons of do-it-yourself kits (4:15)
Necessary safety gear (5:34)
Health concerns with spray foam (6:13 & 8:27)
Open cell foam installation (6:32)
Closed cell foam installation (7:40)
Final verdict (8:51)
Installing Spray Foam Insulation
I think there are a couple of key points to emphasize from the video.
Frame Off the Wall
Fred mentioned that the framing members were set about 4″ off the basement wall. This is important because that allows our installer to spray foam behind the 2 x 4's ensuring a continuous barrier all throughout the basement.
Safety Equipment
It's very important to have the right safety equipment if you purchase DIY spray foam kits. Our contractor had a Tyvek, disposable suit and hand and foot coverings. Make sure to purchase a respirator that includes organic and acid vapor cartridges.
Open Cell Foam
Open cell foam, a.k.a. low density foam, expands to over 100 times it's liquid size. It's called open cell because little pockets of air form providing the insulation value. It does not act as a moisture barrier which is an important consideration for basement walls below grade. It features an R-value of about 3.5 per inch. You'll notice we insulated the band board / rim joist with open cell. Read that link for details about it.
Closed Cell Foam
Closed cell foam, a.k.a. medium density foam, expand to about 25 time its liquid size. Closed cell has such an advantage because it forms a complete envelope sealing out moisture, preventing mold and providing an R-value of 7.5 per inch!
What do you think? What's your experience with spray foam? Did you like the video?