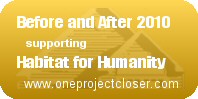 Our next Before and After is brought to you by Kate @ Centsational Girl. Kate is a great friend who shares a lot of DIY projects with her readers. You may remember this little gem from last year- her awesome staircase renovation.
For being this weeks winner, Kate will receive a $50 gift card to Amazon, Lowes, or Home Depot, and we'll make a $100 donation to Habitat for Humanity in her honor. Kate also has the chance to win a $150 gift card to the home improvement store of her choice at the end of the series.
Check out Kate's site, Centsational Girl, after you read about about how she transformed her laundry room. And don't forget about this weeks Habitat Quick Fact too!
Laundry Room Refresh by Kate @ Centsational Girl
There are three reasons I've never liked our laundry room.
One. The original contractor/builder of our house picked out the cabinets when this honey tone wood was still popular last decade. They're very good quality cabinets, but I have not been fond of the color for, oh, ever.
Two. One of the cabinets in our laundry room housed our very old indoor cat's litter box. Sadly, we had to have our kitty put down a few months ago due to severe illness, but the good news is the cat box odor has finally left the premises.
Three. Laundry is my least favorite household task. I confess I do love the smell of fresh clean laundry, I just never wanted to be in the laundry room for reasons One and Two, and I so I would get lazy with this chore and tend to put it off until it got out of control.
I am happy to say I no longer have those excuses because of this new and improved space! Here's what the room looked like last week. Pretty bland, right ?
Before:
But here is my laundry room now !
Oooh la la, I am so in love !!!
I've gotta tell ya, for me, painting cabinets is neither quick nor effortless! It's actually quite time consuming and labor intensive, because I don't rush it and I follow several steps. But in the end, it's always worth it. I don't own a sprayer (yet!), so here's how I painted these by hand.
First, I always start with an oil based primer – I'm just old school like that when it comes to painting cabinetry. I also use an additive called Penetrol to condition my primer to reduce drag in the paint as it dries, and to minimize brush strokes. It really does help. I prefer to use a high quality angled 2" paintbrush when working with cabinetry or furniture by hand.
I roll the primer on for even coverage with a roller, then follow up with a brush over the entire front and back of the cabinet doors.
To avoid cleaning my brush between covering the front and back with primer, I used Rhoda's trick and wrapped my paintbrush in plastic wrap and put in in the fridge to keep it from drying out. After my primer was dry, I lightly sanded my cabinet doors with a medium grade sanding wedge.
I considered using oil based paint for my cabinets like I did in my kitchen, but this time I decided to try a water based paint on these laundry room cabinets, since they don't get as much traffic as my kitchen or bath cabinets. I experimented with Valspar's Kitchen and Bath Enamel and must confess it was nice working with this paint instead of oil because the clean up is so much easier ! Two coats of paint, lightly sand between coats if necessary to remove drips or brush marks.
The color I chose was 'Cream Delight' and this shade of white is true to its name! It's not as vanilla as another favorite 'Heirloom White' but it's not a bright white either. I think I just might use this same shade when I redo the hall bath later this summer !
Another upgrade was adding crown to the top of the cabinetry and also adding basic satin nickel knobs. Just those two details made a lot of difference.
The shelf was created with some basic plywood cut to fit the space, then primed and painted to match the cabinetry. I also primed and painted the oak laundry sorter with the same 'Cream Delight' by Valspar.
To support the shelf, I added some 1/2" x 2" birch all around, then screwed the supports into the wall studs. The shelf sits right on top.
It's trimmed in some playful turquoise ribbon to hide the unfinished edge. You can also use wood filler like I did with this media shelf, or you can use edge banding explained here.
I also added these shelf liners to the wall to create a wallpapered look along the back. Double sided tape baby ! Ordinarily, I'm not a scented drawer liner kind of gal, but the fragrance is subtle and they smell goooooood – like a laundry room shooooouuuuuld.
I found this chandy at Lowe's and loved the flirty shape but not the color or plastic floral beads, so I removed those. It was $85 with a coupon, a little pricey for my taste, but I couldn't find what I wanted for less.
I cheated on my usual 'Heirloom White' and used Rustoleum's 'Gloss White' to lighten it up to compliment the cabinetry. Make sure whenever you spray paint a light fixture to tape off the electrical cords and sockets !
I didn't paint the black cord, so to hide it, I stitched up a white cotton cord cover. Because the old fixture was centered in the room, and I wanted the chandy centered on the shade, I swaged it with a chain and specialty ceiling hook.
The drying rack I built last summer is still in here. I use it all the time for delicate garments.
I couldn't find any art I liked, so then I found these zinnia like stepping stones, spray painted them, and hung them on the wall.
Just pretty and playful enough to motivate me !
I love how the floral stepping stones play off the fabric in this shade. I absolutely adore this fabric and the grosgrain ribbon trim – all the colors that are perfect for this space. I'll publish the 'how to' on the shade soon !
So there's the grand tour of my 8' x 8' new and improved laundry room !
Habitat Quick Fact
This week's Habitat Quick Fact is about employer's that match donations:
Did you know that your donation to Habitat for Humanity International may be matched dollar for dollar? Many employers have matching gift programs and will match tax-deductible charitable contributions made by their employees, retirees and employees' spouses.
Check out the employer match page and then follow the steps to have your company match the gift.
We're making a $100 donation to Habitat. Click over to Habitat's online donation page to make your own donation.
Enter Your Project!
Got your own before and after story?  Tell us at beforeandafter@oneprojectcloser.com.