When Ethan and I set out to convert my garage into the OPC workshop, I knew from the start that I wanted the large back wall to be donned with two 4×8 sheets of pegboard. When I was growing up, my father's workshop had sported a large sheet of pegboard, and I remember how cool it was that dad could find just about anything he needed on his pegs or inside one of his two large tool chests.
Since Ethan and I knew we'd be using the shop as a backdrop for our blog photography, we thought we needed to make our pegboard a bit more dramatic than the typical Masonite brown or white options available at every home improvement store. So we devised a plan to paint it black for a dramatic contrast to our planned light grey walls and stylized red conduit boxes. We think it came out pretty sharp.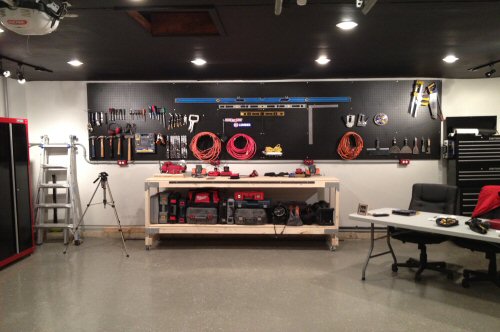 Materials Required for this Project
( qty. 2 ) 4×8 sheets of finished pegboard
( qty. 8 ) 1x2x8  select pine furring strips
Box of 2″ #12 drywall screws (for mounting furring strips to the studs)
Box of Decorative round-head stainless screws (for mounting the pegboard to the furring strips)
1 gallon paint (we recommend semigloss for future clean-ability)
Tools Required for this Project
Paint Sprayer (optional, but it makes the job much easier)
Drill Driver
Step 1: Paint the Pegboard and Furring Strips (Outdoors)
We thought a glossy paint would look good with OPC's theme, so we picked up some Glidden semigloss black from Home Depot. We used a manufacturer-supplied Graco TrueCoat Paint Sprayer to apply the semigloss to the pegboard. Had the Graco not been available, we could have used a brush and roller for the job, but the sprayer makes even, thorough application a cinch. We liked the sprayer a lot, although we found that its small reservoir had us refilling the tool with paint very frequently (three times to get through just two 4×8 sheets).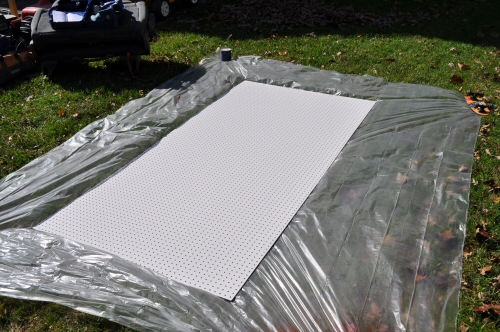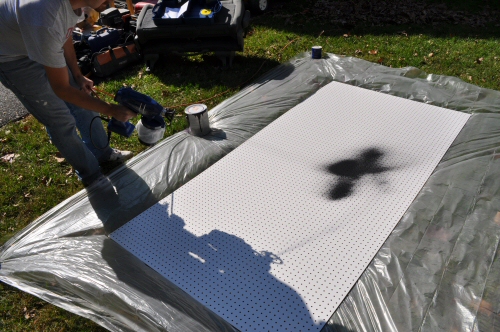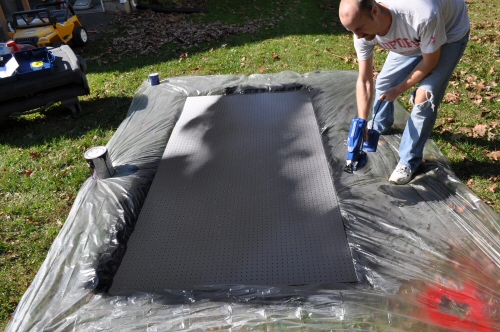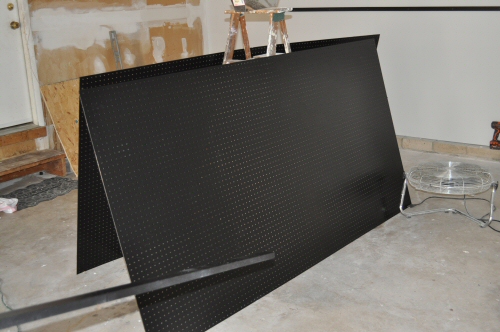 We also used the Graco to blacken the eight, 8-foot strips of 1-1/2″ x 7/8″ select pine. You'll have to use your imagination as I didn't snap pictures of this step. The most important part of painting the furring strips is to ensure to get full coverage on all sides, except the back.
Step 2: Mount the Furring Strips, Then the Pegboard
We used the furring strips to create a mounting surface for the pegboard. (Pegboard needs about 3/4″ of open space behind it for the pegs to go through, and so 1×2 finished select pine worked well for the task). You could also mount pegboard with traditional 2x4s, but that would create a much larger gap than necessary.
We used a stud finder to locate the studs behind the wall, and then checked and rechecked our first set of strips for level before fastening them with drywall screws. Mounting the first set of strips properly is extremely important, as they provide the reference for the rest.
Space the furring strips on 16″ centers, ensuring that the distance from bottom-to-top does not exceed 4 feet.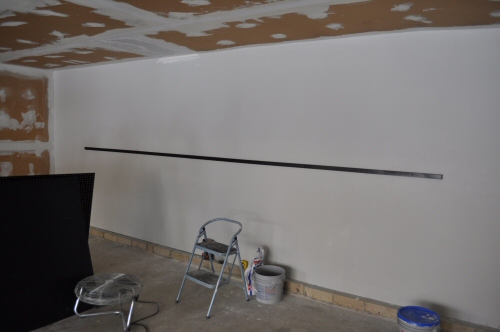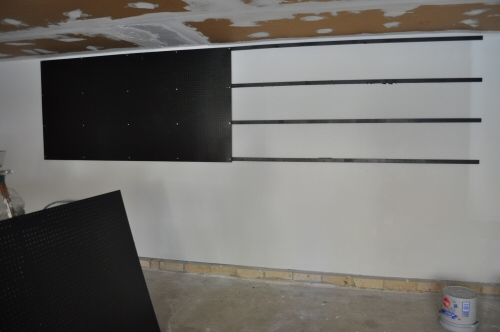 We decided to use some bright, large-head wood screws we had available, using 16 screws for each board. That's way more than what would be required to provide a tight hold, but we think the screws actually add to the look.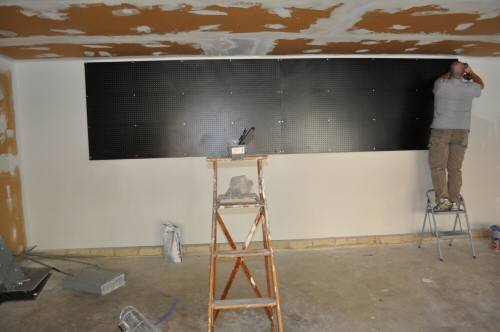 Step 3: Marvel at Your Handiwork
With the pegboard hung, we couldn't resist hanging our first tool… our eight foot level, for which we've never had an ideal storage solution. In this picture, it's actually hanging a little higher than it's ultimate resting place. We're going to use the top foot (or so) of pegboard to write "one project closer" in white letters, and possibly to put up "bumper stickers" of some of the advertisers who are kind enough to help us keep the lights on.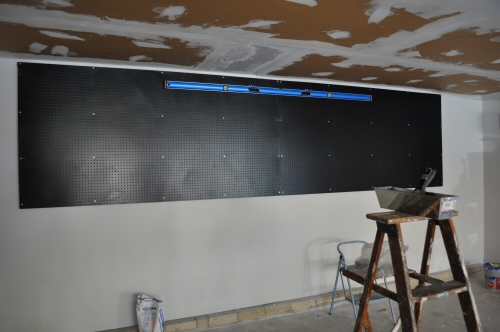 …And a Few Short Months Later… The After Pictures
Several months after hanging the pegboard, we finished the rest of our workshop. Our painted pegboard adds an awesome dramatic flare to this space, and makes our blog photos here in the workshop that much better!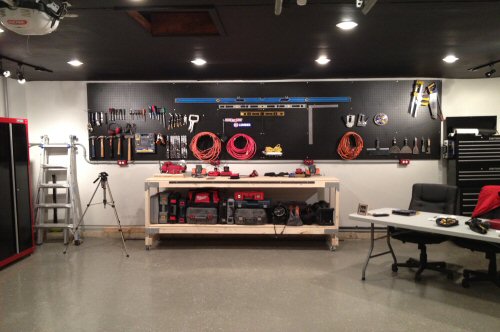 (Pssst! If you look carefully in the next picture, you can see one of the bodies and two of the feet for Jocie's wooden owl craft!)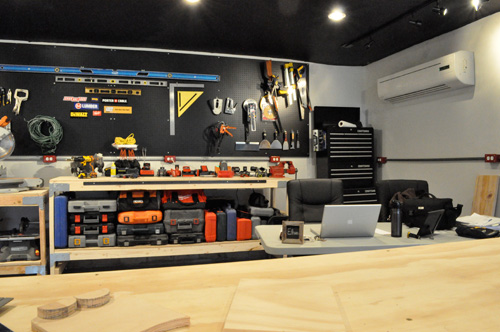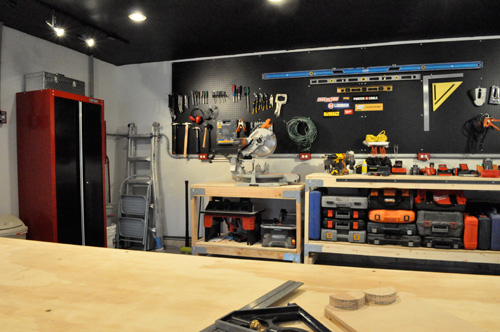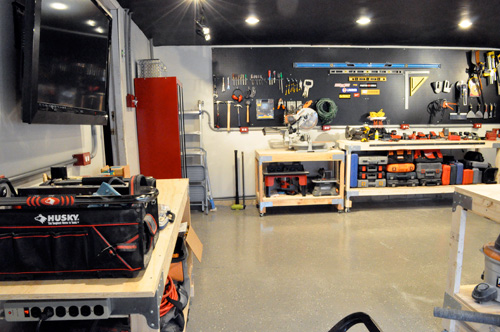 More from our Workshop
Check the Related Content section below this article for a few additional tutorials straight from our workshop.