Happy New Year! This holiday season just flew by. We had a ton of fun with friends and family and enjoyed some precious moments at home with our girls. As they grow, Christmas has been filled with increasing joy in sharing the gospel story with them and seeing their excitement each time they hear it. We hope that your family also made lots of great memories, too!
Christmas Highlights
We took a break from the blog for the most part over the holiday. I put out a few posts, including our weekly link party, and occasionally posted to FB and twitter, but other than that, we enjoyed relaxing and being with family. So, here were a few of our highlights…
Christmas eve, I re-vamped the chalkboard in my kitchen to be a little more festive. It turned out super cute and I've learned a new trick for chalkboard art – I dipped the end of the chalk in water before writing. I'm sure it's a common trick, but new to me! It made the chalk more vibrant and thick – a much more impressive sign, for sure.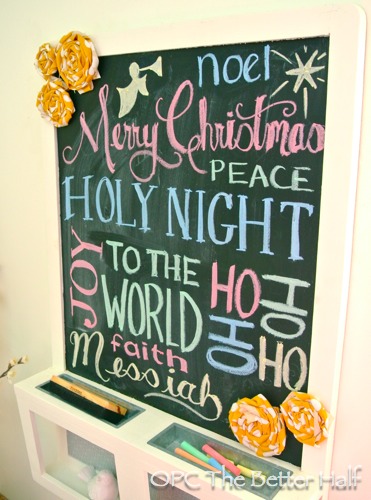 Decor-wise, I also finished up my Christmas mantel, accessorizing with some cute little girls!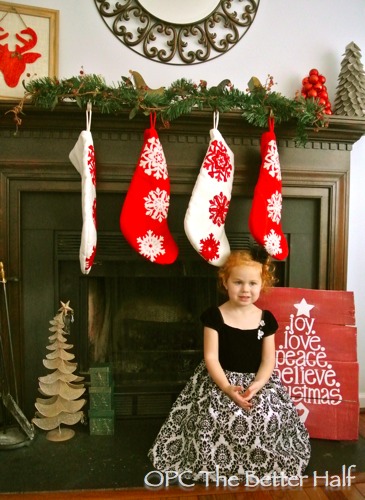 We had lots of gathering with family, but seeing my sister is always a highlight for me! Here is me (left) and my beautiful sister, Erin! She is a natural blonde, and we look way more alike when I dye my hair.  haha We almost look like twins, but that spot has already been taken by my twin brother, Scott. 🙂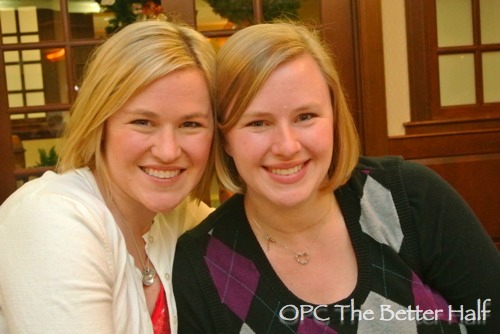 Izzie and Lucy had a wonderful Christmas! We dressed them in some fancy dresses (fabulous hand-me-downs!) for our church's Christmas Eve Service. We tried to get some good pix of them in their dresses, even letting them wear them to play in a few days before Christmas.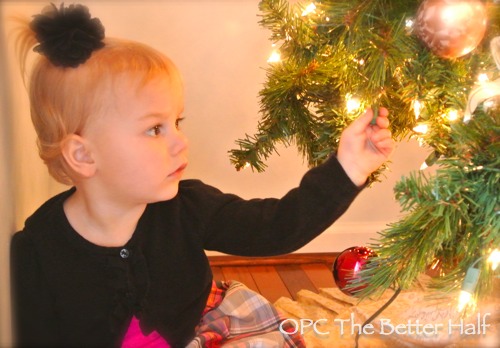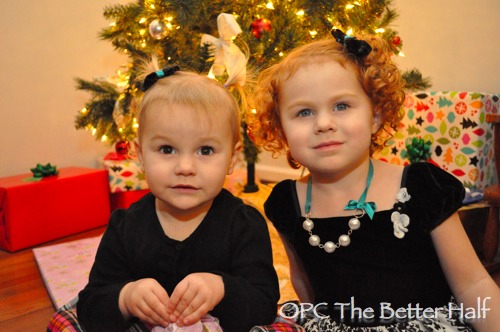 Holiday Treat Party
For many years now, my good friend, Colleen has hosted a Cookie Swap party just before Christmas. The idea is that you take 6 dozen of the same cookie to the party and come home with 6 dozen different kinds of cookies. It has certainly been a great way to present a variety of cookies to guests when I have holiday parties or gatherings, although saving them from being eaten before the party is NOT easy. lol!
This year, Colleen switched it up a bit, hosting a TREAT party, opening the door for candies and other yummy holiday goodies! We each brought 3 dozen of whatever we wanted, tasted everything at the party, then brought home a big zip-lock baggy of deliciousness.
People brought a big variety of cookies, candies, popcorn, and nuts- it was quite an impressive spread.
Colleen's sister, Allison, made these AMAZING cookies n' cream Rice Krispy Treats with chocolate drizzled on top. In addition to being devoured by my girls, I also really liked them. Plus, they look a little fancier than the regular Rice Krispy Treats.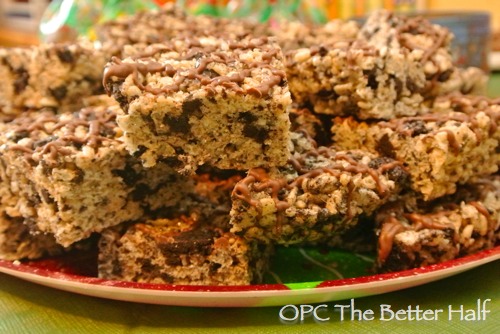 I had a hard time deciding what to bring, so I made my mom's Graham Cracker Treats, Turtle Cookies from Mom on Timeout, and my mom's Andes Mint Cookies – all of my faves!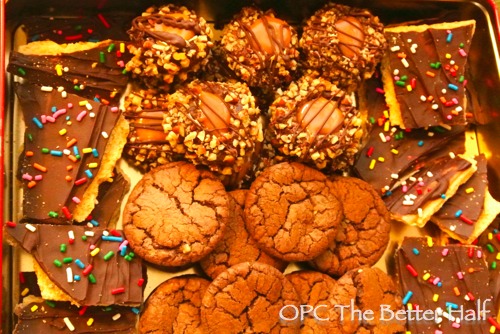 Chocolate Cookies with Maple Glaze, made using a cookie press.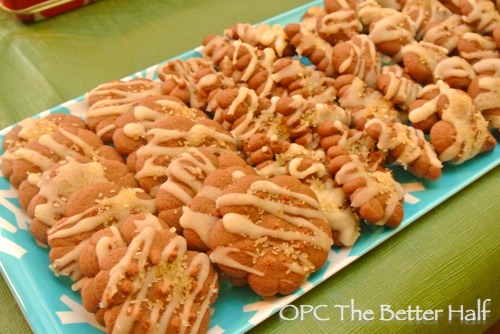 Candied Pecans…I could have stood by this bucket all day! The person who made these also bagged some for each party-goer to take home.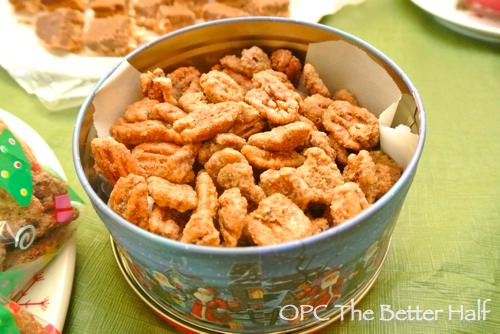 Okay, so this isn't a treat, but Colleen always does such a great job decorating and I love this garland and bannister.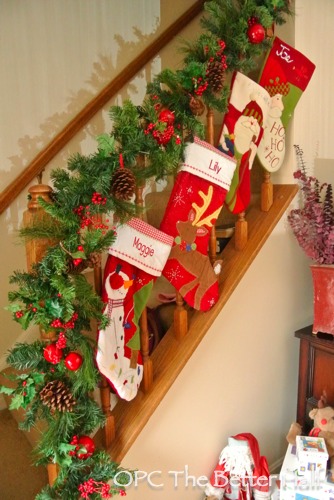 My friend, Kellie made these easy treats – Chocolate Chop cookies wrapped around a Hershey Kiss! So fun!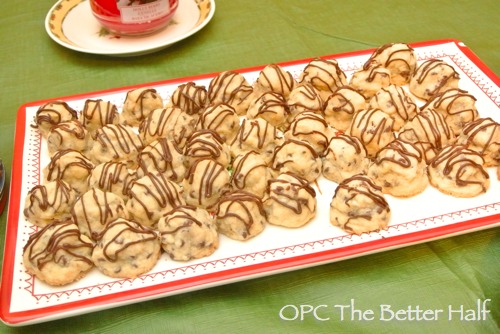 This was another treat from Kellie – Pretzels sandwiching a peanut butter ball, dipped in chocolate. What's not to love?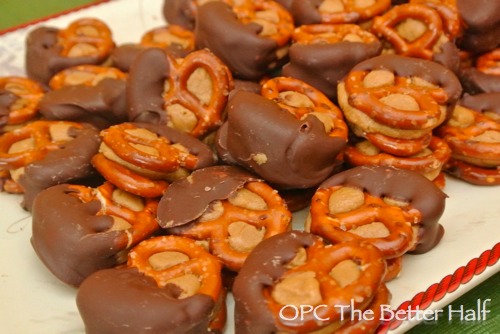 Colleen is for sure the hostess with the mostess! She MADE these marshmallows! I seriously could not believe it. She says it was easy, but she is such a good cook, I'm not so sure it would be easy for me. Still, I will probably add these to my bucket list.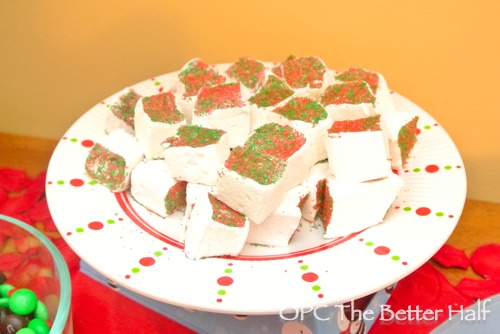 Again, not a treat, but I love these festive Christmas plates!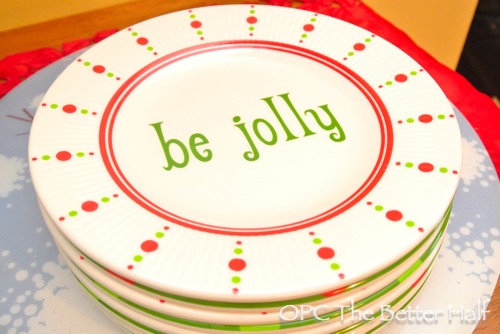 Homemade Caramel Popcorn! Seriously yummy and delicious! I made some last year for a party and it was a big hit. This reminded me to make it again. haha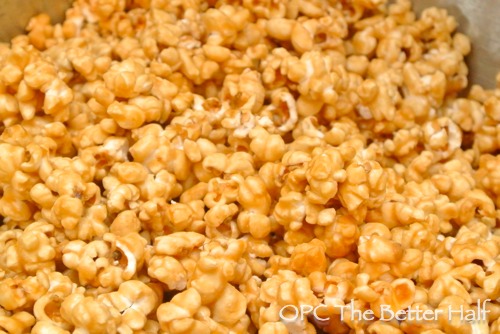 These seem to be so popular this year, for good reason. A Rolo melted slightly on a pretzel with an M&M on top. I really like the variation of a pecan on top, too.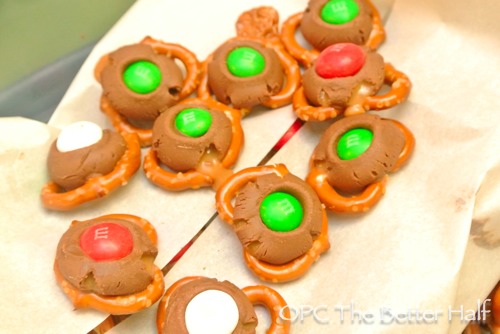 And who doesn't love a good sugar cookie! I need to find out where to buy these sprinkles. Aren't they pretty?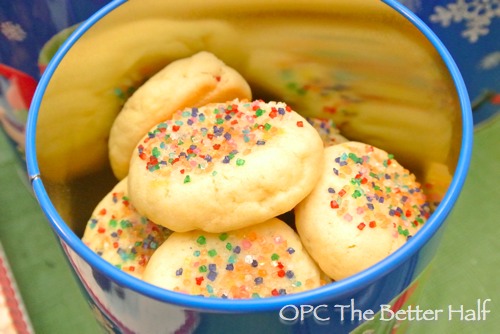 I can't remember what this cookie was called, but I think it had nuts and caramel…so yummy!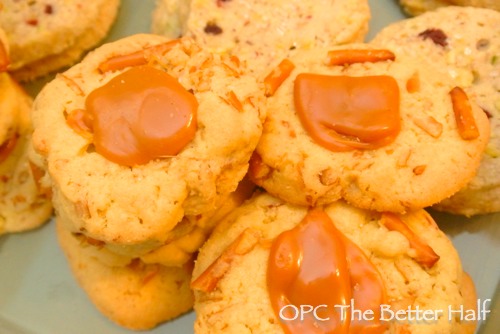 And finally, spearmint swirls! I made sugar cookie swirls last year and they are always the prettiest cookies!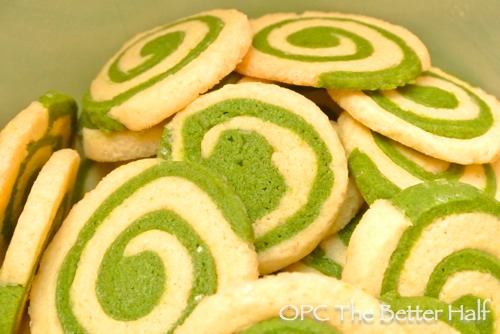 People were asked to bring copies of their recipes to share. Being a bad friend, I totally forgot this. Oops.
Colleen also gave each guest a party favor – homemade hot chocolate on a stick…with homemade marshmallows! You can obviously see why we are friends…she is amazing! BTW, these went quick in our house and were a big hit. I may have to make these next year for neighbor gifts.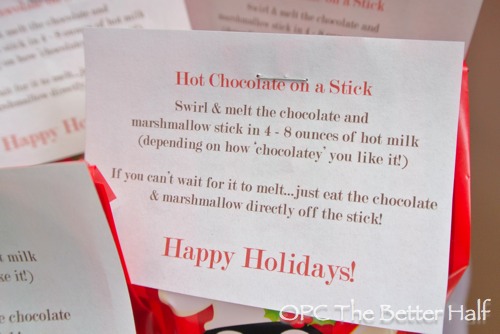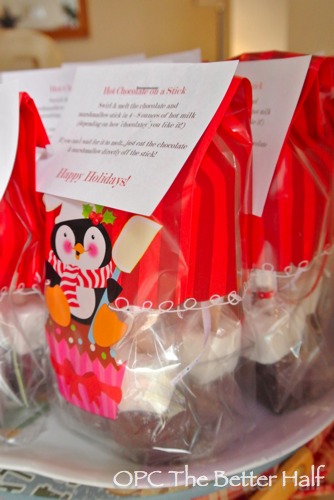 What do you think? What was the best part of your holiday?
As always, thanks for reading!