In my articles that reviewed our experience with Interstock Premium Cabinetry and their line of ready-to-assembly cabinets, I told you I'd loop back around and tell you a little bit about the start of our DIY kitchen remodel project. This is the first installment in that series (or is it really the third at this point?)
To give you an idea of our starting point, here's two pictures of our kitchen area – the first during our wall removal project ten months back, and one just after we installed the hardwood floors. I apologize for how dark the second picture is–unfortunately it's the only one I could find.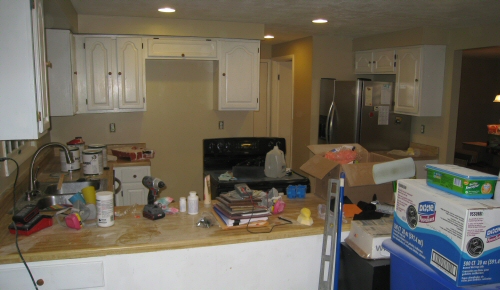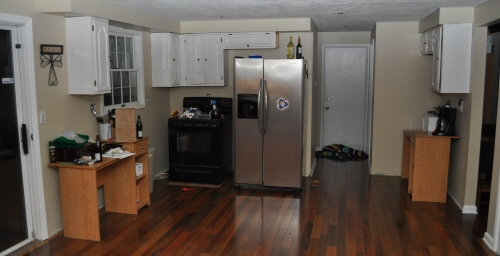 Like most cost conscious consumers, at the outset of this project we decided to get at least three quotes for the kitchen cabinets. We knew that each vendor would provide additional ideas and products that might improve the kitchen design, and each would come with their biases and preferences.
Of course, each vendor would also offer a different price, and since we are working on a limited budget, price played a significant factor in our selection.  While obtaining a quote from most vendors will take at least a 2-hour session, it's well worth it, and a free alternative to hiring a kitchen designer to help you with the design.
Tip: Getting three quotes is about more than price. Through this process we learned a great deal about good kitchen design and the materials that are available. Here's a few tidbits from our experience:

Minimize 9″ and 12″ cabinets since they are less useful than their 15″ and larger counterparts.
Strive for 42″ walkways, but don't go any less than 36″ unless it is absolutely unavoidable (such as when working in an older house with an unusual layout).
Know the difference between all wood construction and materials that incorporate MDF or particle board. MDF and particle board products may expand if they are exposed to moisture.
Dovetail-joined drawer boxes are stronger and more durable than their screw-together counterparts.
Under mount drawer slides give you slightly more drawer space than side-mount slides.
Wood types and styles can play a big role in the price of the kitchen. American Cherry is on the high end of the non-exotic prices. Oak and Hickory on on the low end. Maple is middle-of-the-road.
Construction-quality varies heavily between brands (but we noticed that its often hard to find someone in the big box who understands the details of the differences) Check for things like dovetail drawers, high-gauge slide rails, dado (routed) joints, etc.
Home Depot Kitchen Remodel Planning
The first stop on our tour of potential vendors was our local Home Depot. We do about 70% of all of our home improvement shopping at THD, primarily because it's a little closer than the competition and we've gotten familiar with the store's layout over the past 10 years. Since we're regularly passing the kitchen design section, we figured they'd be an easy place to schedule an appointment to kick off our design.  Getting our schedules synchronized took about a week, and the session took about 3 hours.
Our designer (I'll call him Tim from here on out) was really friendly. He had a reasonably solid command of 20-20 Design, the software THD and most other companies use to design kitchens. Tim provided a good mix of listening to what we wanted and helping us come up with potential designs. Unfortunately, I don't think Tim is a kitchen designer by trade. In fact, I think the only training Tim had had was in operating the software and some details about THD's specific product lines. Fortunately, we pretty much knew what we wanted, and since our budget doesn't allow for anything too extravagant anyway, I think Tim did OK for us.
Tip: If you want someone to give you a lot of design ideas and work with you on advanced layouts, you'll need to hire an interior decorator/kitchen designer to help. You probably won't get that from working with a cabinet sales company.
We expected that in order to have a productive session, we'd need to come with accurate measurements for the kitchen. So Kim and I spent about an hour mapping the existing space, including documenting doorways, soffits, and windows. This turned out to be correct. Without preliminary measurements, a designer can't really get started on the room.
Tip: Come to your design session with accurate measurements. A layout or drawing can really help speed the process.
Where Tim (and thus Home Depot) really shined was in their ability to give us a top-down layout of our future kitchen, and multiple 3D drawings of the space to give us an idea of what things would look like.  Tim took extra time to add visual elements to the room–hardwood flooring, recessed lighting, and countertops. If we hadn't been determined to get three quotes, it would have been tempting to purchase the Thomasville cabinets Tim quoted us right on the spot. Here's a sample of those drawings, and our first preview into what our kitchen is planned to look like.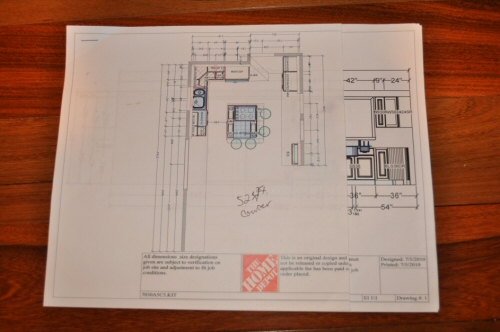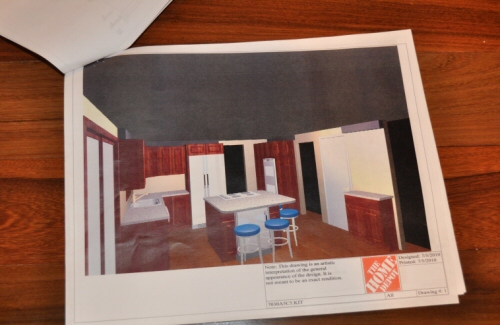 The nice thing about 20-20 Design is its ability to produce a bill of materials and quote for the kitchen, which THD was able to give us along with these drawings. Their price: about $9,500 after the promotional discount that was running (which I think was $1000 off a cabinet order between $10,000 and $12,000…. There were multiple discount levels that went up as you purchased more cabinets).
When we took this drawing to our next stop (a local company called Columbia Kitchens), the designer pointed out that the interior island used four 9″ cabinets and recommended we reorient the cabinets in the island toward the right so that we could fit larger cabinets in the space. We liked that idea, and ultimately went with Columbia Kitchen's redesign. Unfortunately, CK's price came out even higher at about $10,500. Our whole experience with CK will follow in the next week.
Overall, I was pleased with our experience at Home Depot and would definitely consider them again for a future kitchen remodel. Unfortunately, the price point was a bit higher than the competition (see the review linked at the outset of this article), but they did offer far more selection.
Home Depot Coupons
If you are planning to design and buy your kitchen from Home Depot, you definitely should consider picking up the appropriate Home Depot Coupons. You could easily save 10% on the entire purchase.
What do you think? Have you had an experience with Home Depot's Kitchen Remodeling? Feel free to weigh in below.