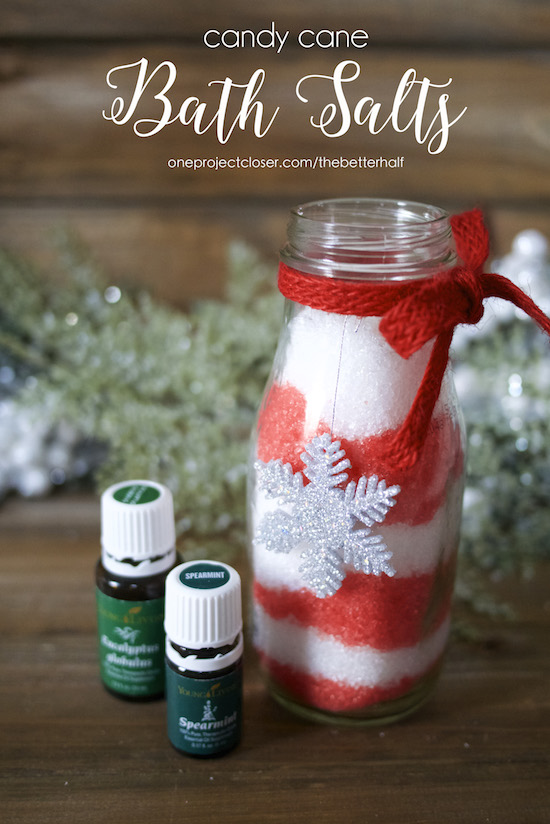 I love Christmas. No surprise there. And I love giving gifts, especially the homemade variety! These Candy Cane Bath Salts are the perfect DIY Homemade Holiday gift. What a wonderful way to make your gift a little personal, while also encouraging some relaxation during the busy holiday season. Even better, pair it with my DIY Holiday Spirit Sugar Scrub to show some extra love.
Why bath salts? Epsom salt baths have a long history of health, beauty and wellness benefits, including relaxation and creating a spa-like experience at home! And I'm all about that! woot. And the epsom salts, combined with Young Living Essential Oils, well….it doesn't get more relaxing than this. I chose to use Eucalyptus and Spearmint Essential Oils for this recipe because they are so relaxing and also fresh in aroma. The light mint smell is a nod to the holiday spirit, but really its all about the relaxation. Add them to a warm bath and enjoy!
This festive holiday candy cane look was inspired by my bloggy buds Unskinny Boppy and Practically Functional with their Candy Cane Sugar Scrubs!
Interested in learning more about Essential Oils? Get started now!
Do It Yourself!
This is maybe the easiest DIY homemade holiday gift yet. It's inexpensive, easy to find the ingredients, and only takes a few minutes to make. I bought my Epsom Salts at Walmart and used an old Starbucks Frappaccino bottle for the container. Seriously, easy.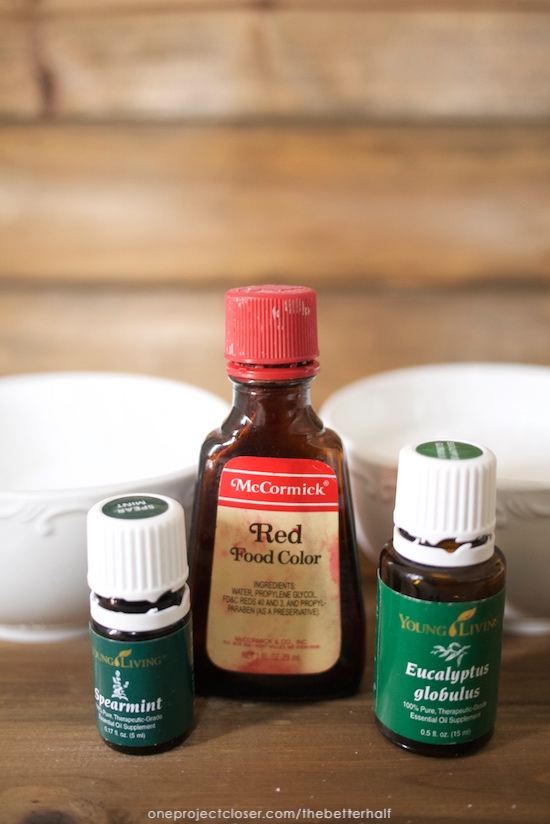 1. Fill the container you are using with plain, unscented Epsom Salts. A funnel helps cut down the mess a bit. 🙂
2. Empty it equally into two glass or stainless bowls.
3. Add a few drops of Young Living Essential Oils to each bowl. To order any essential oil products, please click here to visit my Young Living customer signup page. (member #1683876)
I used both Spearmint and Eucalyptus Essential Oils. Stir well.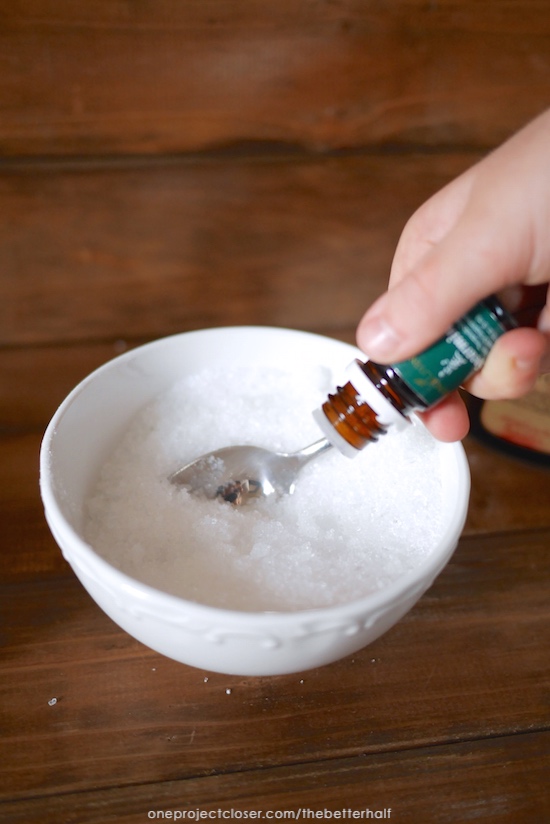 4. In one bowl, add a couple drops of red food coloring. Mix well. If not red enough, add a couple more drops.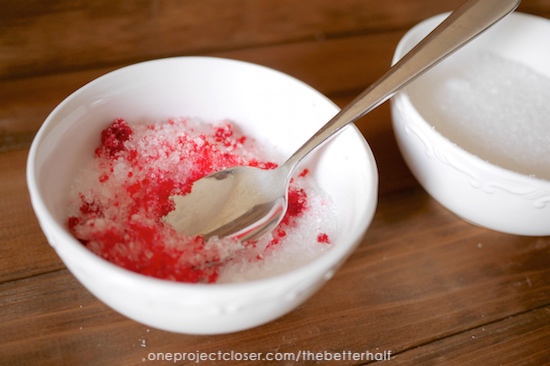 5. Layer the red and white epsom salts back into the container using a spoon or funnel. My daughter started with the spoon and it got EVERYWHERE! haha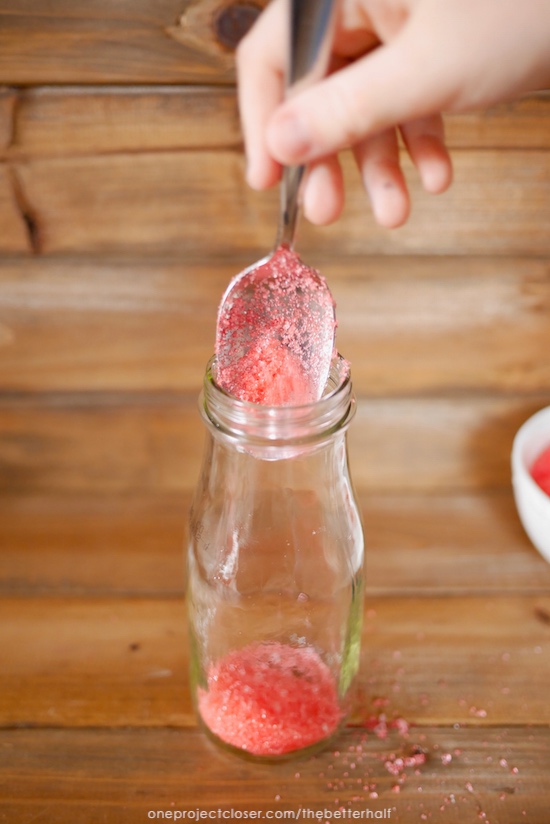 6. Seal the container tightly and avoid shaking so you keep your pretty candy cane appearance! ENJOY!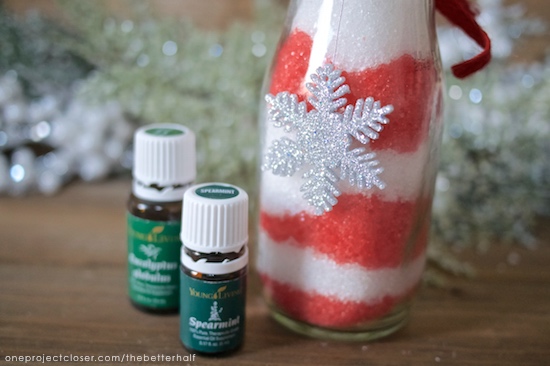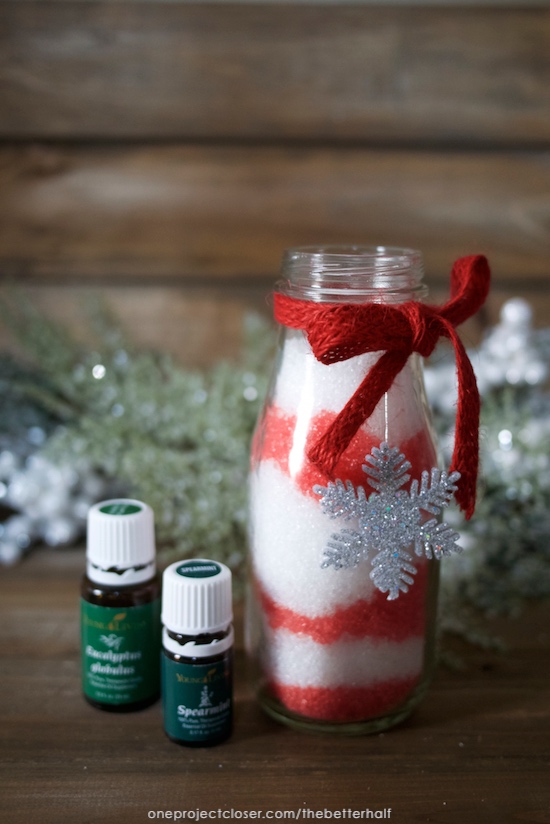 What do you think? Who will you be giving this Homemade Holiday Candy Cane Bath Salts with Essential Oils to this holiday season?
As Always, thanks for reading!

Don't forget to check us out on Facebook , Instagram, & Pinterest!