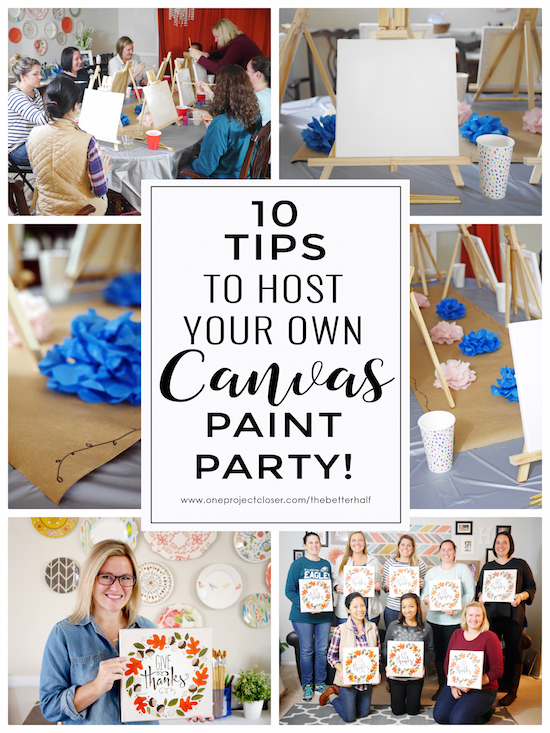 Thanks so much for reading along for 10 Tips to Host Your Own Canvas Painting Party! I was provided materials for this Paint Party by DecoArt/Social Artworking in exchange for a post. Opinions are 100% mine.
Its probably no surprise that I love having friends over to craft! Over the years, we have painted wine glasses, done seasonal crafts, painted pallets, and occasionally enjoyed a canvas paint party. One of my favorites was our peacock canvas paint party over three years ago.
Our most recent craft night ended up being a Canvas Paint Party! I love these at home parties from Social Artworking. You host right in your home, with all the supplies and directions, ordered right from your computer. While canvas paint parties can seem overwhelming to host, they are actually a lot of fun and quite easy with a few tips!
1. Pick the Right Canvas Design
When I pick out the canvas design, I mainly try to think about what friends will be attending.There are so many beautiful Social Artworking Designs, it can be hard to choose! But here are some things I consider when chosing: Some designs involve tracing and painting in the lines, while others involve painting larger designs according to the teacher. If you are inexperienced, or have guests are are no confident, make sure and get a design that does not depend on a lot of artistic interpretation.
Also consider the size of the painting. Not everyone has the space or desire for a larger 16×20 and also bigger paintings take longer. So if your crowd is slower or less experienced, pick a smaller painting that everyone can enjoy.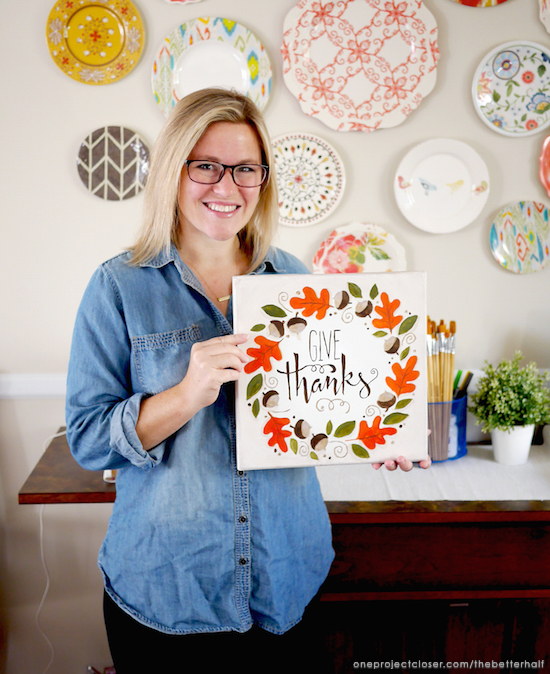 2. Prep Ahead
This is key to the painting itself going smoothly. Depending on the difficulty of the canvas, I will often paint it ahead of time so I can better instruct everyone on how to do it best. This was an easier painting, so I didn't paint it ahead of time, but there were moments I wish I did. Also, guests LOVE to be able to see the finished project up close and personal – it adds confidence and excitement for less experienced painters.
Also, painting your design ahead of time will give you an idea of time needed and when it is best to take food breaks. It will be important as the hostess to move everyone along at a good pace or you will be there all night painting.
3. Think Disposable
No one wants to host a party and end up with a lot of dishes, or even worse yet, end up with paint on your dishes. So save yourself the trouble and headache and buy some cute disposable cups, plates and napkins. This also applies to the paint water – I used disposable cups so I didn't have to wash 10 glasses and try to scrub off any dried paint.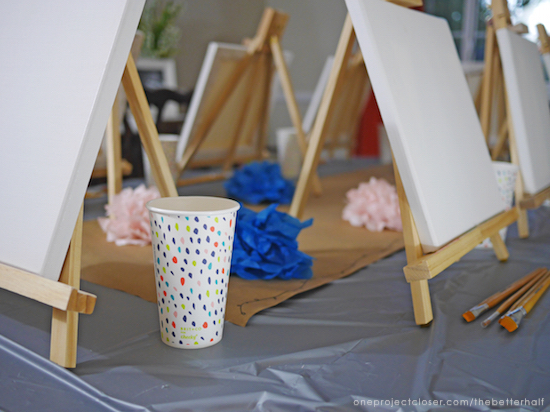 4. Decorate with Paper
I love this little detail best! I bought brown craft paper to make a runner and of course added some hand drawn designs. Then I made a few paper flowers with tissue paper. Easy peasy and super cute!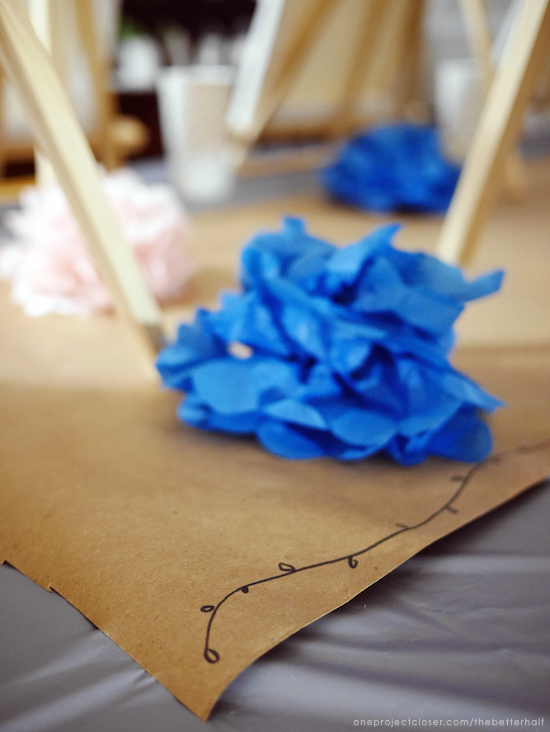 5. Plastic Table Cloths
Parties are just more fun when you decorate. But again, with paint, you don't want you use your grandmother's antique, hand-sewn table cloth. So I got plastic table cloths – just cheapo $1 ones but they are easy to wrap up and throw away afterwards without a lot of laundry or stress about paint that may have splattered.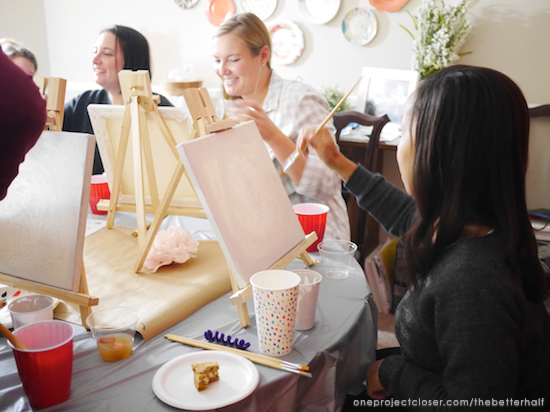 6. Diffuse!
This is Hostess 101, right? I don't want anyone walking into my house smelling my kids dirty shoes, or my own funky arm pits that are a tad sweaty from running around like a mad woman cleaning to get ready for guests. We did away with candles years ago because of the toxins, and now I just plug in the diffuser. This time of year, I love Cinnamon Bark and Orange Essential Oils. (I love Young Living and you can find out how to buy it here).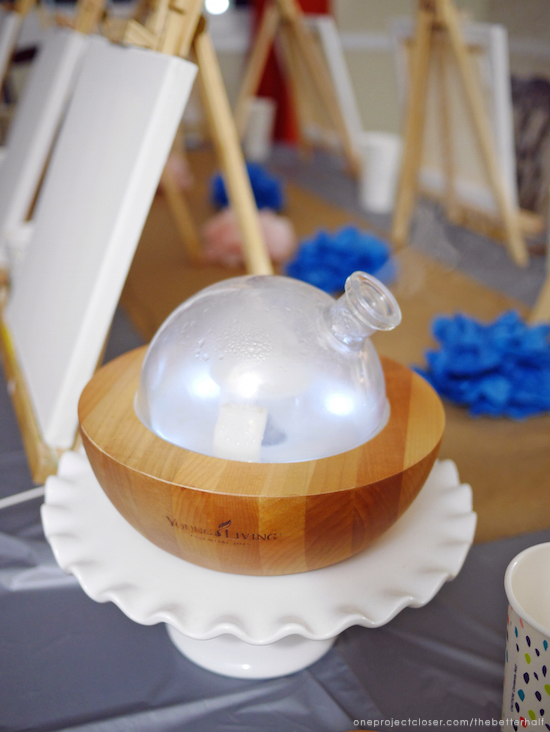 7. Set Up Ahead of Time
This sounds like a no brainer, but I'm not just talking about decorations. Take everything out of the box a week ahead and make sure you have all your supplies you ordered! Don't wait until the day of and be caught having to run out and buy last minute stuff. Then, the day of, take everything out of the wrappers and set it up. The less your guests have to do when they arrive, the better.
Also, set up a few extra lights! Evry time we do this, I set up extra lights and I could use even more!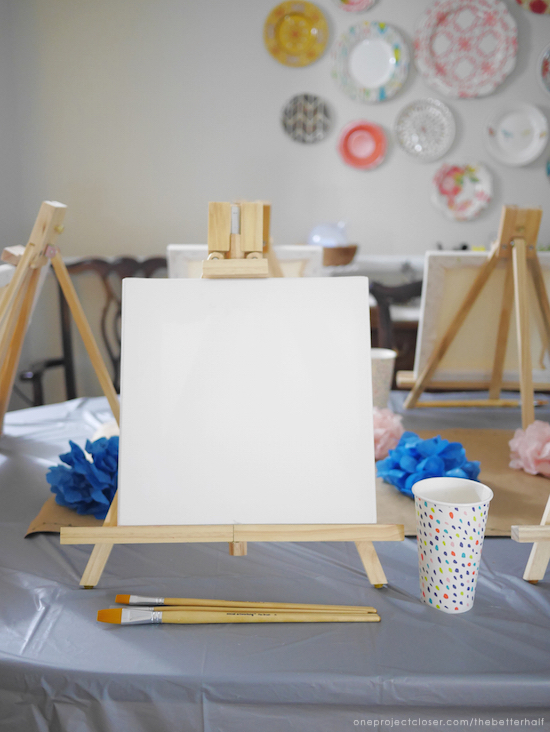 8. Keep the Party Small
People like to bunch together at parties and feel a part of the group. With too many people spread between multiple tables, people feel less connected and its harder to give out supplies and directions. So I always try to keep it under 12, but it depends on your space and tables.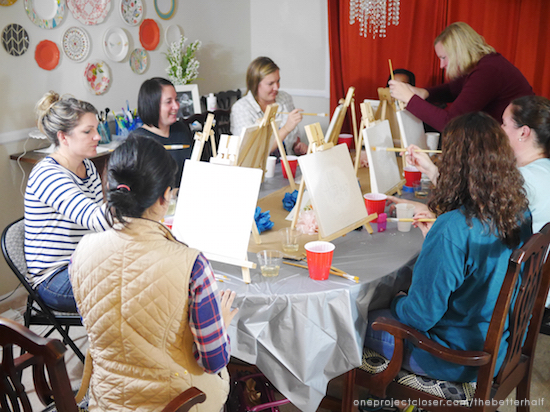 9. FOOD!
Just because you are hosting doesn't mean you need to provide all the food. Everyone loves to contribute, whether its a bag of chips, an intricately baked and designed dessert, or a bottle of wine. I usually don't specify what people should bring, I just ask that everyone bring a drink, app, or dessert to share and we always have plenty. I will say that with paint night often require a little liquid relaxation to help boost everyone's confidence. lol.
10. Have FUN!
Obviously, this is the most important part. I try not to take myself or my painting too serious. Art isn't supposed to be perfect and while everyone is painting the same design, there is beauty in the differences. Remember to encourage and praise your guests often, so they also see beauty in the art and process. Even if the end design isn't what you expected, its always fun to have a night of laughs and crafts with friends!
What do you think? Do you have any other tips to Tips to Host Your Own Canvas Painting Party?
As Always, thanks for reading!

Don't forget to check us out on Facebook , Instagram, & Pinterest!