Our garage workshop floor was in need of some serious TLC. We applied an epoxy garage floor coating to cover the ugly oil stains and give the shop a nice, polished look. I'm amazed at the difference the floor makes and would recommend an epoxy coating for anyone looking to class-up their garage, basement or other concrete surface. Read on to learn how we did it and a few tips to remember when you start this project.
Editors Note: A lot of readers have found this article helpful in transforming their own basement or garage. We hope you enjoy the article, and if there's anything we missed, leave a comment. We'll answer it as best we can ASAP. Please consider sharing this on Facebook and giving it a +1. Buttons can be found floating on the left side of your screen. Thanks!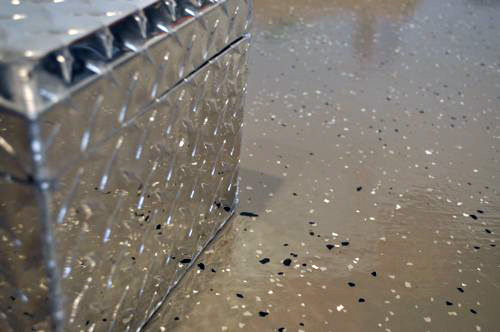 Quikrete was kind enough to send us a few kits for this tutorial. I'm really impressed with the results and would recommend stopping by Lowe's to pick up a set for your own garage.
Step 1: Clean and Prepare the Surface
The most important part of applying an epoxy coating is ensuring the concrete is sufficiently cleaned and porous. This is so critical because dirt, debris, oil, paint, and other junk can prevent the coating from adhering to the concrete slab. If that happens, your floor will delaminate and the coating will chip and flake. You'll be disappointed, and re-coating will require significant additional steps. Take this step seriously. Make sure that the surface is clean and etched (meaning, not smooth).
These pictures show the garage floor before we started. You'll notice plenty of oil stains from 25+ years of parked cars.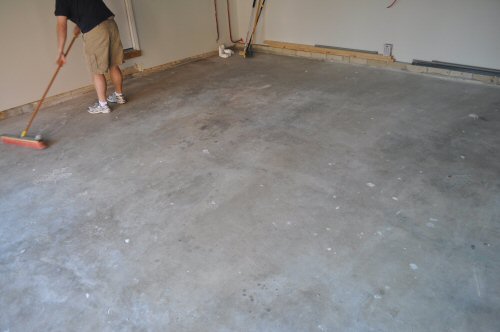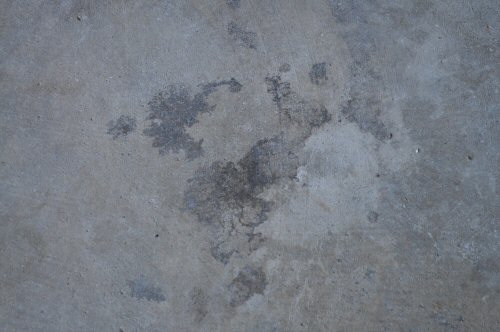 Address any cracks or other concrete damage before you start. The epoxy coating is thick and will completely fill small hairline cracks, but larger cracks will still be visible if you don't patch them. Also, cracks provide a path for moisture, and that can cause the epoxy coating to "cloud" over.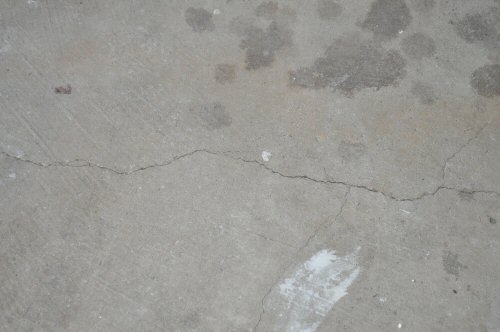 We started the cleanup process by pulling everything out of the garage and sweeping it clean. Fred grabbed a garden edger and used it to scrape away dried drywall compound and anything else that he could remove.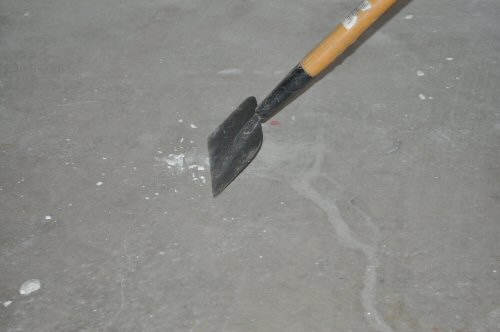 I have a stiff bristle, scrubber brush with hose attachment, and it is the perfect product for cleaning a garage floor. It allowed me to wet the surface with a controlled spray and scrub the floor all in one tool.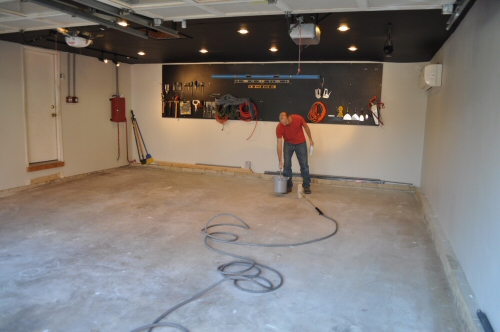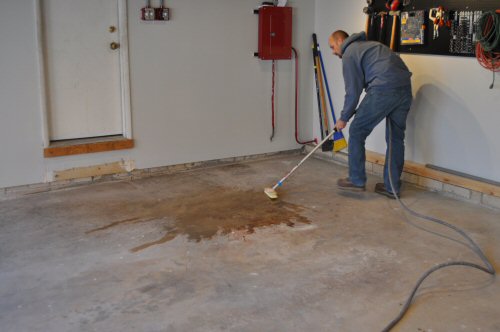 One of the items included in the Quikrete kit is Bond-Lok. It's an acid concentrate that you mix with water to clean, degrease and etch the concrete. You'll make a 3:1 mixture, and each of these bottles is about enough to clean a one-car garage. You may consider purchasing an extra because you'll need to apply Bond-Lok undiluted to any really tough stains. We found it was a good idea to apply Bond-Lok directly to oil stains and let it sit for about 5 minutes before scrubbing. You'll know it's working because it'll fizz.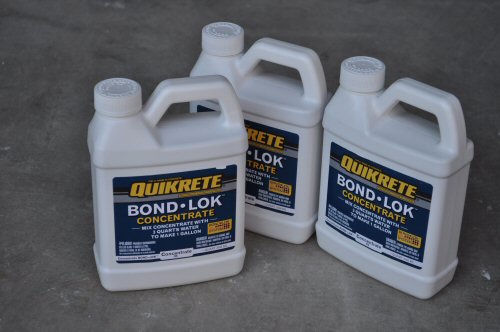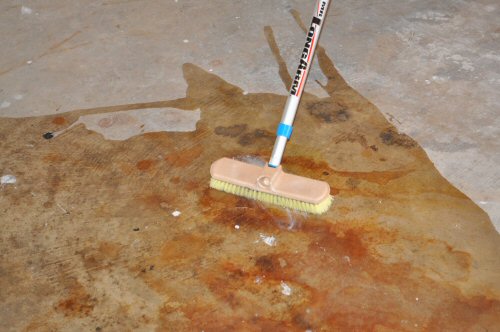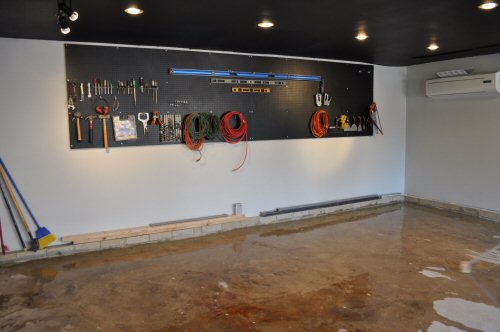 Your goal for cleaning the concrete is not to remove any evidence of a stain, but rather to ensure that it won't prevent the coating from seeping into the pores of the concrete. For that same reason, it's important to remove any sort of concrete sealer that was previously applied. This can be a very tedious task and, if the slab was sealed professionally, may require sanding or chemical stripping on a larger scale than most do-it-yourselfers would be comfortable with.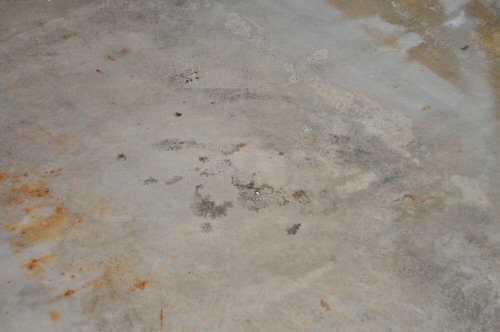 We allotted a full 24 hours for the concrete to dry before we continued to the next step. We recommend waiting at least 24 hours because a well-etched surface is likely to hold moisture in the pores of the concrete. If any water pools on top of the concrete, you absolutely cannot apply the epoxy coat. You must re-clean/degrease/etch this area until water does not pool.
Step 2: Paint the Epoxy Concrete Coating and Spread Flakes
To prepare the epoxy, we thoroughly mixed the two parts and let it sit for 30 minutes. Because of the delay, try to anticipate when you'll need more and mix the next gallon before you run out. You have only 2.5 hours to apply the coating, so don't get too far ahead, either. We found no issues with getting all three cans of epoxy applied in about 2 hours.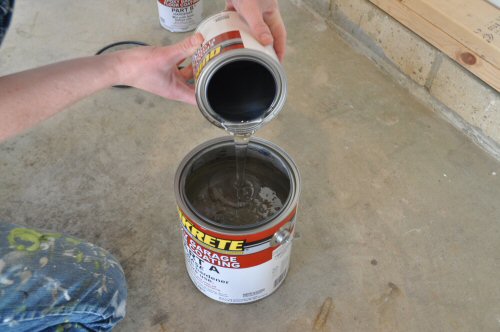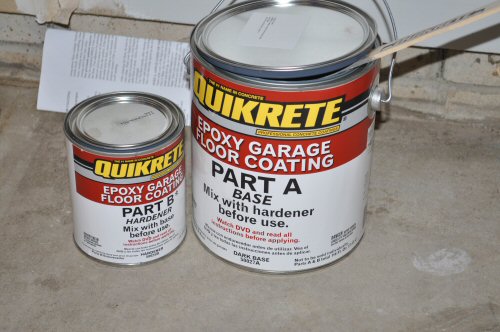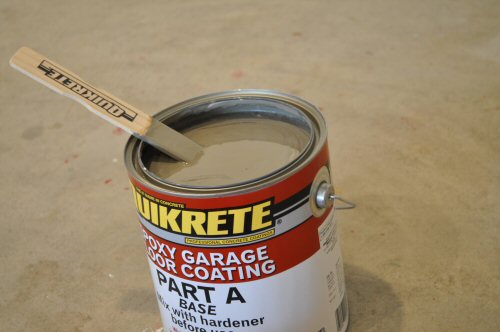 Applying the colored epoxy is much like painting a wall. You'll use a brush to cut-in the borders and a 3/8
nap roller for the rest. The coating is very thick and painting it is slow going. I also noticed that the fumes can be pretty bad. Make sure to that wherever you're working is well ventilated.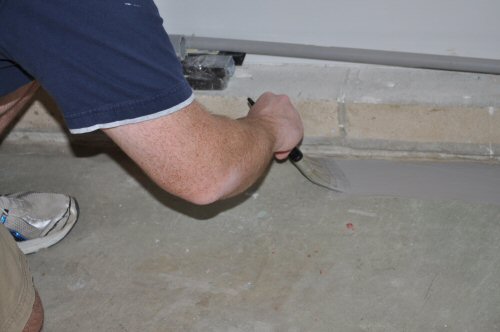 Since the color coating is so thick, roll in one direction, and then switch directions 90 degrees. This'll help make sure everything is completely covered. Quikrete offers a lot of different colors, and we choose "Grayling." You can see in the pictures that it dries darker than it goes on, so don't be alarmed if it looks too light at initial application.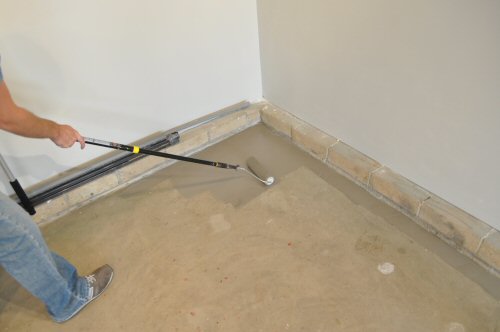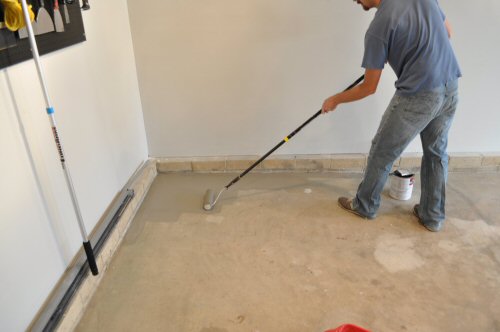 We worked in small sections because we opted to spread color flakes. The flakes are great because they hide any imperfections, and they add a bit of character to your floor. I love how they come "sealed for freshness". We sprinkled the granite mix, which includes black, white and gray flakes.
Color Flake Tip #1: The flakes at the bottom of the can are much smaller. If you're looking for a uniform distribution, mix up the can periodically so that you don't end up with all the small flakes at the bottom poured on one area of the floor.
Color Flake Tip #2: The color flakes will sit "on top" of the epoxy. If you spread the color flakes, you'll likely want to spread the optional clear coat on top of the floor, as described in Step 3.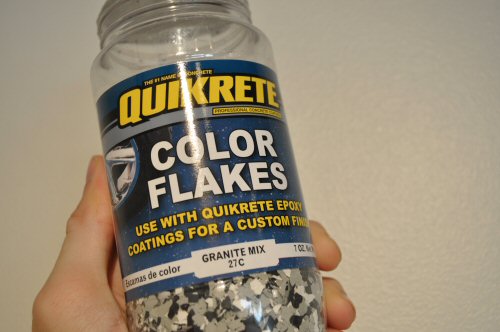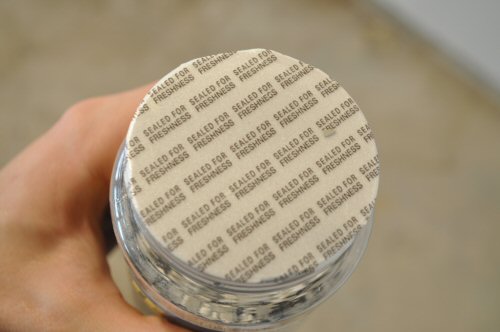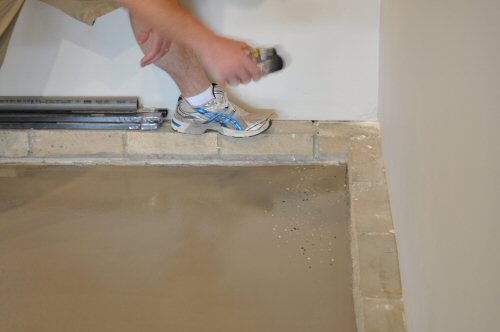 Just like when laying tile, you need to plan an exit strategy and work your way out of the room. We opted to back out of the garage into the house, which worked just fine, even for two guys as large as us.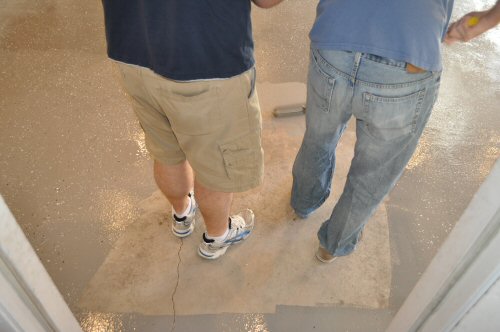 All together we needed almost three whole gallons to cover a deep, two-car garage. Even before the clear coat, this floor is looking awesome!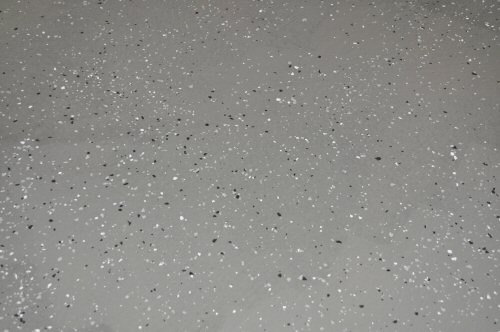 We waited another 24 hours before applying the clear coat epoxy to make sure everything was completely dry.
Step 3: Paint the Epoxy Clear Coat for a Glossy Shine
This third step is optional, and you can decide for yourself if it's worthwhile. We decided to apply a clear epoxy coating for an added layer of protection and high-gloss finish. Applying the clear coat is very similar to painting the color coating. Just like before, you need to mix the two parts and let it sit for 30 minutes.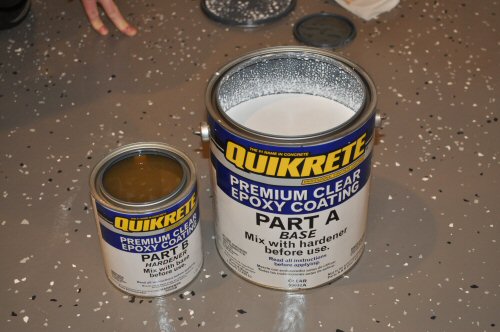 Unlike the color coating, the clear epoxy looks white until it dries. This is intentional because it allows you to see where the clear coat is already applied.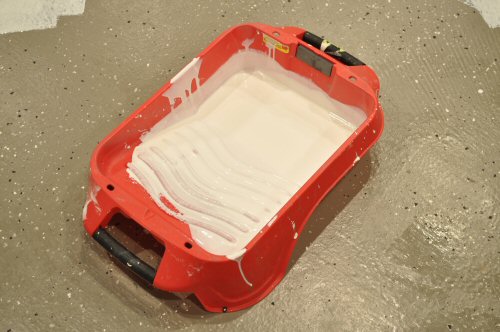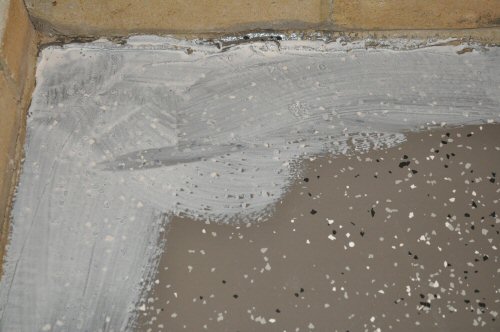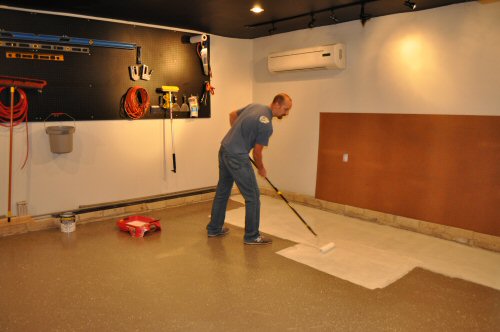 Applying the clear coat goes fast. It's not nearly as thick as the color coat, and it has way less fumes. We only needed two gallons of clear coat to cover the entire floor.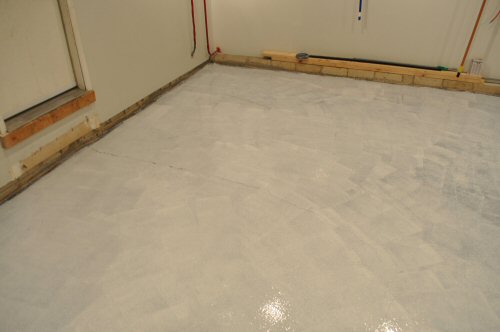 The white fades to clear pretty quickly. Even so, you need to give it another 24 hours before light traffic and 72 hours before parking a car.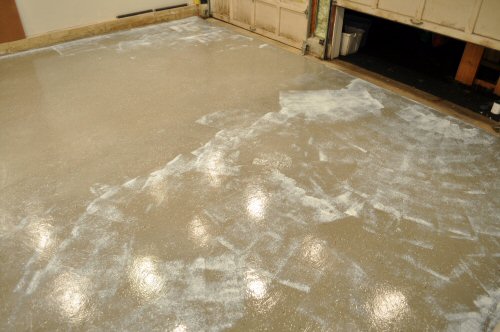 After everything dries, you're done! Now you've got a beautiful shop, garage, or basement floor that is protected from gas, oil, scuffs, etc. and it's easy to clean. A concrete coating can really dress-up a space and give it a showroom feel. We love this floor in our workshop, and this project is simple enough that anyone can achieve great results.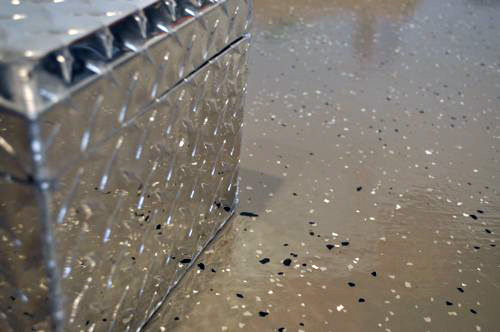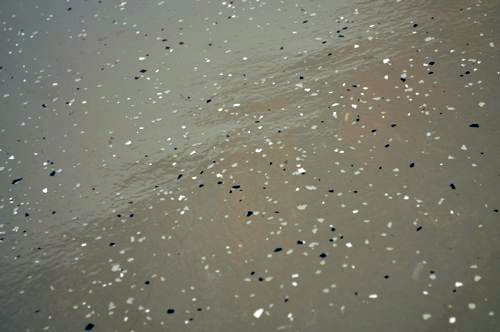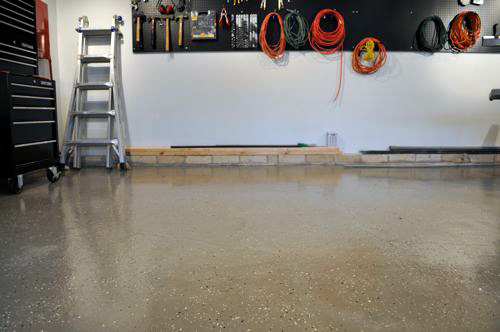 If you'd like to learn more about what we've been doing to get our workshop ready, read about installing pegboard and starting to run painted conduit.