A big thanks again to Marc for contributing our first ProjectPub post on coping inside corners yesterday. I know I always enjoy articles with great pictures. If you've got your own project or story to share, check out our ProjectPub page. We'd love to send you a reward!
Today I'm following up on Tuesday's workshop progress report with another project we worked over last weekend: a start on our surface-mounted electric (switches and outlets) and workshop lighting.
For lighting, we've decided to install 16 recessed lights in the field of the ceiling (roughly evenly spaced throughout the room in a 4 by 4 grid), with additional perimeter lighting provided by six 8-foot sections of track. Each track section will sit about 3 feet away from a wall and will provide lighting for our pegboard and other wall hangings. We were able to finish installing the 16 cans, but we need to paint the ceiling before installing the track lights. In any case, the pictures of the cans aren't all that impressive at this point, so I've left them out.
For electric, we've decided to run surface-mounted electric throughout the room. This basically means we're installing surface-mounted switch and outlet boxes with conduit running between them.  We chose this route for three reasons: 1) we wanted to have future flexibility for electricity placement in the room; 2) we like the look of surface-mounted electric for a workshop; and 3) we had our sub-panel for the garage surface-mounted on an existing wall, and we really don't want to close the unit into a closet.
Unfortunately, regular grey conduit and boxes just don't look that sharp. So, we've decided to mix it up a bit. Take a look: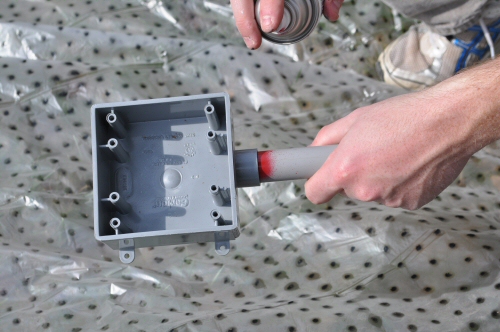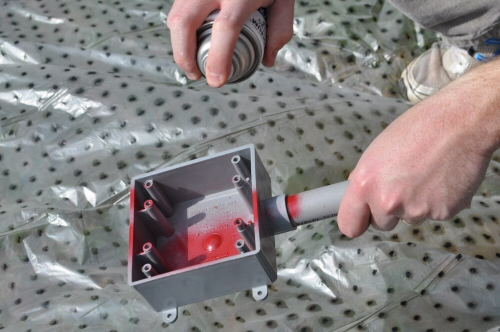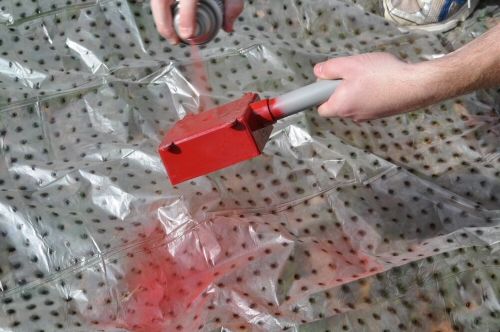 Originally, we were planning to paint all the conduit connecting the boxes red. But after seeing the dark grey conduit against the light grey walls with the red accented boxes, we're really digging the two-tone look. Here's the box hanging on the wall with two switches for the cans installed.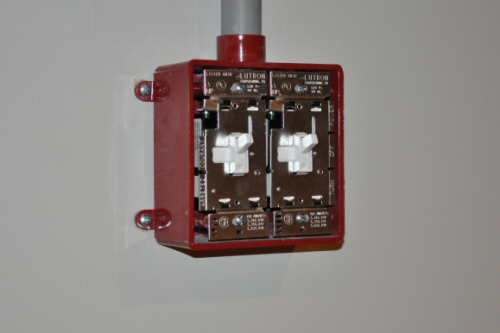 We haven't painted a face plate for it yet, but I'm thinking that this magnetic face plate design we wrote about several months ago has potential for a design theme, especially with the two-tone color.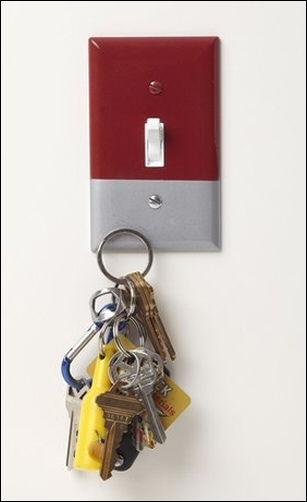 We also disassembled and sprayed the exterior of our sub-panel for the garage. Here's a shot of it (although the lighting isn't great for this one – I had to take it at night and without our track lighting installed). Once we get the lighting finally set, we should be in great shape for pictures.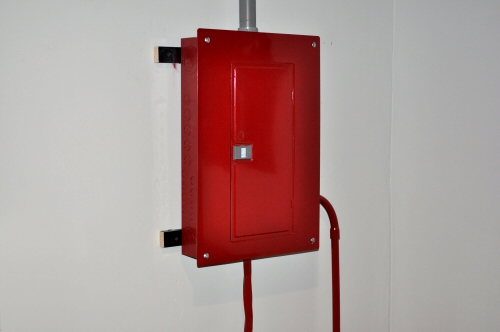 This next shot also shows our potential blacked out ceiling, a feature we haven't quite decided on yet. We're going to give it a try, and if we hate it, I've committed to painting it back to a lighter color. The idea is that with the track lighting throughout, we should have plenty of light and not need to rely on traditional ceiling reflection for pictures. Also, the black does an amazing job at hiding the 25-year-old imperfect drywall job the builder did on this house.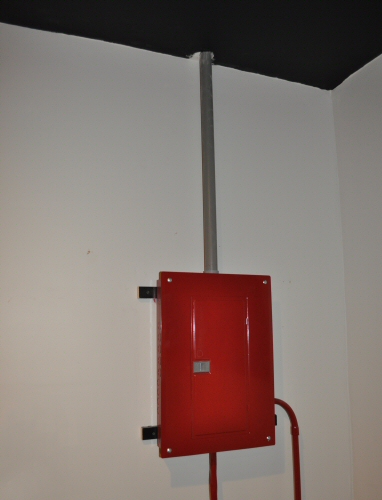 Over the next few weeks, we'll be getting the full complement of surface-mounted electric installed throughout the garage. We had to rush the first two switches so we'd have light to work in the evening hours. I'm looking forward to sharing the next round of pics with you, and to show some more "whole room" shots as things progress.