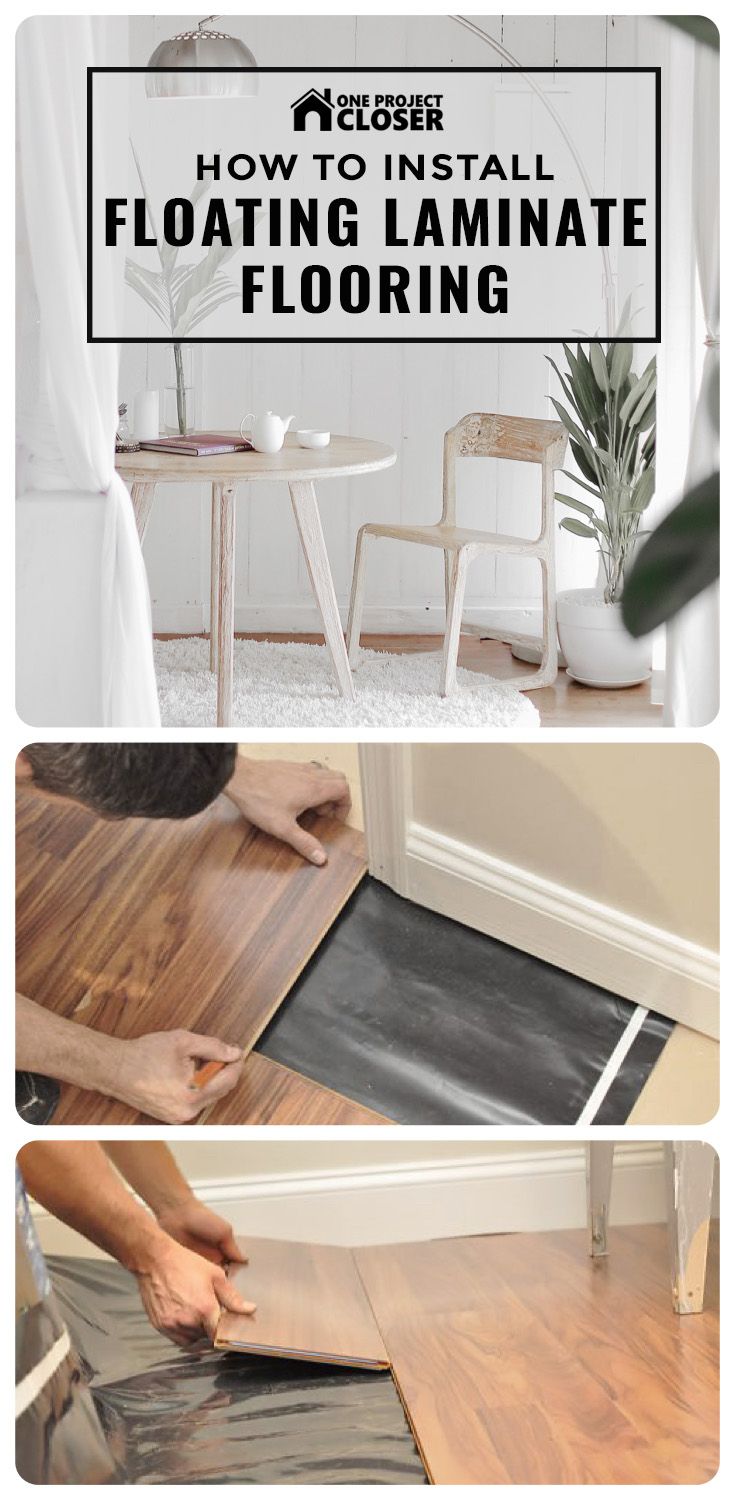 Steve Wartman and his crew have almost finished the basement remodel, and I'll be writing a comprehensive post to unveil the transformation soon. Installing flooring is one of the last phases in the process, and the homeowners have opted for a floating laminate floor in the laundry room. Floating floors are a great DIY project because the work goes fast, and since a floating floor isn't nailed down, they don't require as many tools as a traditional wood floor install (see our How to Install Hardwood Flooring article for more details). Plus, floating floors can be laid over virtually any material—concrete, plywood, sheet vinyl, and more. Today's article walks you through to process for installing a floating laminate flooring over a concrete subfloor.
Using Peel and Stick Tile? Check out peel and stick tile tips from A Step in the Journey.
Materials
Laminate flooring (see below)
Plastic underlayment (see below)
Shoe molding
Molding adhesive
Thresholds
Laminate flooring: Laminate flooring in an engineered product consisting of a durable laminate surface, a wood based core and a backing. This install is utilizing Pergo brand flooring which features interlocking tongues and grooves that snap together and a pre-attached foam underlayment for sound reduction.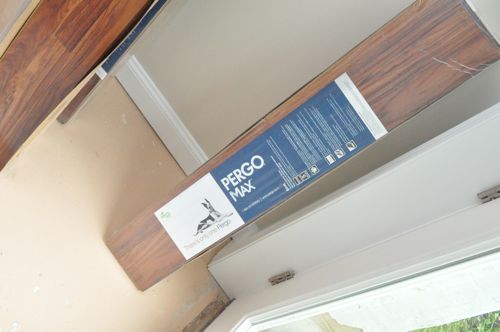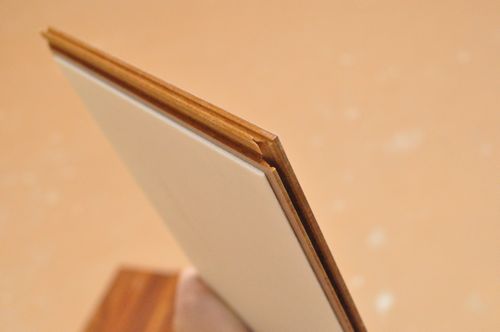 Plastic underlayment: This floor is being installed over a concrete subfloor, and since concrete is constantly releasing moisture, a vapor barrier is necessary. The guys are using a 6-mil. resin polyethylene film to provide that barrier.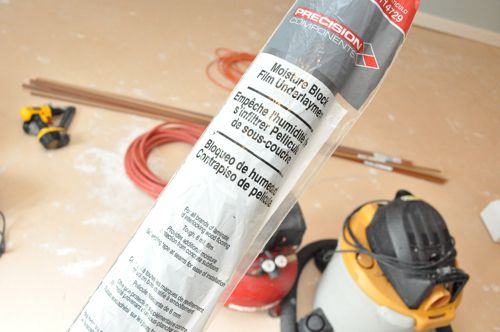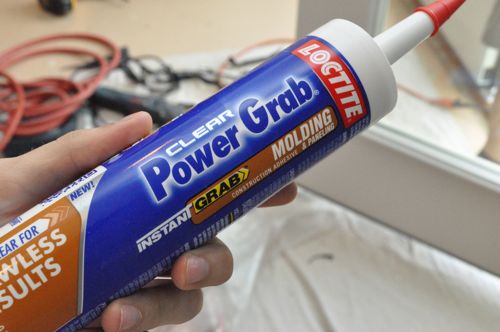 Tools
Miter saw
Table saw
Jig saw
Coping saw
Utility knife
Level
Hammer or rubber mallet
Pry bar
Multitool or flush-cut saw
Finish nail gun
Compressor
These are the tools that were used for this particular install; however, some tools are interchangeable. For instance, you can use a hammer and nail-set instead of a finish nail gun and compressor.
Preparing the Subfloor
Before Steve's crew began laying the floor boards, they started by checking the subfloor with a level. It's important that the concrete is relatively flat (less than 3/16″ over 10′), without humps or voids. Fortunately, this subfloor is in good shape. If that were not the case, the guys would have needed to fill low areas and/or grind down high areas.
Pro-Tip: Self-leveling cement is a great way to address an uneven subfloor. Check out Fred's experience on his article about using self-leveling cement over a concrete slab.
Steve's crew also carefully cleaned the subfloor to remove dirt and debris.
Acclimate Flooring
Even though laminate flooring is an engineered product, it still expands and contracts with changes in moisture. For that reason, it's important to acclimate the flooring before installing. Otherwise, the floor may buckle or gaps may appear. Pergo indicates to leave unopened boxes flat on the ground for 48 – 96 hours prior to installation.
Step 1: Plan and Mark Guidelines
Since most spaces are not 100% square, it's important to create guides so that the planks stay parallel and look uniform. Even though the guys will start laying boards along an exterior wall, the interior wall is most visible, and it's from the interior wall that they measure. After marking out an equal length, Steve's crew uses an 8′ level to scribe a straight line that will serve as the starting point.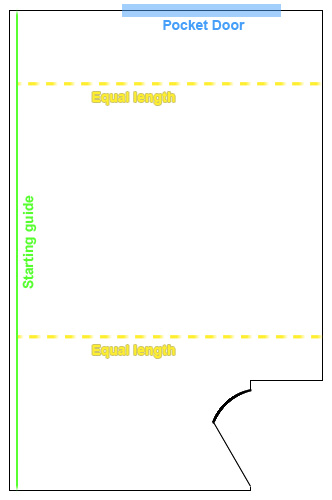 Since the floor will be covered with plastic, they transferred these marks to the adjacent baseboard and framing.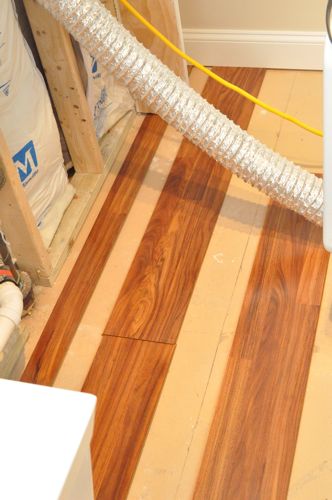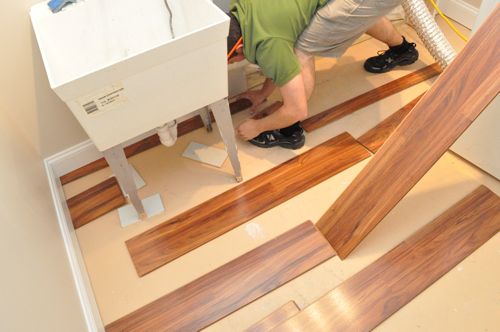 Step 2: Lay Plastic Sheeting
Next, Steve's crew unrolled the plastic sheeting, running it tight against the walls. Each course overlapped by a couple of inches, and the sheeting included an adhesive strip for joining subsequent rows.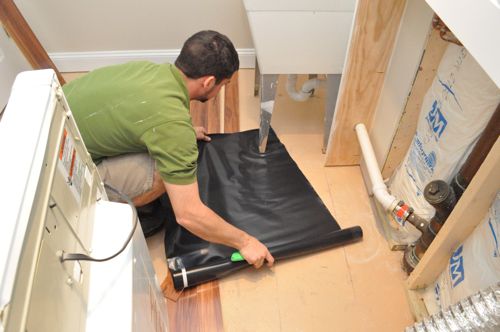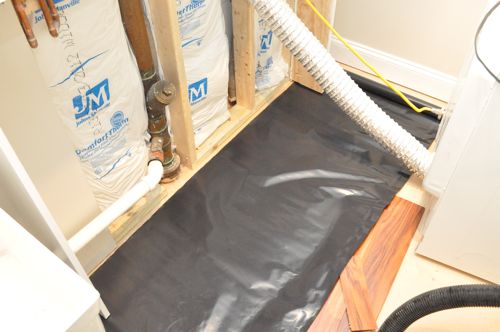 Step 3: Lay the First Row
The first row of this installation was unique because the guys were working around a utility sink, a dryer and some custom shelving. For that reason, they locked a few rows together before moving them into place using their guide marks. They oriented the boards with the tongue-side against the wall, and that made laying the last row easier. If you're looking closely, you'll notice that the first row of planks has been cut with a table saw to about 1/2 the width. The guys did this so that the last row of planks was a moderate width.
It's important to maintain a 1/4″ gap around the entire perimeter of the floor to allow for expansion and contraction, and the gap underneath the baseboard will provide that space.
Steve's crew used a miter saw to trim planks to length, working to avoid pieces shorter than 10″ or so. They also took care to space out the joints between adjacent rows.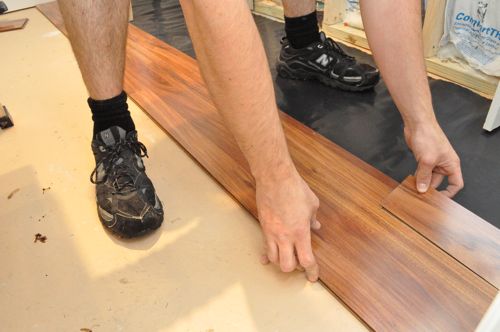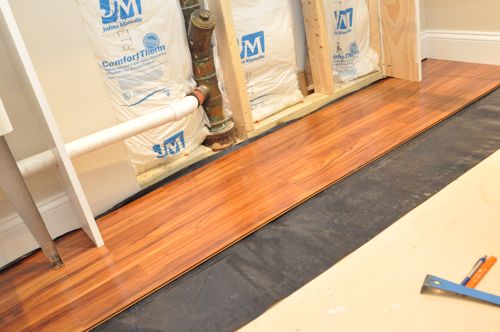 Step 4: Continue Laying Boards
Steve's crew continued laying the planks, securely locking them together and unrolling more plastic underlayment as necessary. Since this is a floating floor, the boards can inadvertently shift so Steve's crew frequently checked to ensure the boards will still parallel with the end wall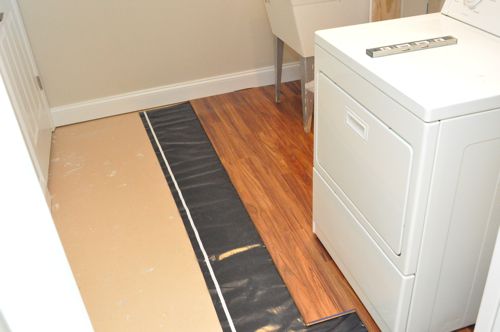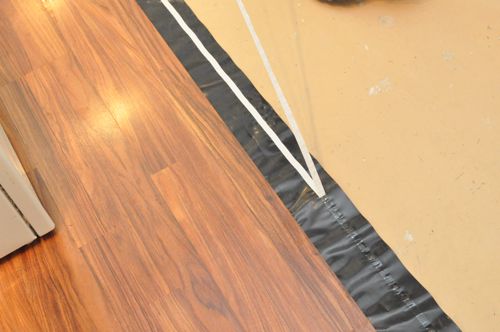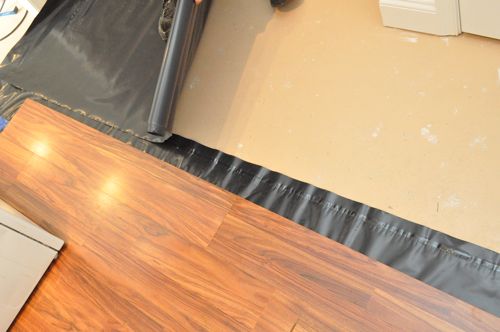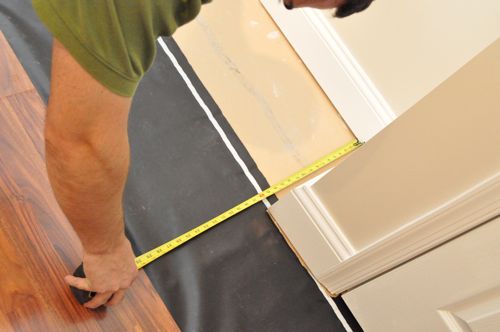 Step 4a: Working Through Doors
At doorways, the guys used a multitool and a piece of scrap to trim the door jamb to height.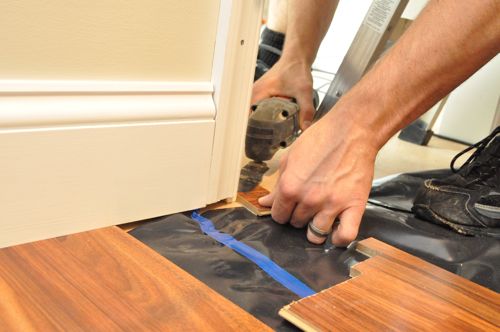 They would mark the plank for: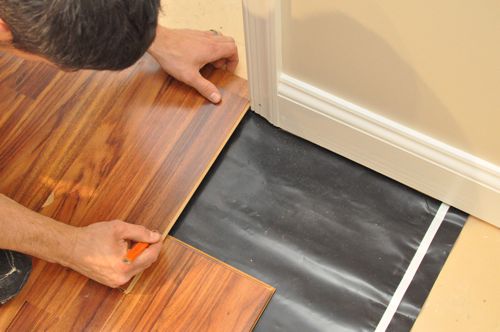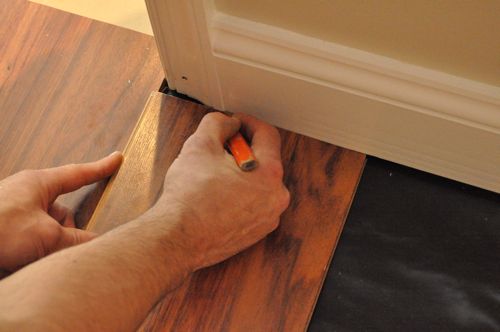 length underneath the door jamb.
With those measurements and some back-and-forth to test for fit, the finished piece looked like the picture below.
This was a time-consuming process because these boards will not have any shoe molding to conceal gaps. They needed to be sized just right.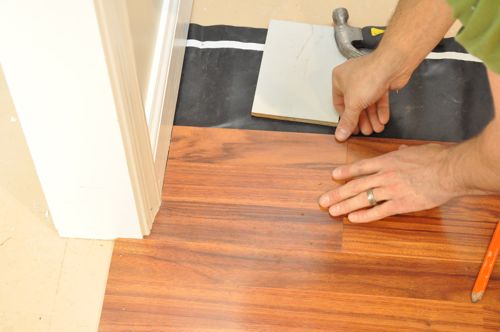 Step 5: Laying the Last Board
A nice benefit of locking tongue and groove flooring is that you're not wrangling a toe-nailer into place. When the guys got to the last row, they ripped the boards to width on a table saw and slid them in place using a small pry bar.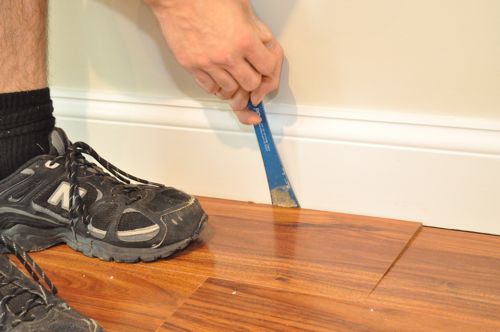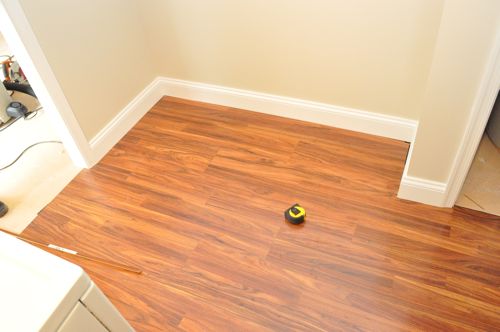 Step 6: Install Shoe Molding
Next, Steve's crew installed shoe molding around the perimeter. They would cope cut the inside corners and make 45° miter cuts for the outside corners.
Pro-Tip: For more details, check out our article on how to cope inside corners.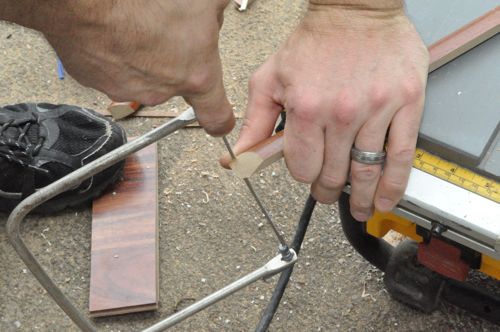 They also capped the shoe molding with these nice little returns, secured with a couple of pin nails.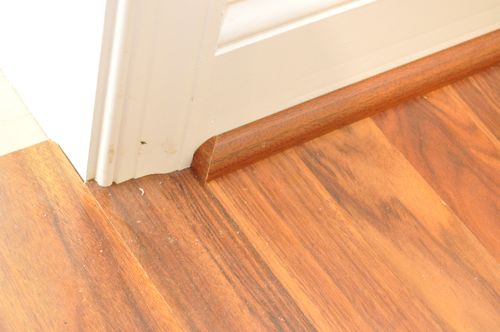 For the shoe molding, the guys used a finish nail gun, driving the nails into the baseboard (not the flooring).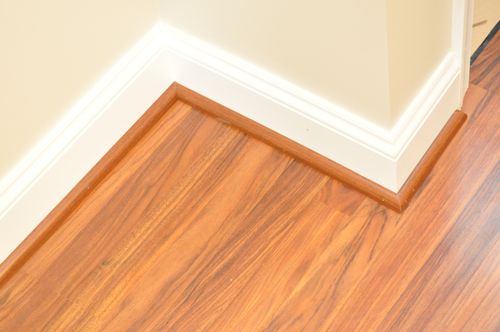 Step 7: Install Thresholds
Lastly, the guys installed thresholds at the two doors, and there are a few different options depending on the situation. The first threshold was a transition from Pergo to carpet, and they glued a piece of t-molding in place.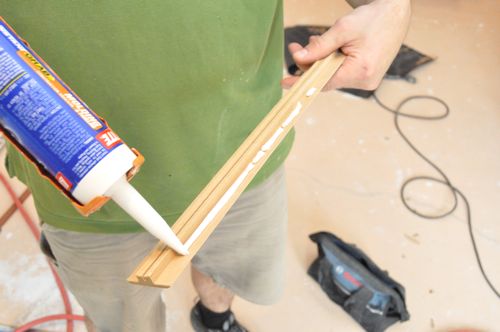 The second threshold was a transition from Pergo to an unfinished space, and the guys used the same t-molding with an insert to fill the unfinished side.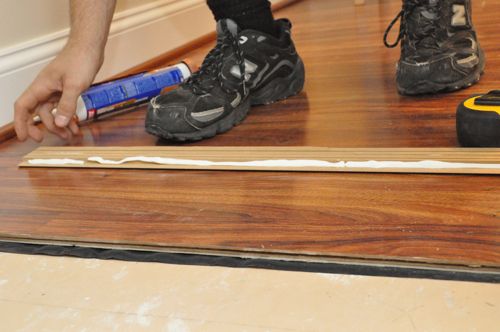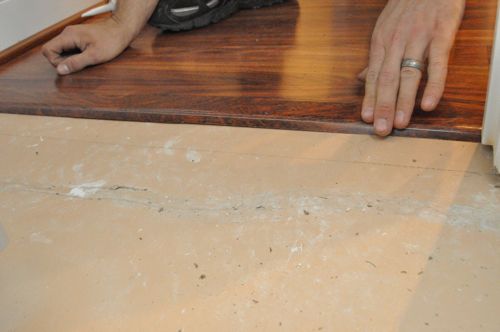 Finished
In one short day this floor is complete, and it looks beautiful.